Sony's Alpha A550; 14.2 Megapixels And Built-In HDR
The Sony Alpha A550 (with kit 18-55mm lens, $1049 list; body only, $949 list) takes us another step forward with in camera processing of HDR and DRO functions. While these items, to me, are the headliners for this camera, other camera amenities add to its allure. These include an articulating monitor, two Live View modes, very good high ISO results, a fast 5 fps (frames per second) shooting rate, and more. Lacking video, a continuing surprise from a maker like Sony, it might not have as broad appeal as some others in this price range, but those looking for a good mid-price range still camera with some exciting technology may find it attractive. While I tested the camera for a number of days in varying lighting conditions, I have to confess that the built-in HDR was the subject of most of my interest.
The body itself is somewhat boxy (5.5x4x3.5", about 1.5 lbs), but that seems to be the case with many cameras sporting an articulating monitor. This one, a bright 3" LCD, gives you a 100 percent frame view and quick access to all necessary functions, and is quite readable even in bright light. The monitor flips down but not side to side, but is quite versatile and offers great down-low and over-the-head shooting. I found myself using the monitor like a waist-level finder, à la twin lens reflex shooting. You can choose between Live View and viewfinder (95 percent coverage) shooting via a switch on the camera top.

In Live View you can easily move through the settings you'd make in the field. Quick access is granted to quality and size, flash options, drive settings, DRO and HDR setups, ISO, metering patterns, exposure compensation, etc., just about everything you'd want to have access to in the field. There are two Live View modes—Quick AF, which I used most of the time, and MF (Manual Focus) Check, for critical close-up work. You can get a quick look at 7x and 14x magnification of the image in the monitor in MF Check mode. The Alpha A550 uses phase detection AF in both optical and Live View operation, which means focusing is fast in both viewing arenas.
DRO

DRO (Dynamic Range Optimizer) is a tonal curve compensation in camera processing tool that can open shadows and retain highlights in contrasty scenes. Here's a test with it turned off (note deeper shadows at above, left) and set at maximum (note that highlights retain texture, so it's not just overexposure at above, right). Shoot DRO in Raw and use Sony's processor, not Adobe Camera Raw, to nuance settings. Exposure at ISO 100 was f/13 at 1⁄250 sec.
All Photos © 2010, George Schaub, All Rights Reserved
The Alpha A550 is very good for spontaneous shooting, which to me should be a mark of 35mm form factor cameras. Normally I am not a big fan of automation; standard settings often yield standard results. However, I did find myself relying on Auto ISO in low-light shots, and particularly Auto DRO and HDR under contrasty conditions. Auto ISO responds quite well to the light levels at hand and takes the guesswork out of setting the right sensor sensitivity, given that it factors in focal length, Exposure mode, shutter speed, etc. It is perhaps not the best choice in bright light, but it's in low light that it really comes to the fore. I don't know about you, but when it comes to low-light scenes I tend to go for as high an ISO as I think I can get, given a certain level of image quality, and probably go over what is really necessary. The camera sets a noise reduction level as needed. My advice: in low light rely on Auto ISO and you won't be disappointed.

The only caveat is that the monitor adds considerable gain in low-light scenes and you think you are getting a very bright exposure in even very low-light situations, but when you open the file you realize that it is as dark as you saw it without the monitor. This is easily adjusted in processing, but you might just see a difference, particularly when you look at the Raw files.
Fast Framing Rate
The Alpha A550 has a 5 frames per second (fps) framing rate (JPEG) that allows you to capture action sequences. Follow focusing also keeps the main subjects sharp as you follow them through the scene. I photographed this surfer using Continuous-High Drive mode from a pier and the camera held focus as I followed him as he cut across the crest of the wave. Exposure at ISO 200 was f/13 at 1⁄320 sec.
DRO (Dynamic Range Optimizer) has already been covered in my review of the Sony Alpha A850 (see the January 2010 issue of Shutterbug) and I continue to be impressed by this tonal curve compensation feature and its attendant salubrious effects in high-contrast lighting conditions. In short, high scene contrast is no longer troubling for photographers. Shadow detail, once lost in the depths of underexposure, can now be revealed, given proper settings and highlight biasing in exposure. You can use DRO in Raw mode, which means that you can shoot DRO Auto and then adjust as needed in Raw. While Adobe did have a beta Raw converter at the time of this writing for the Alpha A550, I highly recommend that you do all Sony Raw conversions and processing using Sony's supplied Image Data Converter SR. There's a handy button to move the image over to CS4 after Sony Raw processing. As much as I like Adobe Camera Raw it does not give you access to many of the Sony Raw file options that you need to get the most from this camera. Unlike the Alpha A850, however, the Alpha A550 does not offer DRO bracketing.

HDR is a two-shot technique (highlight and shadow bracketing) that combines two quick exposures. The camera takes two exposures with one shutter release. I cannot emphasize enough that you have to hold the camera steady, or use a tripod, when using this option, as I did note some fringing in some scenes. I then tested the camera with higher shutter speeds, but saw the fringing when there was any wind or subject motion. My feeling is that this feature needs more work in auto alignment or alignment resolution to be a truly useful tool, as right now it is a bit unpredictable in terms of fringing. In other words, don't assume it will work to your satisfaction unless you are fairly careful about shooting conditions.
Low And High Angle Shooting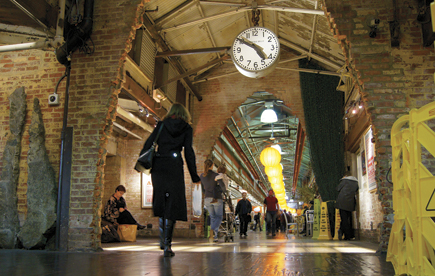 The articulating monitor allows you to shoot from high and low angles without guesswork as to framing. The opening night crowd at the Palm Beach Photographic Centre in West Palm Beach, Florida, was captured holding the camera aloft. No flash was used for this ISO 1000 shot, exposed at f/5 at 1⁄60 sec. New York's Chelsea Market was shot from floor level using the monitor at a 90? angle. Exposure at ISO 640 was f/3.5 at 1⁄30 sec, DRO3.
While you can set the range of the bracket from low to high HDR effects, my suggestion is that you work in Auto. Alas, you can only do this with JPEG settings, as HDR does not work in Raw mode, so you can't nuance tone mapping in the Image Data Converter SR, which I think is an issue that needs to be resolved. And JPEG processing in the Sony software is much more restricted in terms of features than using Sony Raw and the Image Data software.

FEATURED VIDEO