Sony's Alpha A550; 14.2 Megapixels And Built-In HDR Page 2

Speaking of Auto settings, I generally avoid Auto White Balance (AWB) and leave the camera on Daylight to record the color cast I see, but I found that relying on AWB for bizarre lighting conditions, like fluorescents in bleak office and railway terminals, is best, rather than struggling with tweaking white balance in the camera. These can be further cleaned up in software.
HDR

Much of my testing was dedicated to checking out the built-in HDR feature. It was somewhat unpredictable in that sometimes fringing, due to misalignment of the two exposures, I assume, would show up and other times it wouldn't. In the photos of Grace and the orange flowers, both set at HDR+3, I noticed no fringing, although the white flowers behind Grace seem to almost fluoresce.
I shot scenes in ISO settings up to 6400, and found that if you keep it at or under ISO 800 you will not be disappointed, while ISO 1000 to 2000 is okay. At ISO 6400, the highest setting I used, noise reduction is quite aggressive and the image begins to soften, though noise reduction does its job quite well. If you are shooting at high ISO settings I recommend highly that you shoot Raw and do noise reduction in the Image Data Converter SR software. My top high-speed choice? ISO 1600 delivers a good balance of high sensitivity and low noise.

The power supplied by the rechargeable battery is good for long shooting sessions; Sony claims 1000 shots using the optical finder and half that for all Live View shooting, and I found that a full charge lasted through numerous shooting sessions. A battery fuel gauge in the finder is a welcome aid in determining when you have to slow down and find an outlet.
HDR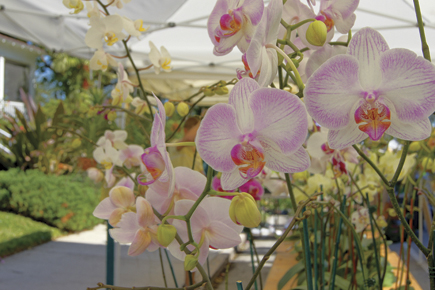 This image (top) was made using built-in HDR and while previous photos (page 127) show little or no fringing, close-up inspection shows some ill effects, even though exposure is at 1⁄400 sec. Simplest solution? Mount on a tripod to be sure when using this feature.
HDR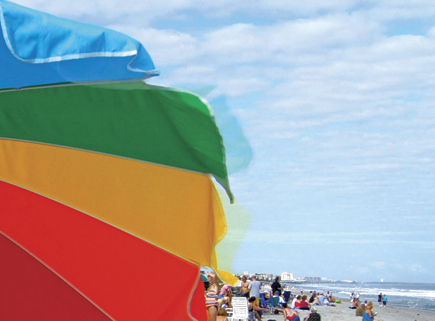 This photo convinced me that alignment due to movement during exposure is the culprit. (HDR is two shots made with one shutter release that are then combined in the camera's processor—only one image file is produced.) Every element is still and aligned except for three small flaps on the beach umbrella that must have been blowing in the wind. My advice? Shoot still subjects on a tripod when using this HDR. Exposure at ISO 200 was f/10 at 1⁄400 sec. Detail shot contrast enhanced to better illustrate effect.
The body itself is button rich, which some folks like and some abhor. The Menu button puts you deeper into the options, while the DISP (display) button moves you through Live View and playback screens. You can use this button to bring up a live histogram as you shoot as well. There's a "smart" tele-converter button (for 1.4x and 2x) quick zoom, but this crops into the sensor with concomitant shrinkage of file size. My advice: tape it over and get a longer range zoom lens. Other buttons include exposure compensation and AEL (AutoExposure Lock), plus an Fn button, which activates the LCD menu that allows you to switch numerous shooting setups and functions in the field. Once illuminated you use the toggle and control dial on the right-hand front of the camera to move along through the various setups.

But wait, there's more. Atop the camera is the Live View/optical finder selector switch, the MF Check button, yet another ISO button, the Drive button, and the D-Range (and Auto HDR) selector. This all might sound quite complicated and, when you start out, rather confusing, but as you work with the camera a bit the road, once traveled, is easy to retrace. The somewhat opaque instruction book should definitely be your first companion when opening the box.
High ISO And Noise
Overall Scene With NR On
Detail Of NR Off
Detail Of NR On
To check noise and smoothing at high ISO settings I made quite a few night and low-light shots. I photographed an architectural exterior at ISO 6400 in Raw and then set NR (Noise Reduction) at high and off. With NR off the image is mottled and harsh, although this detail is enhanced to show ill effects. When NR is on, you still get artifacts but the image is smoother and not so harsh. The overall scene with NR on is not bad for that high a speed. Exposure at ISO 6400 was f/13 at 1⁄320 sec.
Here's how I worked with the camera. For outdoor shots I set the ISO at 100, set Aperture-Priority mode and center-weighted metering (my preference), and, in many instances, popped out the LCD monitor and worked with Live View in the histogram display mode. I used AEL for "normal" shooting and DRO when contrast got high. I played quite a bit with the HDR sets but, as mentioned, I found the DRO settings more rewarding in high-contrast situations. What I did find lacking was depth of field preview, which to me always drops the score for an SLR.

For interior work I set the white balance and ISO to Auto, though I often double-checked the white balance options using Live View. In some cases, shooting a gallery opening, for example, I simply set the camera on Program and pattern metering for quick snaps. I generally try to avoid using the built-in flash with any high ISO-capable camera, although using slow sync helps cure some of the tunnel effect blues. Auto ISO and Sony's built-in SteadyShot image-sensor-shift mechanism helped keep things steady in all but the dimmest lighting conditions. I was most impressed with the Alpha A550's performance in low-light, night shooting.

I shot with the supplied kit lens, an 18-55mm (equivalent 36-110mm for this APS-C sensor) f/3.5-5.6 lens. If you are buying this camera and want to save some bucks, get the kit lens, but my advice would be to buy body only and invest the $100 bucks or so into a faster lens, which would expand the impressive low-light capability even further. Images open at about 40MB (double that for 16-bit Raw) so you have plenty of room to crop if need be and fill a 13x19" print. Given I was working with the kit lens, images opened with impressive color and snap, although I am sure that a better lens would produce better results.
High ISO And Noise

One dawn I was outside New York's Grand Central Station and took this handheld shot with DRO Auto and Auto ISO and White Balance to see how the camera would handle the ISO setting, contrast, color cast, and noise. I was very pleased with the results. The camera "chose" an ISO of 1600 for an exposure of f/4.5 at 1⁄60 sec (left). Even with the image greatly cropped (right) I see very little noise in the shadow areas.
Having worked with a few Sony D-SLRs of late, I continue to be impressed with what their engineers have brought to the table. DRO has proven itself to me as a very useful tool, though I wish this camera had DRO bracketing like the Alpha A850. HDR, while an amazing tool and idea, still needs some tweaking based on my tests, notably with alignment of the two images in handheld shots even at fairly fast shutter speeds. On a tripod the issue is less serious, given still subjects. I await further advances in tonal curve and built-in HDR as I believe they will open new picture possibilities for us all.

The barriers of high ISO, low-light shooting have been breached for sometime now; obstacles posed by high contrast are beginning to be overcome as well. Shooting Raw and using Sony's supplied Image Data Converter SR software to process the images will yield the best results with this impressive, mid-range D-SLR.

For more information, contact Sony Electronics Inc. at: www.sonystyle.com.