The Olympus E-5; Welcome To Four Thirds Heaven Page 2
The E-5's got you covered for flash. First, there is a real PC (Prontor-Compur) outlet on the front to connect a sync cord. Second, there's a hot shoe on top that's compatible with a range of optional external flashes, including the Olympus FL-36R and FL-50R. Third, you can wirelessly control any of these aforementioned flashes because the camera's pop-up flash includes a commander function. The E-5 can control up to three wireless flash groups independently and control of multiple flashes is possible in an environment where both the FL-36R and FL-50R are used simultaneously. I took the E-5 into a friend's studio using various kinds of lighting combinations that were controlled by a PocketWizard (www.pocketwizard.com) slipped onto the E-5's hot shoe and, combined with the ease of the camera's Manual mode, hit the mark with perfect exposures each time. See the illustrations for specific details on lighting setups and exposures.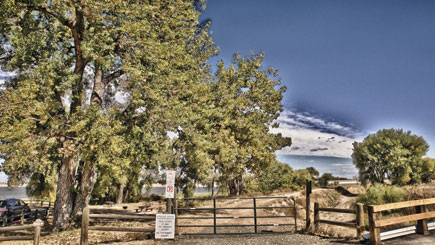 The base exposure for the "before and after" images was approximately f/11 at ISO 400. For the "before" exposure, the shutter speed was approximately 1⁄800 sec which was fast enough to freeze the leaves in a series of three bracketed exposures—keeping the aperture at f/11. Then I processed the files using Nik Software's HDR Efex Pro to produce the image you see here.
The long exposures produced blurry images in parts of the tree that moved during a series of exposures with the IR filter that ranged from shutter speeds of 6 to 13 seconds. I waited but the wind didn't slow up; in fact, the weather only got worse. I processed the three bracketed files using Nik Software's HDR Efex Pro software to produce the image that you see here. The blurred leaves in the final HDR image added a kind of ghostly effect that I feel adds to the mood of this shot because, as I mentioned, the weather only got worse.
The E-5 has twin card slots that accept either a CompactFlash Type I UDMA or SD (SDHC/SDXC compatible) card. Class 6 or higher SD cards are recommended for optimal video clip shooting. You can transfer image files from one card to the other right inside the camera but the E-5 lacks some of the tricks, such as shooting Raw on one card and JPEG on the other in Raw+JPEG, found on other pro SLRs. But at least I won't have the xD-Picture Card to kick around anymore. Depending on your chimping habits and use of pop-up flash, the E-5 should deliver 870 shots. Based on my experience, I think that's accurate but I wish Olympus would redesign the battery charger so that no cord is required, much like Canon and Nikon have done with most of their SLRs.
In The Field
The E-5's ergonomics are similar to the E-3's and that means they're very good. My only quibble was that the recessed area for the Exposure Compensation button was an uncomfortable fit for my fat fingertips, but other than that all of the controls are similar to the E-3's or have been improved for better access and use. That big LCD is handy but my proboscis was always covering part of it, resulting in the dreaded nose grease smudges. People with smaller beaks than mine will have less of a problem. I don't like the flimsy battery compartment door that's carried over from the E-3, but maybe that's just me. The E-5 has a hefty feel and is 4.4 oz heavier than its Canon EOS 60D doppelgänger. With the 12-60mm lens, the total package weight goes up to 48.48 oz, which didn't wear me out but made its presence known over time.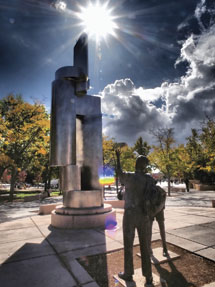 The University of New Mexico campus is sprinkled with sculpture like this and I couldn't resist photographing it with the 12-60mm f/2.8-4.0mm lens at 12mm. Manual mode exposure was 1⁄160 sec at f/22 and ISO 320 with the Dramatic Tone Art Filter that added some, well, drama.
The world of testing cameras is never what it seems to be, and one of the biggest challenges of fall in Colorado is that the weather can be unpredictable. Soon after the E-5 arrived I went to Barr Lake State Park to try the camera with infrared filters. The wind had been blowing for many hours and leaves from trees in the park, that had already started changing, began to blow up, up, and away. There was still a strong wind blowing when I made the first, non-IR photographs. For the digital infrared shot made in the same spot, I held an A-series Cokin 007 (89B) filter in front of the same 12-60mm lens used in the "before" shot. The lens has a 73mm filter thread and I don't own a screw-on IR filter that size, so the A-sized Cokin just covered the lens. The biggest problem when shooting with a filter in front of any non-converted SLR is that it inevitably produces long exposure times and with the Cokin 007 it produced 13-second exposures at f/11 and ISO 400.

Then it was off to New Mexico, The Land of Enchantment, where instead of traditional landscapes I photographed urban landscapes around Albuquerque in areas such as Old Town, Nob Hill, the campus of the University of New Mexico, and even suburbia for some nighttime experiments where that big LCD screen was perfect for real-time Live View monitoring of white balance and exposure, enabling perfect color and exposure for after dark shots. Live View and the E-5 helped me get shots I could not otherwise make.
Four Thirds wedding photographers are going to love the E-5. The dim interior of the San Felipe de Neri church was photographed handheld with an exposure of 1⁄160 sec at f/4.5 and ISO 2500 using the 12-60mm f/2.8-4.0mm lens shot at 14mm.
The E-5's TruePic V+ image processing engine uses a new algorithm that delivers more detail from each pixel and is supposed to generate lower image noise in photos captured at higher ISO settings. I made some sharp, noise-free images of the dimly lit interior of the 300-year-old San Felipe de Neri church, showing how useful the E-5 will be for wedding photographers. The church interior benefitted from real-time Live View monitoring of color balance and exposure, eliminating shooting and chimping, shooting and chimping… The E-5 gets the shot when you need it and often handed me a pleasant surprise.

The camera has an ISO range of 100 to 6400, although when you select anything higher than 3200 a message appears on the LCD stating that this is an "extension." Punching the ISO up to 2500, I made handheld nighttime exposures and found that under low light and high ISO settings, the camera produced admirably low noise. The relatively low shutter speed was easy to hand hold because of the E-5's three modes of in-body image stabilization: I.S.1 is for two-dimensional activation; I.S.2 is for one-dimensional activation in landscape frame to vertical direction moving; and I.S.3 covers one-dimensional activation in Portrait mode for horizontal direction moving. There's also "off" when using the camera on a tripod.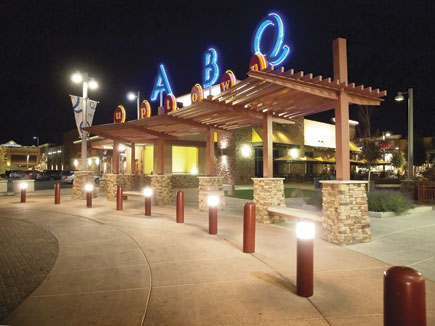 This handheld image at a suburban shopping mall was made with the 12-60mm f/2.8-4.0mm lens and a Manual mode exposure of 1⁄50 sec at f/2.8 and ISO 2500. Noise was fine and controlled. The image was shot in Live View so I could find an appropriate color balance in real time. It turned out to be the E-5's Underwater setting.
The Olympus E-5 is one tough SLR that's as much at home with the working pro, especially wedding photographers, as it is with advanced amateurs who like to experiment with special effects. The new camera combines all of the best features of the E-3, tosses in some improvements, and then whisks in a lagniappe of all the internal firmware goodies that Olympus has been heaping on their other cameras since the E-3's launch. Oh yeah, and it does HD video, too. All that's available in a rugged camera at the same original price as the camera it replaces as the company's "flagship." The Olympus E-5 is one smart camera.
Comparison Chart
To see a detailed comparison between the Olympus E-5 and E-3, go to the Instant Links section of our website (www.shutterbug.com) for this issue.

For more information, contact Olympus Imaging America Inc. at: www.olympusamerica.com.

LATEST VIDEO