The Olympus E-5; Welcome To Four Thirds Heaven
When it was launched in October 2007, the E-3 broke new ground. It wasn't a me-too SLR; it carried the Four Thirds format into new directions that were uniquely Olympus. In other words, it had lots of features other camera companies promptly copied. The new 12.3-megapixel E-5 builds on the Olympus E-3's 10-megapixel goodness, making it even better, and it's at the same $1699 price point as the previous model when it was first introduced.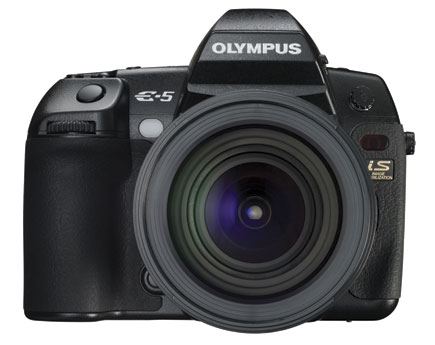 The E-5 lets you shoot in several aspect ratios, including 4:3 (default), 3:2, 6:6, 5:4, 7:6, 6:5, 7:5, 3:4, and the 16:9 used here. Exposure was 1⁄320 sec at f/5.6 and ISO 250 with the Dramatic Tone Art Filter applied, adding a "David Hockney" look to what was otherwise a candid grab shot.
All Photos © 2010, Joe Farace, All Rights Reserved
The Ultimate Four Thirds System SLR?
I think so. With the E-5, Olympus unleashes a camera system with 100 percent digital-specific lenses and a kick-butt dust reduction system that's tied to a full-time Live View system, all wrapped around a splashproof and dustproof magnesium alloy chassis. When you turn on the camera, the dust reduction ultrasonic setup vibrates approximately 30,000 times per second, capturing minute debris on an adhesive membrane. It even removes dust attached by "intermolecular force" that can't be removed by physical vibration or discharged static electricity. The durable shutter mechanism has a 150,000-exposure lifespan that should meet the demands of serious amateur, aspiring pro, and many professional photographers.
I found this quiet enclave in Old Town Albuquerque and it literally screamed to be captured using the E-5's Gentle Sepia Art Filter, so I did. Exposure with the 12-60mm f/2.8-4.0mm lens was 1⁄100 sec at f/4.5 and ISO 320 with a +0.7 exposure compensation.
Other pro features include continuous shooting in 5 frames per second (fps) and a 1⁄8000 sec top shutter speed. The E-5's 270? swiveling 3" dual-axis LCD covers viewing angles from low to high and side to side, ensuring accurate composition whether you're making "Hail Mary" shots or working down low for those super macro shots. When you're not in a Live View frame of mind, the camera's optical viewfinder provides a 100 percent view.Olympus tells me the E-5 offers the fastest AF speed in the world when used with the Zuiko Digital ED 12-60mm f/2.8-4.0mm SWD (24-120mm equivalent with Oly's 2x factor) so I stuck that very lens on the camera and was immediately impressed by its speedy focus, even when shooting under low light or late at night. The E-5 has a twin cross-type biaxial 11-point AF sensor that achieves optimum performance on both the vertical and horizontal axes. The E-5's 11 AF target points can be selected to work individually or dynamically in combination with adjacent target points.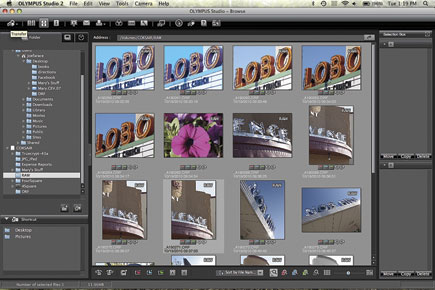 As I write this, Adobe Camera Raw does not support .ORF files from the Olympus E-5 and no software was provided with my early production camera. (As I was finishing the report, the company updated their Olympus Viewer software to Version 1.1 to support the E-5.) So I dug out an old copy of Olympus Studio and it easily read and processed files from the E-5.
Not surprisingly, the E-5 camera offers HD video capabilities. The camera captures action in 720p HD video at 30 fps. You can also record stereo sound quality by plugging any microphone that has a standard 3.5mm jack into the camera's stereo microphone terminal. The built-in microphone records clear monaural audio sound, including the grasshopper crawling on your lens. For best results, use a separate microphone and not just for the stereo.
The 12-60mm f/2.8-4.0mm lens is indeed a wonderful lens but even when stepping back as far as possible—at the widest focal length—the inevitable falling over building (top) results. Using Photoshop's Edit>Transform>Perspective command I was able to straighten the lines of the building (bottom) and with a few tweaks of Nik Software's Viveza plug-in produced the final result.
There are 10 in-camera Art Filters, including Dramatic Tone which adds a pseudo HDR effect (hold the hate mail, please) that can enhance certain images, and you can use these filters in all shooting modes—Program, Shutter Priority, Aperture Priority, and Manual—plus that oh-so-important video capture. The new Dramatic Tone filter joins the Pop Art, Soft Focus, Pale & Light Color, Light Tone, Grainy Film, Pin Hole, Diorama, Cross Process, and Gentle Sepia filters previously available on the E-30, E-620, and PEN series cameras. I know that some of you hate adding any kind of special effects at time of capture. Since the E-5 offers four different Raw+JPEG capture options, choose one of them and you'll end up with two files: an untouched color Raw and a JPEG with the Art Filter applied. What do you have to lose other than your preconceptions? Give it a try.
(Left Top): Abby was photographed using two large CHIMERA light banks placed at approximately 45? to the subject. Exposure with the 12-60mm f/2.8-4.0mm lens (at 60mm) was 1⁄125 sec at f/16 and ISO 100. (Right Top): Sarah was photographed using four lights with two large CHIMERA light banks serving as main and fill, a third head with grid at camera left acted as a background light, while a fourth light with snoot was aimed down from behind the background as a hairlight. Exposure with the 12-60mm f/2.8-4.0mm lens (at 45mm) was 1⁄125 sec at f/11 and ISO 100. (Above): Because the two sisters are wearing such different colors and styles I used an old trick—go monochrome—to minimize the differences between their attire and put the focus on the subjects. The image was shot in the E-5's Monotone mode and then toned in Photoshop using the PixelGenius (www.pixelgenius.com) PhotoKit Platinum Tone filter for a touch of overall warming.
The E-5 offers a Multiple Exposure capability that lets you combine four shots in either portrait or landscape orientation or a combination of both. You can shoot one image, then another and combine them in real time or capture two to four shots separately and mingle them in the camera later. Unlike the Art Filters, I don't have much use for this feature, but I'll bet there's someone reading this thinking that "Now I can…" The E-5 is equipped with an internal digital level sensor that detects the camera's pitch and roll with indicators in the optical viewfinder, on the control panel, and during Live View operation that should be useful for architectural photographers. Another useful feature is the four grids that can be superimposed on the Live View screen, but getting to them requires some menu diving into the Russian Doll layers Olympus started using with the E-3. Hint: they're on the LV Info menu, under Info Settings, under the "D" options in the Gear menu.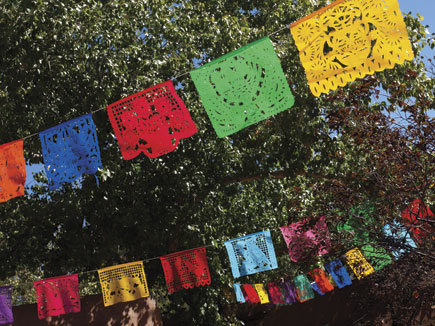 There is so much color in Albuquerque that I can't wait to return. These flags were photographed in a small garden walkway in Old Town—no special effects applied. Manual mode exposure was 1⁄500 sec at f/9 and ISO 320 using the 12-60mm f/2.8-4.0mm lens shot at 27mm. It was captured at the E-5's default aspect ratio of 4:3.

FEATURED VIDEO