Nikon's D90; The Legendary N90 Returns In Digital Form Page 2
This was the first opportunity I've had with a Nikon D-SLR to see if it had any infrared capture capability, and you'll be gratified (if you care about this stuff) to learn that it has some IR capability when used with an appropriate filter. The front of the AF-S Nikkor 18-105mm kit lens accepts 67mm filters. For the digital IR examples that appear here, I used a Cokin 007 A-sized filter by manually holding it in front of the lens to minimize the possibility of light pollution from the sides. Because you'll need to remove the lens hood to hold the Cokin filter there's always the possibility of flare and reflections (and getting your fingers in the shot), but I experienced few of those problems that couldn't be solved with judicious application of Photoshop's Clone Stamp tool. A 67mm Hoya RM-72 infrared filter costing about $80 would minimize the hassle.
This natural light reference photograph of Robert Clement Park in Littleton, Colorado, was made in Program mode with an exposure of 1/250 sec at f/9 and ISO 200.
Olympus invented the Live View D-SLR with its E-330 and perfected it with their E-3. The Nikon D90 gets it right. You push the LV button and you're live on digital camera. Live View mode is also the gateway to video capture. Oh yeah, when shooting in Live View mode, the image will be displayed in the Picture Control mode selected, making it a perfect way to preview any of the available color or monochrome effects. Once in Live View mode, push the OK button on the back of the camera and you're instantly recording video clips mit sound, as they say in Hollywood.
This digital IR shot was made using an A-series Cokin 007 filter held in front of the lens. It was made in Manual mode with an exposure of 8 seconds at f/10 and ISO 200. The file was converted into monochrome using Adobe's Photoshop and while I could have used the D90's Monochrome option (and did), the results produced this way were snappier.
Working in the studio was a bit of a challenge for me. First, although bedecked with every kind of electronic connector known to man (HDMI, USB, etc., etc.), it lacks a PC (Prontor-Compur) connection for plugging in the traditional flash sync cord. This was solved by using Booth Photographic's (www.boothphoto.com) wireless Flash Waves transmitter and receiver. (See the October 2008 issue of Shutterbug. Since that issue Booth Photographic has introduced a new version, called Flash Waves PRO.) Second, the camera's lowest ISO setting is 200 and I prefer to shoot at 100 with my standard lighting setup. Third, the color balance of the image files, while perfect when using the camera's Auto White Balance (AWB) setting, appears cool on the D90's 3" LCD screen. When switching to Flash color balance, the results, as is typical for all the Nikon SLRs I've tested, tended to be warm, at least to my taste. Trying to get correct white balance using the LCD screen was frustrating, so I took all the tests and looked at them on my color correct monitor and went with the settings that looked best. These turned out to be AWB and the exposure originally indicated by my Gossen Luna Star F2 meter. The color balance in any kind of studio lighting setup tends to be personal, so your experience may be different, but after my initial tests I got what I know works and so will you.

Like the D60 and later Nikons, you can even process raw files and convert them into JPEG images in camera. You have to see this process to believe it, and it made me wonder why nobody had thought of this till now. The D90 is also compatible with the optional Mac OS and Windows Capture NX2 photo-editing software ($149.95). There is a recent update to Capture NX2 that supports the D90, so if your copy doesn't work you'll need to download the update to read the camera's raw files. As I was finishing this review Adobe issued a beta version of the Adobe Camera Raw (ACR) 4.6 plug-in for Photoshop CS3 that supports the D90 .NEF files. With the launch of Adobe CS4 and ACR 5.0 it may be moot, but you should download whatever is the latest version of ACR, if only to be able to view .NEF thumbnails using Adobe Bridge.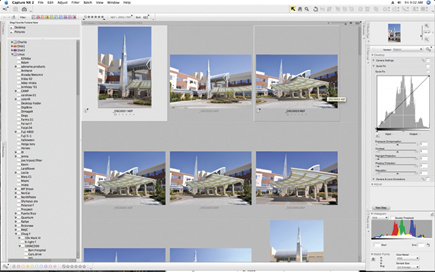 The D90 is compatible with Nikon's optional Capture NX2 software ($149.95) that is available for Mac OS and Windows computers. There is a recent update to Capture NX2 so if your copy doesn't work you'll need to download the latest update to make it work with the D90's raw files.
While I may kvetch about the camera's fussy buttons and controls, there are many other cameras, including the Olympus E-3, that I admire that are even fussier. The Nikon D90 is going to change the face of digital capture and redefine what every new D-SLR must be and accomplish in the future. This is already apparent with Canon's photokina launch of the full-frame, video capturing EOS 5D Mark II, whose body (only) is twice the price of the D90 and AF-S Nikkor 18-105mm lens. I expect that many amateurs and professionals, especially wedding shooters, will embrace the Nikon D90 for its winning combination of features, image quality, and value.
Technical Specifications
Lens Mount: Nikon F mount
Sensor: 15.8x23.6mm CMOS; 1.5x lens focal length (Nikon DX format)
Effective Pixels: 12.3 million
Total Pixels: 12.9 million
A/D Conversion Bit Count: 12 bit
Frame Coverage: Approx. 96 percent horizontal and 96 percent vertical
Shutter: Electronically controlled, vertical-travel focal-plane shutter
Speeds: 1/4000 sec to 30 seconds in steps of 1⁄3 or 1⁄2 EV, Bulb, Time (optional Wireless Remote Control ML-L3 required)
Flash Sync Speed: X=1/200 sec, synchronizes at 1/200 sec or slower
Frame Advance: Continuous low speed: 1-4 fps rate; Continuous high speed: Up to 4.5 fps
Metering Method: Matrix: 3D Color Matrix Metering II (Type G and D lenses); Color Matrix Metering II (other CPU lenses); Center-weighted: Weight of 75 percent given to 6, 8, or 10mm circle in center of frame; Spot: Meters 3.5mm circle (about 2 percent of frame) centered on selected focus point
ISO Sensitivity: ISO 200-3200 in steps of 1⁄3 EV
Built-In Flash: Yes
Guide Number: Approx. 17/56, 18/59 with manual flash
Flash Sync Terminal: No
Cost: $1299.95 with 18-105mm lens
The Lens, Boss, The Lens
I'm not sure who was the first company to bundle an Image Stabilized (IS) "kit" lens and it almost doesn't matter since every lens bundled with Olympus, Pentax, and Sony cameras that have stabilization built into the body are automatically stabilized. But it's clear that a stabilized or, as Nikon prefers, Vibration Reduction (VR) kit lens is now de rigueur for every medium-level D-SLR. That's why I'm not surprised Nikon decided to bundle the AF-S DX Nikkor 18-105mm f/3.5-5.6G ED VR lens that produces the 35mm equivalent of 27-157.5mm focal length with the D90. The built-in Silent Wave Motor provides quick and quiet AF operation, while an aspherical element and ED glass deliver high-resolution and high-contrast images with minimal chromatic aberration and distortion.
Nikon claims that VR reduces the effects of camera shake by as many as three shutter speeds than would otherwise be possible and, based on my experience, I believe them. Controls on the lens include an on/off switch so you can turn VR off when you want to place the camera on a tripod. Unlike the symbols Canon uses on their IS lenses where the off setting icon looks exactly like the on or start setting on every computer peripheral made in the past 10 years, Nikon uses the words "on" and "off" so there can be no mistake about which mode is selected.

The lens is bundled with a reversible tulip-shaped hood that does a job reducing flare and protecting the front element of the lens. The filter thread is 67mm and, while not as cheap as smaller sizes, a Tiffen Skylight filter will set you back less than $20. Considering that the front element is really, really close to the front of the lens, hood or no hood stuff happens, which is why some kind of protective filter is a good investment. This is a kinda big but solidly built versatile optic that, for many photographers, may be the only lens they ever use with the camera.
The Right Card For Your D90
The Nikon D90 has one card slot for a Secure Digital (SD) memory card and, in conjunction with the launch of the camera, SanDisk (www.sandisk.com) introduced the SanDisk Extreme III 30MB/s Edition line of SDHC (Secure Digital High Capacity) cards in 4GB, 8GB, and 16GB capacities. These seem ideal for capturing video content and high-resolution JPEGs. I used an 8GB ($109.99) card to test the D90, which is the first D-SLR to support the SanDisk card at maximum performance levels. Putting SD card slots in D-SLRs is all the rage these days, but I gotta wonder if it's more than to save space. What? I dunno. The smaller Olympus E-420 D-SLR body has two slots, one for CompactFlash and one for xD-Picture Card.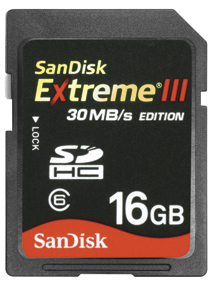 The SanDisk Extreme III 30MB/s Edition SDHC card makes it possible for the D90 to record 39 images in Continuous Shooting mode at 4.5 fps with a JPEG file size of 6MB. SanDisk tells me this represents a 50 percent speed boost from previous 20MB/s cards, making it currently the fastest of what has to be a moving target. Since the D90 can shoot video clips and video files take up much more storage space than photos, the Extreme III cards offer the storage needed to capture what SanDisk optimistically states as "hours" of video. When used in SanDisk's new ImageMate Multi-Card Reader/Writer—I used their old one—still images and videos can be transferred from the new SDHC card to a computer at up to 30MB/s, reducing the time it takes to off-load large files from the card to the computer.

For more information, contact Nikon Inc., 1300 Walt Whitman Rd., Melville, NY 11747; (800) 526-4566; www.nikonusa.com.
Joe Farace is the author of "Creative Digital Monochrome Effects" published by Lark Books. It's available in all the best bookstores, including Barnes & Noble and Amazon.com.

FEATURED VIDEO