Nikon's D3000; Welcome To D-SLR Land
Do you believe that a camera can guide you into a more creative realm? Can you learn as you shoot? Do you own a point-and-shoot and want to step up your image potential? If you are inclined to agree with these queries you might consider the Nikon D3000.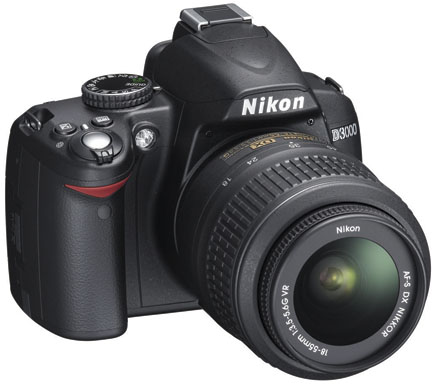 Note the large GUIDE on the dial. This is where you access the learn-as-you-shoot process the camera offers.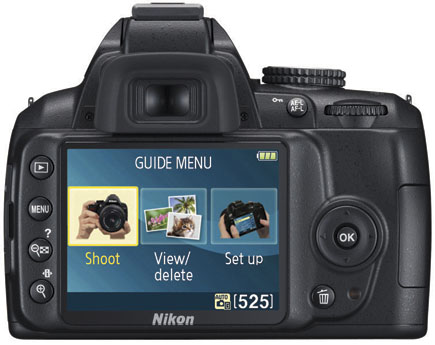 This is the screen you get when you turn on GUIDE. From there you can use the Easy or Advanced path, both of which walk you through choices and actual setup of the camera for the shot.
These four-digit model numbers designate a somewhat new breed of D-SLR that is made to appeal, or should I say entice, the beginner or novice point-and-shoot digital camera (or indeed camera phone) owner into the land of shutter-lag-less shooting, lens interchangeability, and accessories for lighting and capture galore. Lightweight and affordable ($599 MSRP with an 18-55mm f/3.5-5.6G VR lens), the D3000 offers most of the options of D-SLRs without the pro specs, which means a slower framing rate, lack of depth of field preview and other amenities. What it does have are the basics for anyone wanting to get deeper into photography, including various Exposure modes and patterns and a nice selection of AF modes and flash options.
In these Nikon-supplied screen shots, note the steps the camera takes you through when choosing "soften backgrounds." You then follow the guide, set the numbers in an interactive learning process, and as you learn you are actually setting up the camera for the shot. Of course when you master all this you can skip it; go to Av mode and just set the aperture you need without going through the GUIDE.
This is a strictly viewfinder-only camera, lacking Live View and its supposed attendant advantages, but consider the price. The same goes for motion imaging—video—which is nowhere to be found, probably an economical choice but an odd one in these days of multimedia imaging devices that seem to be cherished by the very group to whom this camera is supposed to appeal. The camera compensates for this by offering the budding photographer a proliferation of menus and guides via a quite readable 3" monitor. You need to refer to that monitor quite often as the finder does not display a font of information and there's no LED. The viewfinder image screen is nice and bright with focusing boxes showing up as thick black lines around the focus points when focus is attained.

Moving through image options is easy once you get used to doing so via the screen menu for the most-used changes (ISO, format, metering pattern, etc.). Press the Info button on the top of the camera followed by the "i" button on the back and use the by-now familiar toggle control and off you go. For less-used shooting options (Noise Reduction, Picture Controls, including color rendition presets and monochrome, D-Lighting, and more) you resort to the Menu button. That route also goes for the in camera processing options under the Retouch menu, something Nikon brought to the fore in previous models and continues to build upon here.
Sunset And Night
This idyllic scene was in Bernard, Maine, home to Thurston's Lobster Pound, from whose deck these shots were made, and whose fare is worth the journey. The sundown shot was exposed at ISO 200 at f/10 and 1⁄400 sec and shows all the charms of a well-exposed and clean shot. The night shots were made well after sunset, with some brightness added in processing. Exposure with NR on at ISO 1600 was f/5.6, the max aperture of the kit lens, at 1.6 seconds with the camera held steady on a piling. At reasonable enlargement the noise is just OK, but at higher enlargement (here a major crop) you see its pointillistic nature.
Photos © 2009, George Schaub, All Rights Reserved
Indeed, when you dig down into the Menu you see how many imaging options this deceptively simple camera affords, and how Nikon continually adopts and adapts their "trickle-down technology" from their pro to their amateur lines.

FEATURED VIDEO