Canon EOS Rebel SL3 Review: A Small & Affordable DSLR to Slay Mirrorless?
The Canon EOS Rebel SL3 ($649 with the 18-55mm kit lens) is the latest in a series of compact Canon DSLRs that seem designed to compete with the size of mirrorless cameras. And while the Canon Rebel SL series has grown slightly since being introduced in 2013, these changes were part of a strategy of adding capabilities that were missing in entry-level competitors from other manufacturers.
The Canon EOS Rebel SL3 sent for testing was done up in basic black, but it's also available in a grey-trimmed white bodied version at the same price.
What's New
The Canon SL3 (called the Canon EOS 250D internationally) uses a 24.1MP (22.3 x 14.9mm) APS-C-format sensor. The Nikon D3500 that I recently reviewed for Shutterbug has an APS-C sensor measuring 23.5 x 15.6mm producing a magnification ratio of 1.5x. The SL3's smaller sensor produces 1.6x magnification.
That sensor, along with a DIGIC 8 image processor, gives the Canon SL3 an ISO sensitivity range from 100-25,600 with extended settings to 51,200. The processor enables up to five fps continuous shooting as well as UHD 4K video and 4K time-lapse movie mode.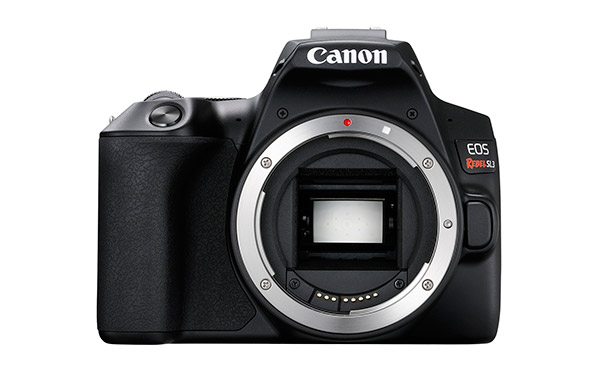 The Canon SL3's sensor's design includes Dual Pixel AF with nine-point phase-detection autofocus including a cross-type center point. The autofocus system uses two photodiodes providing a network of phase-detection elements across the sensor to minimize focus hunting. The SL3's optical pentamirror viewfinder is bright enough and when shooting still images the AF quickly and accurately acquired focus.
The Canon SL3 has a three-inch flippy touchscreen permitting live view shooting from high and low angles. You can touch the LCD to focus and shoot like an iPhone and some mirrorless cameras. And much like an iPhone, you can squeeze your fingers to zoom in when chimping to check if everybody's eyes were open in a group photo.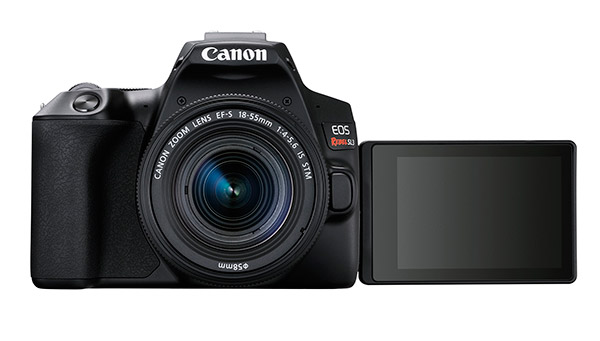 The Canon SL3's screen can also be used for mundane activities like setting camera options and there are lots of them on the SL3 including separate menu structures for stills and video. Menu organization is different from most EOS cameras I've used before offering alternative views making it easy for new users. Built-in Wi-Fi pairs the camera with a smartphone or tablet for wireless image sharing with Bluetooth available for both sharing and remote camera control.
The Canon SL3 has a single SD card slot that's co-located in the battery compartment. In addition to my concerns about inducing random noise when a memory card is placed near a battery source, there's also a question of access. When the camera is mounted on some Manfrotto (or compatible) tripods, the quick release plate prevents the battery door from fully opening to remove or insert a memory card.
Canon says the LP-E17 rechargeable lithium-ion battery provides approximately 1630 shots per charge when working with the viewfinder or approximately 350 shots in live view and my testing confirmed these numbers. To their credit, Canon provides a real charger, eschewing the use of in-camera charging, which I don't don't like because it prevents you from shooting while a separate battery is being charged. Extra batteries cost $48.90 and are a good investment.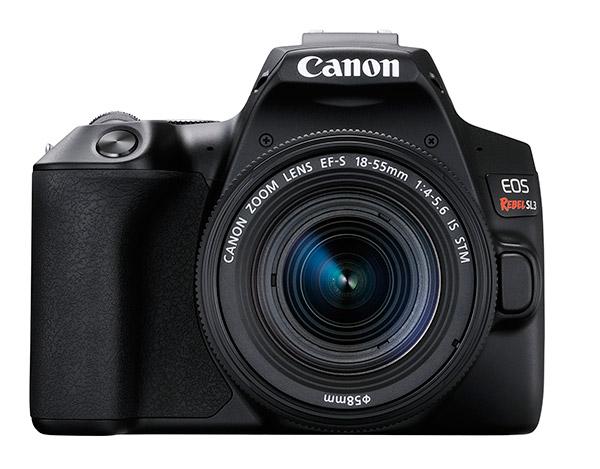 For Video Shooters
Eye Detection AF is available on the Canon SL3 for prioritizing focus on a subject's eyes, but I found during vlogging tests that face and eye detect worked best when the camera was fairly close to the subject (you.) When vlogging at distances more than four feet, the white facial and eye rectangles disappeared from the LCD and focus became hit and miss.
This is not just a criticism of the Canon SL3 since many DSLRs and mirrorless cameras struggle with AF when shooting video but you can judge for yourself from my video clip below.
The Canon SL3 supports UHD 4K24p video recording, as well as Full HD and HD recording. Clips are limited to a maximum of 29 minutes, 59 seconds probably to prevent processor overheating during extended recording because the EU-imposed time limit for taxing purposes is no longer in effect. Movie Digital IS should help steady recordings by minimizing camera shake across five axes but it's not IBIS.
The Canon SL3 has a Time-Lapse Movie mode with interval settings between one second and 60 minutes for creating between two and 3600 consecutive frames. The individual frames can be automatically compiled into a 4K or HD video file.
The Canon SL3 has a jack for an external microphone, like my audio-technica Pro 24-CM, although as I discovered in my vlogging test, you may have to tweak the audio setting to suite your mic using the Sound Recording setting. I never could adjust it properly for my mic but found the built-in mic's audio quality was quite good indoors when used at the default setting.
The mic jack is located on the same side of the camera where the LCD flips out and, depending on cable size and thickness, the screen can be slightly blocked when plugging in the mic.
Lenses for the Canon SL3
The Canon SL3 camera I tested came with the EF-S 18-55mm f/4-5.6 IS STM kit lens that produces an equivalent focal length range of 28.8-88mm. STM is an acronym for Canon's Stepper Motor focus system that's designed for quieter focusing when shooting video.
The lens design uses 12 Elements in 10 Groups and has Optical Image Stabilization to minimize camera shake up to four stops when shooting in low light. The barrel has slider controls for AF/MF and Stabilizer On/Off. This EF-S lens will focus as close as 9.84-inches and has a 58mm front filter thread, like many Canon lenses did back in the day.
In common with many inexpensive lenses there's lots of plastic in its construction, including the mount, although Canon tried to dress up the barrel with a silver-colored ring. An EW-63C Lens Hood is optional ($22.88) but I've seen third-party hoods for ten bucks. You should get and use a lens hood, although I didn't encounter any unavoidable lens flare.
The Canon SL3 kit lens' 18-55mm focal length range seems to be de rigueur for entry level DSLRs and underwhelming for serious photography but people graduating from smartphones will find it a revelation being able to use a real zoom lens without compromising image quality. When I was at Hidden Mesa Open Space I did some close-ups at 55mm of the lock on the door to the pump house that's part of the Brian Homestead.
Zooming out to 18mm was interesting but you couldn't see the whole door, so I backed up and stood near the fence around the pump house, shot at 18mm and then at 55mm. These illustrations clearly show what that difference in focal length means in the real world.
Testing the Canon SL3's kit lens at my wall of well-laid bricks showed that at 18mm the lens is sharp corner-to-corner with slight but obvious barrel distortion that does not go away until way past the f/8 sweet spot. At 55mm wide open there is still some minor barrel distortion and much like the 18mm setting, it does not go away until past f/8.
Nikon includes a Lens Aberration correction setting in the shooting menu with off/on adjustments for Peripheral illum, Distortion and Digital Lens Optimizer. Canon is not alone in offering software correction for its optical designs and you can either love it or hate it; I haven't made up my mind. For my brick wall tests, these settings were in default mode but I turned them on when shooting the rest of the review images you see.
The DxOMark rating for this lens is 14, which is a poor ranking, but the lens would not be my main reason for purchasing this camera. The Canon EOS Rebel SL3 body alone sells for $549 but for the aspiring YouTuber that extra $100 would be a great way to get started vlogging right away. Any lens imperfections might go unnoticed in video.
Camera Training Wheels & Other Stuff
The Canon SL3's Creative Assist mode lets you adjust camera settings and see brightness, contrast and saturation in real time. Its Feature Assistant and Shooting Mode Guide explains and illustrates the camera's shooting modes until you become familiar with the SL3's capabilities.
In addition to Canon's famous Picture Styles including Standard, Portrait, Landscape, Fine Detail, Neutral, Faithful, Monochrome and three User Defined options there are Scene Modes for Portrait, Group Photo, Landscape, Sports, Kids, Close-Up, Food, Candlelight, Night Portrait, Handheld Night Scene and HDR Backlight Control. There's also a Smooth Skin mode that offers five levels of smoothing to reduce blemishes and soften a subject's skin, although I think a better solution would be to retouch the file in postproduction.
You can't take it back from an in-camera retouched JPEG, but you can shoot in RAW+JPEG mode to hedge your bets. If that's not enough image effects there are Creative Filters for Grainy B/W, Soft Focus, Fish-Eye, Water Painting, Toy Camera, Miniature and four different HDR Art options, some of which won't give your images that "Elvis of Velvet painting" effect.
In the Field
The Canon EOS Rebel SL3 is sold elsewhere in the world as the EOS 250D but here in the USA, the Rebel brand has always had more caché. Over the three generations of the Canon SL series, the camera has evolved in size and shape.
Although the Canon SL3 feels incredibly lightweight, this latest version has grown slightly. It's 0.4 mm thicker and weighs 0.8-oz more than the SL1. It is also 5.6mm wider and 1.9mm taller.
Canon's EOS M50 ($599) is often, unfairly I think, compared to the SL3 and is 6.1mm narrower and 4.5mm shorter. The M50 is 11.1mm thinner and weighs 2.25 ounces less plus it's mirrorless. The M50 also costs a little less but uses the EF-M lens mount with an 18mm flange focal distance compared to the SL3's 44mm and has a 47mm throat diameter compared to 54mm for EF and EF-S mounts.
As I wrote this, there are seven EF-M lenses available, while its fair to say that the number of EF and EF-S lens number in the many, many dozens. To be fair, Canon offers an EF-M Lens Adapter Kit for EF/EF-S lenses ($180.05) while the SL3 with its EOS mount opens a world of new and used affordable Canon glass, no adapter required.
Camera controls seem intuitive although I initially questioned the Canon SL3's build quality and placement of the off/on/video lever, I got used to it and so will you. An ISO button on the SL3's top makes changing sensitivity easier than menu diving; I liked that.
One button missing on the Canon SL3 is for the pop-up flash because it's totally manual. You just grab it by some little tabbies and pop the little flash head up with your fingers.
Guide number for the flash is 32.1 at ISO 100 (ft) and seems adequate for the kinds of things a built-in flash is typically called upon to do, such as acting as fill for outdoor portraits. Flash sync is at 1/200 sec and there's a hot shoe for a speedlight like the optional ($199) 470 EX-AI that's compatible with the SL3's eTTL flash control.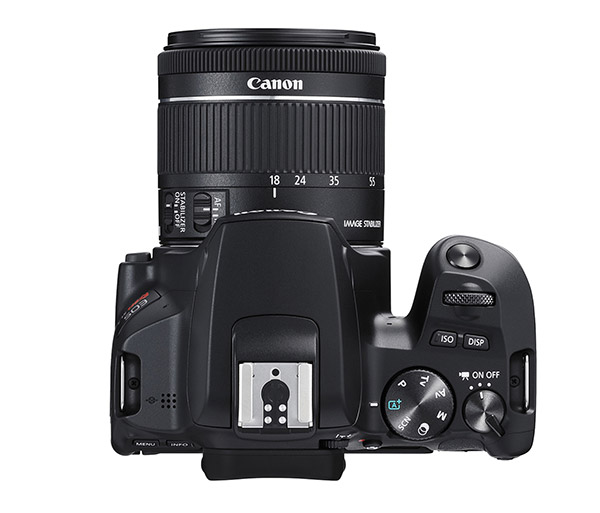 I didn't think I would get to do any cold weather testing with the camera, but this Colorado spring has been wetter, colder and snowier than normal. Canon says the SL3's operating temperature range is 32 to 104 degrees F and zero to 85% humidity, but I ended up shooting a pseudo macro shot of a snowy branch at a temperature of 31 degrees and 93% humidity.
Caveat: Don't try shooting in heavy rain or snow with a non-weather sealed camera like the EOS Rebel SL3. There are 85 Canon lenses with weather sealing that can be used with the SL3 but the camera body itself doesn't have weather sealing.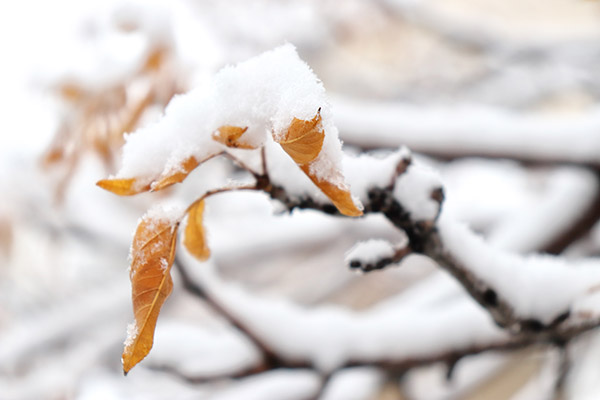 Colorado's wet, snowy and cold spring weather abated in time for Parker's monthly Cars and Coffee event and the automobile community responded by turning out in force. The Canon Rebel SL3, with its flippy screen turned out to be a wonderful companion for photographing the cars, including a group of classic Packards, Hudsons and a rare Essex, that was produced by Hudson between 1922 and 1933.
I was able to use the Canon SL3's flippy screen to get a down-low image of Toyota's 86, that's co-produced with Subaru which sells it as the BRZ. I also shot a few video clips of the event that I plan to use in my car photography blog in the near future and while I was happy with the quality, working without a gimble proved to be a challenge for the image stabilized lens. IBIS would have made for smoother camera moves from my admittedly clumsy attempts.
The only problem I encountered with my Cars and Coffee image files was while copying them to my hard drive; I kept getting read/write error messages. I could see the images in Adobe Bridge and so was able to copy them from Bridge to my drive. It was awkward but do-able.
I don't know if it was a card or camera problem. The card in question was a 64GB (old) Lexar Professional 2000x SD card. Because of previous problems with (old) Lexar cards I had purged them from my system but this one was so expensive I couldn't bring myself to toss it.
I don't have any (new) Lexar cards, so I switched to SanDisk SD cards for photography at a VW-only show I later attended and for the rest of the review. No problems.
As I teased on Instagram (@joefarace): I took the Canon EOS Rebel SL3 to McCabe Meadows to see how well the camera captured infrared images. While somewhat early in the season for the tree's leaves to be fully developed, some small leaves were beginning to burst forth.
I used my Hoya 58mm R72 Infrared Filter because it's the most camera friendly and at $47.59 is affordable. Autofocus through the dense filter was not a problem but I always try to shoot in AV mode with small apertures, you know, just to be safe.
There was a light breeze blowing and so I made exposures at different apertures, letting Auto ISO give me shutter speed choices to minimize possibility of blurring any moving leaves or branches. The Hoya filter produced a magenta colored Raw file, which I processed in Silver Efex Pro to get the monochrome image you see here.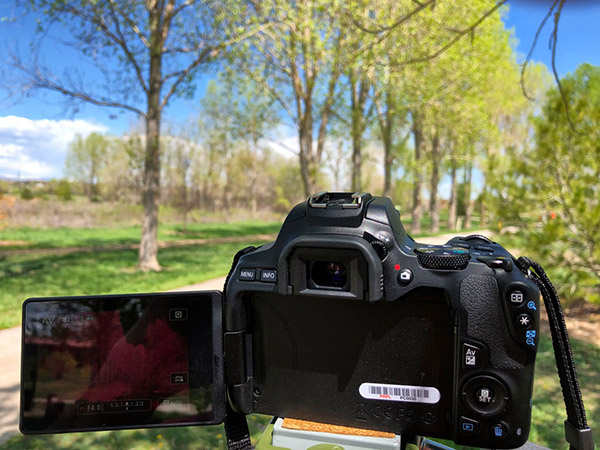 I didn't plan on doing any wildlife photography with the Canon SL3 but living here on Daisy Hill sometimes the wildlife comes to you. I was just back from shooting the infrared images and was downloading them onto my 5K iMac when I witnessed a parade of five young mule deer walking past my office window.
I went into the living room and saw they had stopped to rest in my back yard; some were lying down while others were just strolling around. I grabbed the SL3 with the kit lens still in place and walked out back gradually inching my way closer to the deer until they started to fidget, then stopped to make several images.
When compared to the Nikon D3500 I recently reviewed, the Canon SL3's physically smaller sensor means individual pixels are smaller and will catch fewer photons. That difference can translate into producing more accumulative noise at higher ISO settings.
Since inquiring minds want to know, I had to find out both at the SL3's native ISO 25,600 and at its extended setting of 51,200. A trip to downtown Parker on a Saturday night turned out to be fun, especially when shooting at ISO 25,600 and 51,200.
At 25,600, my results from the Canon SL3 were better than I expected with my shot of the O'Brian Park gazebo taking on a moody, dramatic look that I hadn't experienced before. At 51,200, the image mostly falls apart, but this is in line with what industry experts have told me over the years: Expanded setting are designed for emergency use.
But then I had an idea and tried an experiment: My friend Todd Abbotts says social media has changed the way he looks at how his images are viewed, so I did a test and posted a (different) nighttime image shot at ISO 51,200 on Instagram and here's what I found: Most people didn't mind or seem to care. About the noise, my friend, Pulitzer Prize winning photojournalist Barry Staver said this about my Instagram photo, "When I put my face close I do see noise throughout but I'd say ISO doesn't really matter in social media posts."
As was previously mentioned several of the images sprinkled throughout this review were made during a field trip to the Hidden Mesa Open Space. I tend to shoot images for these reviews using the RAW+JPEG capture option and if you like to shoot RAW (Hi Jared!) and your image editing software doesn't recognize the CR3 files (mine doesn't) the EOS SL3 produces, you can download a free copy of Canon's Digital Photo Professional 4 software. Tip: You'll need a camera serial number. DPP4 is a nice little image editing and RAW file-processing program and is pleasant and mostly intuitive to use allowing you to convert your CR3 file into a format your image-editing program can work with.
Conclusion
Despite its diminutive size and entry-level price tag, the Canon EOS Rebel SL3 is a surprisingly robust, well-built, and well-thought-out DSLR, not just for still images but for video as well. The Canon SL3's image quality is also outsized, and rivals higher-priced camera models in the 20+ MP, APS-C sensor space. Yet for all of this obvious goodness, the Canon community appears to be polarized (not the photo kind) when talking about the EOS Rebel SL3. Some people seem to love it for its combination of size and capabilities while others reject the camera because of what it isn't. I think, however, that this latter group misses the SL3's biggest attributes: It's a small, competent and affordable DSLR that works with all of the existing Canon lenses you may already own. And that's good enough for me because one of the reasons I was anxious to test the EOS Rebel SL3 was that I thought it would be a good addition to my existing Canon system. Through all my testing, this highly portable and reasonably priced camera proved itself to be amazingly able and versatile.
Pricing:
Buy the Canon EOS Rebel SL3 with the 18-55mm kit lens on Amazon for $649.
Buy the Canon EOS Rebel SL3 (body only) on Amazon for $549.
Back in the film days, a friend introduced Joe to shooting with Canon SLRs and along the way he wrote the Magic Lantern Guide to the Canon Elan 7 and 7E. At the same time, he continued to shoot Contax film SLRs and cameras until Contax bowed out and Canon launched the D30 at which point he embraced Canon digital exclusively, at least until the Micro Four-thirds system caught his eye. If you would like to see the specific equipment inside Joe's gear closet that includes a number of EOS cameras and EF and EF-S lenses, please visit www.joefarace.com or www.joefaraceshootscars.com.

FEATURED VIDEO