Benro Tablepod Flex: Highest Quality & Greatest Flexibility (Literally) in a Tabletop Tripod Ever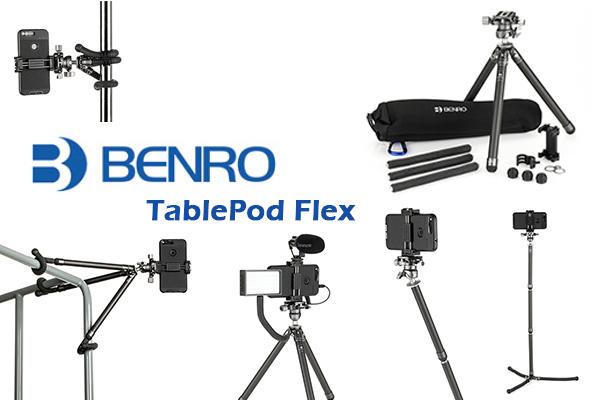 Benro has reinvented the tabletop tripod. The Benro Tablepod Flex is one of those products that makes you smack yourself on the head and yell, "Why didn't I think of that?" But there's more than just sizzle here—there's a fully flexible leg hidden inside each of the three rigid carbon fiber legs, and man are they useful.
We will be here all day if I explain all of the different configurations you can build from the components of the Benro Tablepod Flex Kit. Open the included neoprene and nylon case and inside there is a miniature version of an absolutely top quality tripod, tabletop-size, complete with carbon fiber legs, panning ball head, Arca-Swiss compatible camera attachment plate and removeable rubber feet.
I cannot overstate or exaggerate the extraordinarily high quality of the design, machining and overall workmanship of the ball head on the Benro Tablepod Flex. It rotates 360° and shifts easily from landscape to portrait orientation. Also, the panning platform is marked in degrees and has a cam-type lock to prevent accidental movement.
If we stopped here, the product would be worth its cost without further embellishment. But a high-class tabletop tripod with panning ball head is only the beginning.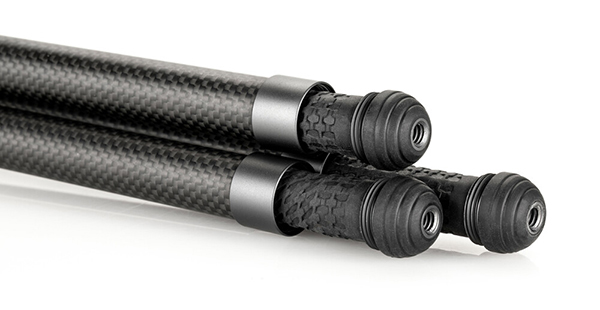 Inside each of the carbon fiber legs there is a flexible leg, waiting to bend into action. You can unscrew any or all of the Tablepod Hard Legs (as they are called) and replace them with the normally-hidden Tablepod Soft Legs, thereby converting the tabletop tripod into a flexible tripod. Or you can retrieve the soft (flexible) legs and attach them to the ends of the hard (carbon fiber everyday) legs, creating a hybrid rigid-plus-flexible combination. Don't worry—Benro includes an extra set of rubber feet so the flex legs won't scratch the hood of your car.
Another option is to remove two of the hard legs and reconnect them end-to-end to the third leg. Presto! Instant selfie stick with ball head.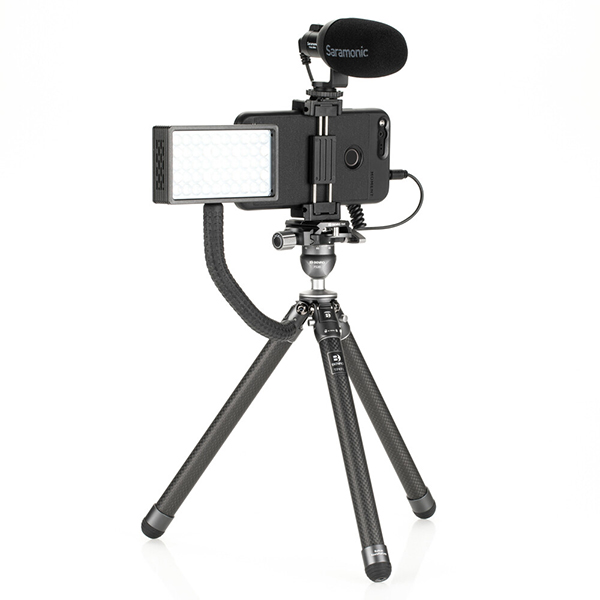 Or you can remove one (or more) of the soft legs and attach it to the threaded port near the top of a hard leg. Do this and you have a tabletop tripod with an integrated flexible arm that can hold a light.
The Benro Tablepod Flex Kit comes with a well designed smart phone adapter that enables you to fasten your phone to the camera attachment plate. The adapter is universal, of course, so it can be used with other standard tripods. Benro also includes some hardware to help you stabilize the flexible legs in some situations, and a carabiner. Additional leg sections can be purchased separately for maximum versatility.
I should mention that the Benro Tablepod Flex is a nice size—not too small to use comfortably and not to big to pack or carry conveniently. It weighs a hair over 15 ounces (0.43kg) and the overall length when folded and compacted for travel (by my own measurement) is about 12 inches. Note that this is with the ball head tilted to create the smallest profile.
I didn't find a Maximum Weight specification on the Benro website; I hope they add it soon. The max load depends on how you have it set up, we can presume, so use common sense and don't overload it. In the rigid-leg configuration, I wouldn't hesitate to put a well-balanced DSLR and lens on it, but I'd give it a few test shakes before walking far away from it. I used it with an assortment of point-and-shoot cameras and it was completely stable.
Conclusion
Benro has been producing professional tripods and accessories since 1995, and they are the first choice for many working pros. It's easy to see why. Thinking back over my many years of travel, I can think of a number of situations where the Benro Tablepod Flex Kit would have made my life easier and my photography better. The price is right and the quality is superb. Buy one for yourself for $159 (with free shipping from Benro) and another for your dad (Father's Day will be here soon), mom (ditto) or that kiddo who's graduating in June.
—Jon Sienkiewicz
(As an Amazon Associate, Shutterbug earns from qualifying purchases linked in this story.)