JOBY PodZilla Tripod Kit Is Ideal for Smartphones & Video Content Creators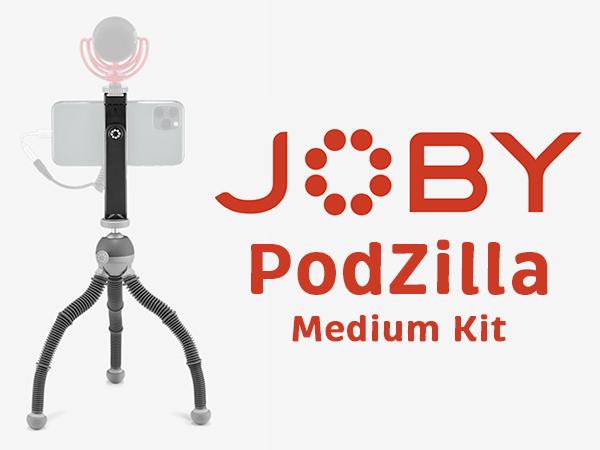 There's a new tabletop tripod in the JOBY stable, the slim, sleek PodZilla. Perfect for cell phone photography, it includes a cleverly designed rotating smartphone grip. Here we compare it a longtime favorite, the JOBY GorillaPod 3K Kit.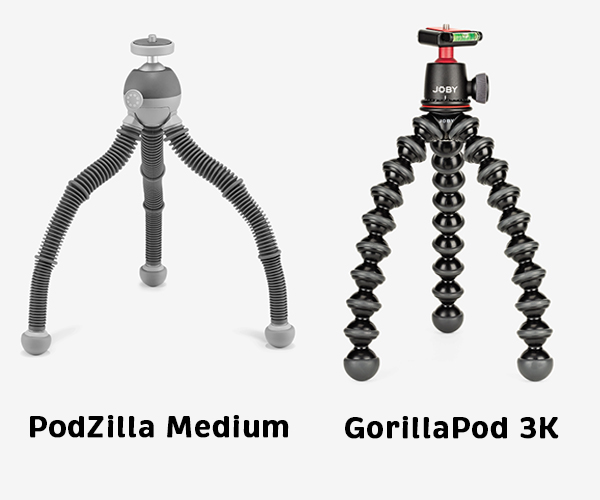 If you put a JOBY GorillaPod 3K tabletop tripod on a zero-carb diet, it would surely become a PodZilla. Gone are the iconic round knuckles that comprise the legs, replaced instead with closely spaced disks that resemble a fossilized snake. The knob on the ball head has been replaced with a fast-action push button, and the spirit level (which was of negligible value, anyway) is gone altogether. Oh, also the color has changed. Instead of basic black, PodZilla is battleship gray and there are muted red, teal and yellow versions available, although I can't imagine why.
The PodZilla can support up to 2.2 pounds, 1 kg. That's plenty enough for a phone or small compact camera, but anemic compared to the 6.6 pound (3 kg) payload that a GorillaPod 3K can bear. The tradeoff is that PodZilla is smaller and therefore easier to transport. She's also more than one-third (5 ounces) lighter.
PodZilla has one distinct advantage: the GripTight 360 phone grip. It clasps onto smartphones between 2.6 and 3.5 inches wide and has a pair of cold shoes that can hold a Lume Cube or other small LED lamp, or a light weight shoe mount microphone.
The GripTight 360 phone grip also provides a steady base for smartphones used on Zoom, Line or other video calls.
Specifications
JOBY PodZilla Medium Kit with phone grip
Dimensions: 1.9 x 2.1 x 9.4 inches (4.8 x 5.5 x 24 cm)
Weight 8.8 ounces (250 g)
Capacity: 2.2 pounds (1 kg)
Construction (per JOBY's website): Aluminum, Rubber, Plastic.
Includes GripTight 360 phone grip for mobile devices measuring 2.6 to 3.5 inches wide
Order from Amazon for $45.
JOBY GorillaPod 3K Kit with ball head
Dimensions: 2.4 x 2.6 x 12 inches (6 x 6.5 x 30.5 cm)
Weight 13.9 ounces (393 g)
Capacity: 6.6 pounds (3 kg)
Construction: (per JOBY's website): Durable medical-grade Aluminum, Stainless steel, ABS plastic and TPE (Thermoplastic Elastomers)
Order from Amazon for $38.
In the Field
PodZilla attaches directly to the bottom of a camera via the standard screw thread. GorillaPod 3K has a plastic camera mounting plate that makes it easier to dethatch the camera for spontaneous handheld shooting. The PodZilla kit includes the GripTight 360 phone grip which fits easily on most modern smartphones and has cold shoes for optional accessories.
Both PodZilla and her big brother GorillaPod 3X are quick and easy to deploy. Because of the multi-jointed legs, it's easy to make micro adjustments to camera angle and perspective with either model.
Both models are equipped with feet that provide sufficient friction for secure and comfortable use even on slick surfaces like ceramic tables or marble countertops.
Either can serve as a selfie stick, albeit a short one. And of course both models can wrap their legs snugly around any tubular shape like a fence rail, tree limb or school playground jungle gym leg for secure, handsfree shooting.
Conclusion
The JOBY PodZilla Medium Kit is excellent for smartphone photography or use with a small compact camera. It's small and light and packs easily. Like all JOBY 'pods, the legs wrap tightly around a tree branch or deck rail, and the push-button ball head is fast and secure.
For mirrorless, full-size compacts and DSLR cameras, the JOBY GorillaPod 3K Kit is still top choice. It supports up to 6.6 pounds—three times as much as the PodZilla—and has an overall more substantial feel.
Me? I'll stick with my tried and trusty GorillaPod 3K. But then again, I shoot mainly with big cameras that require the extra heft, bulk and 6.6 pound capacity.
As with any tripod, regardless of brand, size or configuration, never overload. Use caution when mounting a camera with a long lens that shifts the balance point away from the center. Tabletop tripods are infinitely useful. If you don't own one, today is the day to change that. Visit the JOBY Store on Amazon.com.
Become a Member of the Shutterbug Community
Register for a free account. Sign up for our newsletter. Spend five minutes (or less) uploading your best shots once every week or so. Potentially become a Photo of the Day winner. Enjoy viewing the fantastic work being done by thousands of photographers all over the world—and add your images to the enduring collection.
—Jon Sienkiewicz
(As an Amazon Associate, Shutterbug earns from qualifying purchases linked in this story.)

FEATURED VIDEO