Peak Design Travel Tripod Review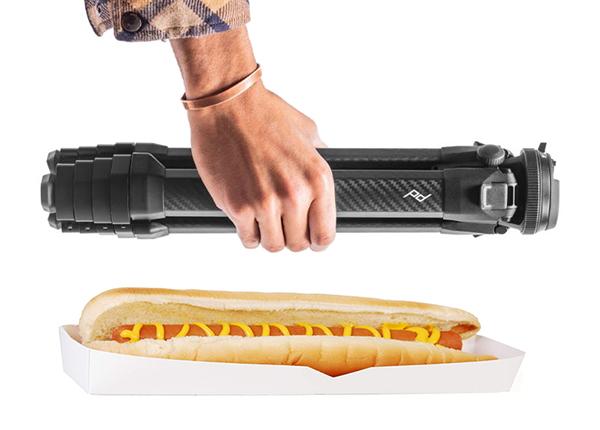 Peak Design just launched a Kickstarter campaign for a travel tripod. Packed with innovative features, this extremely compact marvel is available in aluminum alloy or carbon fiber, supports a payload of up to 20 pounds and is not much bigger than a Philly cheese steak sandwich—or the footlong hot dog shown above—when folded up (3.1 x 15.5 inches). We had a chance to put an early sample through the paces; here's our hands-on report.
UPDATE: You can now buy the Peak Design Travel Tripod for $599 on Amazon.
They've done it again. Peak Design has rocked Kickstarter with another crowdfunding phenomenon, their ninth. The Peak Design Travel Tripod raised more than $5-million in pledges the first week, achieving 1000% (three zeros) of their goal with 50 more days to go.
UPDATE: They have met their crowdfunding goal and you can now buy the tripod here.
Whither a Tripod?
A tripod is the only accessory that can improve nearly every photo we take. Think about that. Not just long exposures, tele lenses and group selfies, but every shot.
We know tripods are good for us, but we are willing to spill a little quality in favor of convenience. I'm making an admittedly broad generalization that people don't use tripods more often because 'pods are thought to be heavy to schlep, slow to deploy, hard to use with precision and unwieldy in general. And they used to be ugly as well, until 3 Legged Thing came along. Take one on vacation? About as likely as visiting a cockroach petting zoo.
Peak Design isn't the first company to address the alleged issues that deter photographers from using tripods, and they won't be the last. But the solution they've derived is clearly one of the best.
Features
The centerpiece of this intriguing design is the innovative and intuitive compact ball head that locks and unlocks with a simple turn of a large, comfortable ring that surrounds the center column. Ball head is multidirectional, 360° of course, and the lock is precise and secure, although it takes some getting used to.
Center column and legs nestle snugly to fill internal space typically left empty on larger, bulkier tripods. Brilliant design, exceptional engineering. There's a hook at the very bottom of the center column for hanging a stabilizing weight. Concealed within the bottom of the column hides a cleverly designed universal cell phone mount.
Unique quick-release camera attachment mechanism is Arca Swiss compatible and is supplied with a familiar Peak Design standard plate that also fits their Capture camera clips and other Peak Design accessories. The mechanism locks neatly with a cam-action that's simple and tight. Works with third-party Arca Swiss type lens and camera brackets, including the awesome 3 Legged Thing QR11-L which I tested with this tripod. There's a spirit level on top, but it's very small and of limited value.
Legs and Feet
Available with anodized 6061-T6 aluminum alloy or carbon fiber legs.
Equipped with five leg sections, the tripod expands to a maximum extended height of 60 inches and functions as low as 5.5 inches in Low Mode. Low-profile levers lock and unlock legs, and operate faster than you can say "low-profile levers lock and unlock legs."
Rubber, skid-proof feet can be replaced with optional spikes for ground-gripping traction.
Specifications
Maximum height with center column raised: 60 inches (152.4 cm)
Maximum height with center column down: 51.2 inches (130.2 cm)
Minimum height in Low Mode: 5.5 inches (14 cm)
Load capacity: 20 pounds (9.1 kilo)
Weight for aluminum alloy model: 3.44 pounds (1.56 kg) or 55 ounces
Weight for carbon fiber model: 2.81 lbs (1.27 kg) or 45 ounces
Packed (stowed) dimensions: 3.125 x 15.5 inches (7.9 x 39.2 cm)
Warranty – Lifetime Limited USA Warranty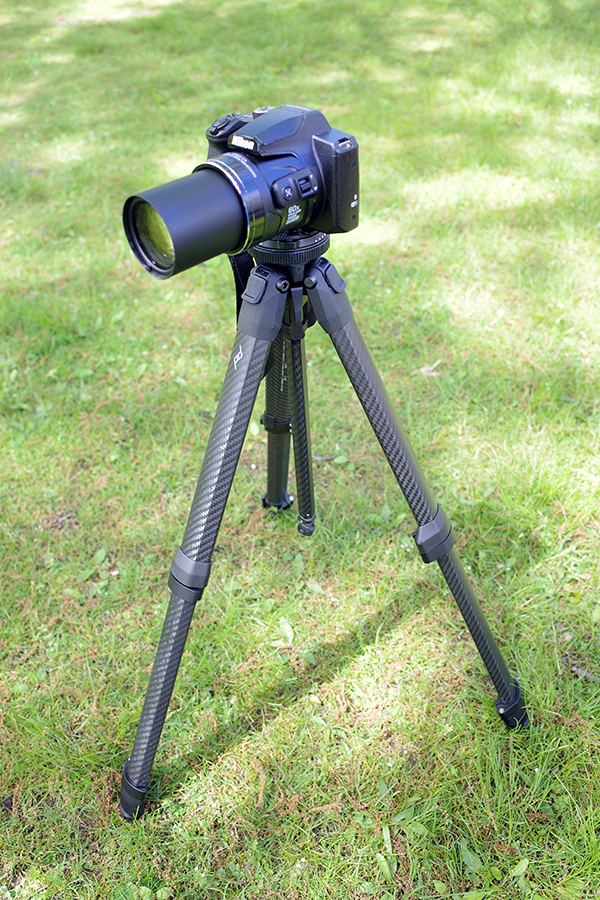 In the Field
I tested the carbon fiber model under real-world shooting conditions. It's exceptionally fast to set up and knock down. And although it's as light as soda straw, it's obviously durable and extremely well made (like all other Peak Design products I've encountered).
I really like the way the Peak Design standard plate snaps into the quick-release mechanism on the top of the ball head. This was definitely the fastest I have ever been able to attach or remove a camera from any tripod head—and yet it's very secure. The top deck is a deeply furrowed, high-friction metal surface that will never wear out. Press the lock down with your thumb and snap the plate into position. It locks in place with a quarter-turn of the locking ring below it, but it feels very secure even when not locked. (That said, do lock it.)
On the other hand, it took a while for me to get used to the ball head rotational adjustment. To operate you must hold the camera steady while turning the locking mechanism which encircles the head like a wheel. After a few frightful attempts I gained a manageable level of control, but I cannot say that I truly mastered it.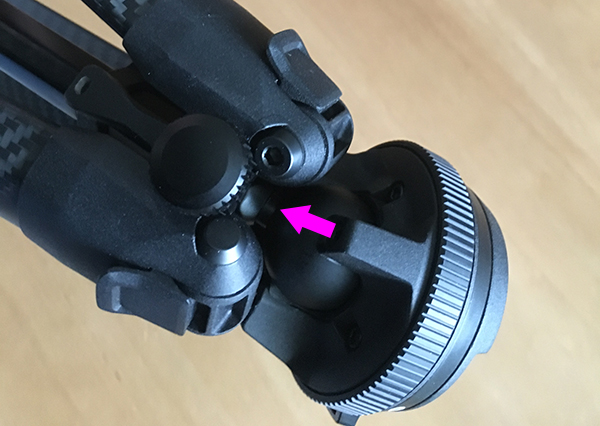 The bigger problem is in the ball head design. The ball rotates inside three fingers that hold it in place. When the center column is fully lowered, the three fingers fit snugly inside the three gaps that form where the tops of the tripod legs meet. See image above. This is great when the tripod is collapsed for transport or storage, but it means that you cannot rotate the ball head unless you first raise the center column high enough for the fingers to clear their nests, about half an inch.
Of course, the easy countermeasure is to raise the column that half-inch, rotate it about an inch so that the fingers rest on the tops of the legs instead of in the troughs between them, and lock it back down. Now when you attempt to rotate the ball head, it moves freely. Problem solved.
Another negative that some will find unforgivable, the unique and compact design of the ball head assembly makes it impossible to pan. Because this is a travel tripod after all, that limitation really doesn't bother me. I gladly sacrifice panning in exchange for the small size and light weight.
Accessories
Peak Design is planning to offer Spiked Feet (which look just like their name) to give the tripod legs better traction outdoors or on 1970-era shag carpeting. There's also a Universal Head Adapter that replaces the slick locking mechanism with a standard threaded screw. The MSRP is $30 for either.
The Peak Travel Tripod comes with a light weight travel case.
This and That
As stated above, the Peak Design Travel Tripod is available via Kickstarter. See that website for details and updates. Plan is to ship product "…to all backers by the end of December of this year" according to Peak Design.
Peak Design Travel Tripods are manufactured in ethically monitored work environments in Dongguan, China.
After the Kickstarter campaign concludes, product will be made available to the general public. The anticipated retail price for the aluminum model is $349.95, and for the carbon fiber, $599.95.
1% of Travel Tripod sales go to grassroots environmental nonprofits. Peak Design is a 1% for the Planet member, meaning that 1% of all revenue goes to protecting wild places. As of April 2019, they had already donated over $1 million to environmental nonprofits.
Conclusion
Unlike conventional tripods that are perceived as being oversized, heavy, slow, imprecise and unwieldy, the Peak Design Travel Tripod is petite, light weight, blindingly fast, super-accurate and graceful.
It's clever and innovative where it matters, like in the leg latches and quick-release attachment mechanism, and simply brilliant with all of the finishing touches—including the neat hideaway cell phone adapter that slips into the bottom of the center column.
It's a cool travel tripod, that's for sure, but it's also a great tripod to have around the house when the need arises—like impromptu macro opportunities or quick group shots of family and friends.
The carbon fiber model is gorgeous and weighs less than its aluminum alloy sibling. But it's also substantially more expensive. If you hike, backpack or bicycle often with a tripod on your back, the 10 ounce weight difference might be worth it. Otherwise buy the aluminum and spend the other $250 on a Peak Design Everyday Backpack.
UPDATE: You can now buy the Peak Design Travel Tripod for $599 on Amazon.
—Jon Sienkiewicz
(As an Amazon Associate, Shutterbug earns from qualifying purchases linked in this story.)

FEATURED VIDEO