Vanguard Alta Pro 2+ 263CT Tripod & BH-100 Ball Head Review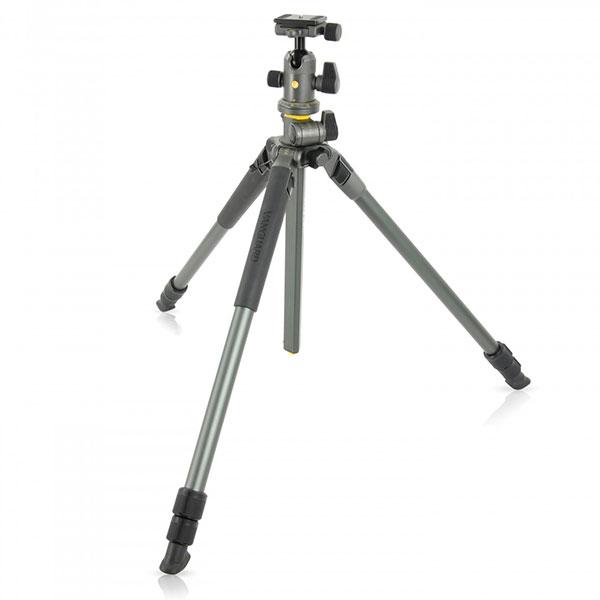 While image stabilization in camera bodies and lenses has stretched the bounds of slow shutter speed usage, there's nothing that can take the place of a good tripod in terms of image sharpness and the ability to take advantage of today's camera technology. Working with HDR, with very long exposure times, and the ability to shoot at virtually any aperture and shutter speed without resorting to excessive ISOs are obvious benefits.
Use a tripod when making images of a glorious sunset's afterglow; a long-time exposure of waves lapping on the shore; distant shots of eagles or sandhill cranes; landscapes in dim light when you want a very deep depth of field; or when shooting macro and ensuring you nail focus on the sweet spot in the frame, and you'll quickly see how it expands and enhances your photographic possibilities.
And one last thing before we get to the subject of this review, my test of Vanguard's new Alta Pro 2+ 263CT offering: the coupling of a good tripod with Live View and remote shutter triggering through a smartphone or other mobile device expands a tripod's usefulness even further. One of the advantages of this technology is that you can set up a tripod in any position and no longer have to twist and contort your body to see through the viewfinder.
This newfound freedom is, to me, an exciting development that joins hardware and software in a way that will redefine the potential for making unique, exciting images.
The Alta Pro 2+ 263CT
With all that in mind, Vanguard this year launched their new Alta Pro, the 2+ 263CT tripod ($299), and I was eager to put it to the test. Many moons ago (2013) I reviewed their ABEO Pro Kit, with a wired and swiveling pistol grip shutter release attachment and an easy-to-use vari-angle center column, and I was impressed with the build and versatile options of that kit. The Alta Pro 2+ is their latest, with many improvements that build upon and improve their swiveling center column approach, along with enhanced ease of use for low-angle and low-to-ground point-of-view shooting. While the tripod can take just about any head you may already have, Vanguard sent along their Alta BH-100 ball head ($79) for the test.
First, some specs. Although the Alta Pro 2+ tripod is available in an aluminum version, the CT is the carbon-fiber build that weighs a mere 3.7 pounds, sans head, and has a load capacity of 15.4 pounds. The Alta Pro 2+ 263CT is the three-section version of the tripod (there's also a four-section version, the Alta Pro 2+ 264CT, which sells for $339).
When closed, the Alta Pro 2+ 263CT is compact at 24 inches, and when extended reaches a height of 63 inches. There are three leg sections with twist-lock mechanisms that can be quickly set due to a 35-degree lock and unlock system. Aiding the adaptability to any shooting scenario is what Vanguard dubs a "Multi-Angle Center Column System" that allows for a wide degree of rotation, including horizontal positioning (at any angle in 15-degree steps) that it is ideal for low-to-ground macro work.
The setup is fast and easy: the hexagonal shape of the center column assures a firm lock-in-place. The legs can splay out, collectively or individually, in 20-, 40-, 60-, or 80-degree angles that adapt to any terrain or shooting requirements.
In the Field
There are numerous setup and locking mechanisms that aid in getting just the right angle you want in a firm, stable position. All the grips on the Alta Pro 2+ tripod have a rubberized coating, so opening the three section legs and then twisting to keep them firmly in place is easy. From there you can splay the legs out by twisting a knob right next to the center platform and adjusting in 20-degree marked increments on each leg: zero is for packing and carrying the enclosed unit; 20 degrees is, for me, the flat surface setting for each leg; and because each leg has similar markings, you can easily adjust each to match the others or vary the settings to adjust to uneven terrain.
The angle of leg adjustment goes all the way to 80 degrees, making the tripod perfect for low-down, close-to-ground macro work.
The center column can be extended up to 63 inches to gain extra height. It's also easy to set up the column in a horizontal (or other angled) position for close-up work. It is common knowledge that, as with any tripod, the higher you go (and the heavier the gear), the less stable the platform. But while using the Alta Pro 2+ tripod, I felt confident with a three-quarter-length extension with a full-frame DSLR and a fairly heavy 105mm f/2.8 macro lens attached. Test it with your gear to get a feel for the limit.
Vanguard has always made their rotating center column/horizontal adjustment a main feature of their product offerings, and having tested various models in the past I feel that the Alta Pro 2+ tripod makes it easier than ever. The first step is loosening the height adjustment knob and extending the column so that it stands free of the center platform guide: you then release/turn the middle knob with your thumb to set the angle and lock it in place, then lock the center column knob to firm it up.
There are a few caveats here. If the angle of leg splay is, say, 20 degrees, make sure to set the rotation so the center column sits over a leg to ensure stability, especially if you are working with heavier gear. As you splay out to 60 or 80 degrees the lower center of gravity lets you swing the center column so that the camera looks down at a "leg-free" view. Also, set the tripod up first then place the camera on the head, testing for stability carefully. In any case, the further the horizontal extension of the column the less stable it is bound to be, especially with heavier gear. I made numerous shots at the 60- and 80-degree leg splay with the column extended a bit more than halfway and never had any tipping issues. Careful rehearsal with your gear will let you test the limits.
Vanguard provided a loan of their Alta BH-100 ball head for my tests. The head has a quick-release plate with a standard thread to attach the camera, which I left on the camera even when not using the tripod. There are two guide rails that allow for easy attachment to the ball head (angle in style, not slide) and a very firm rubberized locking screw to batten down the hatches.
Of course other heads can be attached, but like many photographers I find a ball head has the most facility for composing shots. The head screws firmly into place on the column head and has two knobs for rotation of the whole head and angle of tilt, both of which have firm locks and rubberized coatings. Vanguard also supplies a nice shoulder bag that can be used to cover and hold both the tripod and mounted ball head.
Conclusion
Like any piece of gear, the market is filled with tripod offerings in a variety of builds, composite materials, and a range of options. Having shot with a fair share in my time, from the wobbly sticks I used when starting out to more elaborate carbon-fiber, thick-legged, multi-section models, I have learned that a good field tripod is an essential item in any photographer's kit. I rarely carry a tripod when wandering around cities, but I always have one along for landscape, nature, architecture, and low-light work.
Over the years I have come to appreciate the benefits of carbon fiber, both in terms of carry weight and strength, and the Alta Pro 2+ 263CT tripod proved no hindrance to having it along on long hikes over hill and dale. I practiced setup, leg extension and angling, camera to head attachment, and especially horizontal center column manipulation in my studio prior to my first field experience, something I recommend so that you won't have to learn in the field. I have observed too many photographers wrestling with their tripods while the light fades and, like with any gear, practice makes perfect.
There are certainly longer extension and heavier carbon-fiber tripods on the market, and matching the gear you use with your tripod should be the first criteria for any choice. But if you want a lightweight, easy to set up, and highly flexible unit at an affordable price, one that will serve as an excellent companion for a wide range of outdoor (and even studio) work, you can't go wrong by considering the Alta Pro 2+ 263CT as a field companion. One more thing: this tripod received the 2017 TIPA award as the best tripod of the year voted by editors of 30 photo magazines worldwide—not a bad recommendation.