3 Legged Thing Punks Billy 2.0 Tripod REVIEW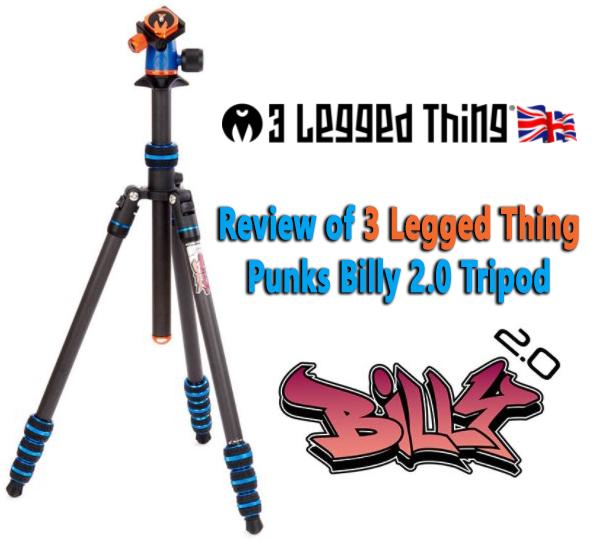 Our maniacally creative friends in England have been at it again. Fresh on the heels of introducing their first-ever camera bags, 3 Legged Thing has updated their entry-level line of tripods to version 2.0. The Punks lineup includes Corey, Travis, Brian and Billy. We found Billy 1.0 (now known as 'plain old Billy') to be highly reliable and easy to use. But now Billy 2.0 has joined the stable. How does this interloper compare with the incumbent, and should we care?
For some helpful advice on buying a tripod, read What Type of Tripod Should I Buy? Buying Advice: How to Buy a Tripod that we published a couple years back. And you can follow this link to read our review of 3 Legged Thing's Morally Toxic camera messenger bags and photo backpacks.
Spoiler Alert
New Billy 2.0 is better.
We reviewed the original 3 Legged Thing Punks Billy tripod a couple years ago (read review here) and exclaimed it to be an outstanding value. But in version 2.0, all 3 Legged Thing Punks tripods have been improved in the ways described below.
3 Legged Thing Punks 2.0 Tripod Enhancements
The big news is the addition of an integrated, reinforced 1⁄4-20 thread to the tripod canopies. Very useful. You can add an accessory arm to support a light or small monitor.
Versatility has been improved in other ways too. All models have detachable legs so you can quickly convert your tripod into a monopod, boom or—by adding 3LT's optional Vanz Tripod Feet—a tabletop tripod.
Also, the center of gravity, which determines overall tripod stability, has been lowered via the addition of bigger, heavier leg locks. The leg locks now feature rubber pads and knurling for improved grip and leverage even when wet. I found the new leg locks to work faster, too; at least that's the feedback they deliver.
Internally, Punks 2.0 tripods use the same shims found in 3LT's Pro Range 2.0 and Legends tripods. And the Tri-mount plate on the top of the center column has been redesigned with larger, squared-off openings to attach accessories more easily.
3 Legged Thing also improved their popular tripod ball head. AirHed Neo 2.0 now has knurled, easier-to-grasp control knobs.
All four tripods are available in two refreshed colors. Choose between Blue with blue ball head and blue accents, and Black with black ball head and copper accents.
Finally, Punks 2.0 tripods are now supplied with a new padded, clamshell-type case. Alternatively it holds one bottle of wine, a six-inch sub sandwich and a handful of Snickers bars, which is probably what it's used for in a parallel universe.
Punks Billy 2.0 Specifications
Load Capacity: 40 pounds (at 23º Leg Angle)
Maximum Extended Height: 65.3 inches
Minimum Useable Height: 4.6 inches
Collapsed Length: 17.9 inches
Center Column Material: Carbon Fiber
Carrying Weight: 3.5 pounds
Number of Leg Sections: 4
Leg Material: Carbon Fiber
Leg Angle Locks at 23º, 55º and 80º
Quick Release (Arca Swiss Compatible)
Includes AirHed Neo 2.0 Ball Head
In the Field
3 Legged Thing Punks Billy 2.0 opens, deploys and locks securely into position easily and fast. This is critical because the two biggest complaints about traditional tripods are speed and difficulty of setup.
It's also a comfortable carry at just 3.5 pounds—thereby nullifying the third most common tripod lament: extra weight.
A tripod has one essential job: hold a camera steady in the exact same place for as long as required. 3 Legged Thing's Billy 2.0 nailed that job with style and grace.
Conclusion
All 3 Legged Thing products, from their precisely milled camera L-brackets to their sharp, shiny tripod accessory feet, are carefully and beautifully made from premium components. Workmanship is impeccable and the designs are both ingenious and aesthetically excellent. And 3 Legged Thing tripods set the standard when it comes to evaluating tripods on the basis of Performance vs. Price.
3LT's Punks Billy 2.0 is a superior tripod that's built to last a lifetime of rugged use. Highly recommended.
Prices and Availability
3 Legged Thing Punks 2.0 tripods are available now. The following MSRPs apply: Corey 2.0 $239.99, Travis 2.0 $239.99, Billy 2.0 $339.99 and Brian 2.0 $349.99. If not available at your local camera retailer or trusted online source, you can order directly from 3 Legged Thing.
—Jon Sienkiewicz
(As an Amazon Associate, Shutterbug earns from qualifying purchases linked in this story.)

FEATURED VIDEO