Sony's Alpha A330 D-SLR; Stepping Up Into A More Creative Realm
Sony is not shy about who this new D-SLR is designed for—those seeking to step up from point-and-shoot digicams into the land of interchangeable lenses and easy application of creative controls. A camera like this always presents some challenges for a reviewer, and as uncomplicated as it can be in terms of capturing good images, the question remains whether it offers good value for the money while delivering a rewarding photographic experience. Can it meet the needs of those who want to get more into their photography than just leaving it in Auto mode? As we see more and more "basic" D-SLRs come to market, are cameras like this just digicams with interchangeable lenses and not much more?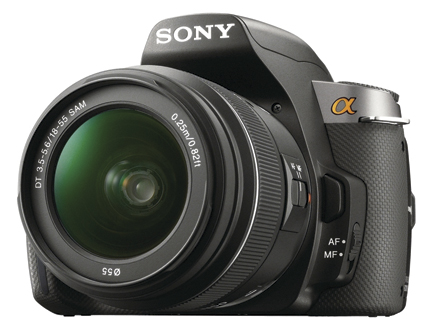 Clearly the camera is priced right—the MSRP with a two-lens kit is $849 (18-55mm and 55-200mm Smooth Autofocus Motor (SAM) lenses) and $649 for the camera and the 18-55mm lens. For a full list of specs see the Sony website (www.sonystyle.com), but here are some of the highlights we noticed when working with the Alpha A330.
Build And Operation
It's quite small and compact, measuring about 5x4x3" (rounded off) and weighing a bit over a pound (sans lens) with a comfortable, protruding, and textured right-hand grip, making it easy to carry along. It has a simple Live View On option switch, with a Live View that actually stays "live" even when you expose the image (no blackout).
Down Low
The articulating LCD monitor encourages some creative shooting, twin-lens reflex style, like this shot taken from ground level of desert flowers backed by the glorious red rock formations. An aperture of f/22 achieved focus from about 4 ft away to the distant hills.
All Photos © 2009, George Schaub, All Rights Reserved
Oddly, the Sony instruction book recommends that you can keep the camera steadier when shooting Live View by locking your elbows against your side and viewing like an old twin-lens reflex or rollfilm amateur camera with a top view glass finder, rather than the arm's length style used by most digicam and camphone shooters. This is aided by the articulating 2.7" LCD monitor that tilts down at various angles (but not side to side) until it reaches 90? from the body. I found this an interesting way to shoot but used this more when doing macro and ground-level shooting. The monitor is quite bright and readable on sunny days, a good thing as that's where all your Menu items have to be selected.

The Exposure mode dial on the left side offers user-controlled Aperture- and Shutter-Priority, Manual, Program, and various Scene modes, as well as that green Auto mode that to me takes the fun out of photography but should appeal to those first putting their toes in D-SLR waters. The Scene modes are the usual suspects, although when you choose them you get a brief explanation of what they do on the LCD, something that will be obvious after using them one or two times, thus a tutorial that wastes screen real estate through constant repetition.
Landscape Creative Style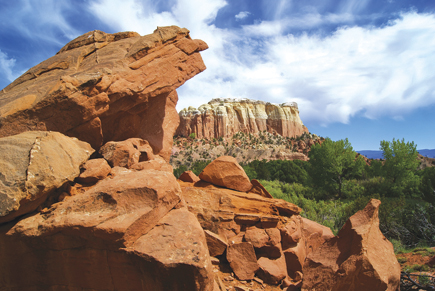 Setting the Creative Style menu (via the Fn button) to Landscape yielded rich colors and a deep blue sky; an aperture of f/22 in AV mode handled the deep depth of field.
There are quite a few selection buttons on the camera back, which does make the most commonly selected creative options accessible without having to bother going into the Menu. There's an Exposure Compensation Activation button, which doubles as a zoom in Playback mode. The now familiar toggle control setup offers flash options for the built-in flash (GN of 33 in feet/ISO 100), ISO changes (100-3200), advance (2 frames per second in Live View, 2.5 in Viewfinder mode), and self-timer. The Fn (Function) button is not programmable but is the access to many commonly used field shooting controls, including AF mode, Metering mode (evaluative, center-weighted, and spot), Sony's Dynamic Range Optimizer (for contrasty scenes in Normal and "Advanced" mode—more on that later), White Balance, and "Creative Style" (vivid, portrait, landscape, and monochrome) selections, all of which play out on the Live View screen prior to shooting.
Fill Flash
While not very powerful, the built-in fill flash can help you bring light to shadows in backlit scenes, aided by Sony's Dynamic Range Optimizer, which tends to level out contrasty scenes. For scenes such as this I recommend using the Advanced DR option. Exposure with flash on was f/22 at 1⁄80 sec at ISO 100.

FEATURED VIDEO