Samsung's GX-1S; The K-Mount Revolution Continues
It seems obvious that being part of a group is better than going it alone against the Canon and Nikon digital SLR juggernaut. The K-mount group now joins the Four Thirds alliance in competition with The Big Two. Developed jointly with Pentax Imaging (www.pentaximaging.com), Samsung's GX-1S digital SLR features a compact, lightweight, easy-to-hold body along with features aplenty--including K-mount compatibility. Pentax introduced the K-mount to the world in 1975 and over the years extended the mount's functionality with automatic exposure, autofocus, and digital information exchange while retaining compatibility between old and new equipment.
The K-Mount Alliance
The GX-1S has an 11-point, wide-area autofocus system, with a choice of AF Single or AF Continuous, providing accurate autofocusing under a variety of shooting conditions. Samsung's three-mode exposure system includes 16-segment multi-pattern metering, along with center-weighted and spot metering. For additional control, you can choose from eight Scene modes, including Landscape, Macro, Moving Object, Night Scene, and Portrait, which tended to produce images slightly "softer" than I prefer, but you may like it. White Balance settings include AWB, Daylight, Shade, Cloudy, Fluorescent, Tungsten, Flash, and a Manual setting that's the easiest to use of anything I've tried.

Recent graduates of the point-and-shoot academy will appreciate all of the camera's automatic operations, including an Auto Scene mode that automatically selects the appropriate picture mode depending on the subject. In Auto Sensitivity mode the GX-1S automatically selects the ISO to help reduce camera shake. (You can manually select from ISO 200-3200.) All of these controls are accessed from a large, easy-to-read mode dial while additional information is displayed on a 2.5" LCD preview screen.
I photographed my wife Mary next to the apple tree in our front yard using the Pentax 12-24mm zoom with its tulip lens hood attached that created a shadow in the lower part of her face when used with the GX-1S's pop-up flash.
All Photos © 2006, Joe Farace, All Rights Reserved
The GX-1S measures 4.9x3.6x2.6" and weighs 16 oz. Instead of yet another proprietary battery format, four AA-size lithium, Ni-MH, or CR-V3 batteries power it. The manual warns that "the camera may not support all the camera functions" when using AA alkalines and recommends their use only in emergencies. It further warns against using Panasonic's Oxyride batteries or rechargeable CR-V3 because they "may cause malfunctions." The manual appears--it's a bit vague in its battery recommendations--to recommend CR-V3 batteries, but since they provided AA alkalines I used them and they worked fine but have limited life when using the pop-up flash.

With a Guide Number of 15.6 at ISO 200, the built-in flash falls into the category of "mostly harmless" and works best for fill outdoors or when you're close to the subject--but not too close. When used with some lenses, such as the Pentax 12-24mm zoom that uses a large tulip-shaped hood, the flash can be blocked and will cast shadows on your subject. There's an easy solution: take off the lens hood. If flash photography is important to you, spring for the optional SEF-36PZF shoe-mount flash. You'll get more power and it has a higher flash head so you can use the lens hood without concern.
What's the solution to shadows created by a large lens hood when the Samsung's built-in flash is used? Take off the lens hood! Exposure was 1/180 sec at f/8 with a +1/2 stop exposure compensation at ISO 200.
Multiple Optics
As with other Samsung camera models, the GX-1S was developed with Schneider optics. The GX-1S is available bundled with the D-XENON 18-55mm lens as a kit. I tested the camera with a D-XENON 50-200mm f/4.0-5.6 lens that has a 52mm filter size. The GX-1S can also be used with many Pentax digital SLR lenses, as well as KAF2 and KAF mount lenses.

I decided to try something more modern, the SMC 12-24mm f/4.0 (IF), which performed flawlessly. For starters, the fit and finish of the Pentax lens is nicer looking than the Schneider lens. The optical performance of both lenses was superb but the Pentax lens oozes better build quality. With Extra-low Dispersion (ED) glass and two aspherical lens elements, the image circle in Pentax's DA-series lenses is designed to match the 23.5x15.7mm CCD imager used in Pentax and Samsung digital SLRs. The 12-24mm zoom has 13 elements in 11 groups and focuses internally so the "tulip" lens hood that's included doesn't rotate during manual or automatic focus. Performance was impressive at all focal lengths.
| | |
| --- | --- |
| | |
| | |
Image Tones
The GX-1S's menu includes a setting called "Image Tone" that has two choices--Bright or Natural--although cryptic icons identify them instead of words. The icon with a colorful palette designates Bright and produces images that are snappier with more contrast and sharper focus. Selecting Natural's nondescript icon produces photographs that Samsung says are "finished naturally and suitable for retouching." Reading between the lines it means less contrast, slightly lighter and softer focus. Why not just call them Landscape and Portrait?
The GX-1S offers Bright and Natural Image Tones. The left side is Bright and its use produces images that are snappier with more contrast and sharper focus. Selecting Natural (right side) means less contrast, slightly lighter and softer focus.
Samsung's SLR does not let you directly capture images in monochrome but you can create black and white or sepia images in camera! The secret of the conversion is the Digital Filters option in the Playback menu. After you've captured your picture and are viewing it in Playback mode, you can convert it to black and white by pushing the Function button and clicking the back arrow to see four choices, two of which are Black and White or Sepia. After you preview the effects you can save the image as a completely new file onto your memory card. This seems like the long way around the barn, but the upside is that the original file is untouched. Oh yeah, the other filters are Soft, which like a Zeiss Softar comes in three different levels. Then there's Slim that lets you change the image's horizontal or vertical ratio. Before you can even hum a few bars of the "Too Fat Polka" your subjects are slimmed. As before, all of these effects are applied to a copy of the original image file; your original is untouched in the process.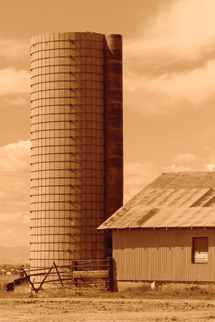 After you've captured your picture with the GX-1S and are viewing it in Playback mode, you can convert it to black and white by first clicking the Function button and then clicking the back arrow to see four choices, two of which are black and white or sepia. Exposure for the original color file was 1/750 sec at f/9.5 and ISO 400. Shot with the Schneider
D-XENON 50-200mm f/4.0-5.6 lens.

FEATURED VIDEO