Samsung's GX-1S; The K-Mount Revolution Continues Page 2
Raw Facts
The Samsung GX-1S includes a high-speed consecutive shooting mode of up to 2.8 frames per second (for up to eight frames) in JPEG shooting and up to five frames per second when shooting in Raw mode. As with any raw capture, bigger cards are better than smaller ones. One of the really "big" 128MB Secure Digital cards I picked up at PMA 2006 holds only 11 raw files, so I replaced it with a 133x 1GB Kingston (www.kingston.com) Secure Digital card that stores up to 90 raw files or 330 JPEGs.

But you might opt for JPEGs. Samsung uses Pentax's PEF raw format and provides Windows-only software to access these files. Most of the Mac OS and Windows raw conversion software I tried will read a Pentax PEF file, but not the Samsung version. My guess is that the EXIF data, which contains the camera model name, creates the problem. I spoke with Adobe Systems about the lack of support of Samsung's PEF files in Adobe Camera Raw and even sent them some sample files. Maybe this will get fixed in the next Adobe ACR update.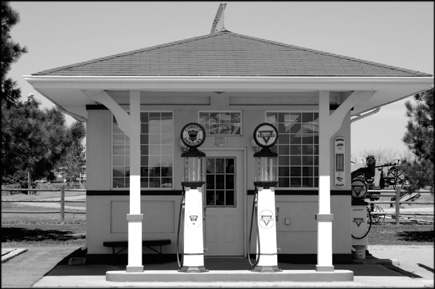 What do you do when you've already downloaded your files and erased the Secure Digital card and still want to create a monochrome version of your color image file? You reach for software such as Alien Skin's Exposure to make the conversion. It's not as convenient as direct monochrome capture, which the GX-1S lacks, but it does provide more options and your original color file is untouched.
In the meantime, what's a Mac OS user who wants to shoot raw supposed to do? Pentax offers a Mac OS version of its PHOTO Browser software that easily opens Samsung raw files, but the only updates to their program are available online. I suppose owners of Intel-based Macs who install Windows via Apple's Boot Camp (www.apple.com/macosx/bootcamp) can run the software Samsung provides, but that's no consolation for non-Intel Mac users.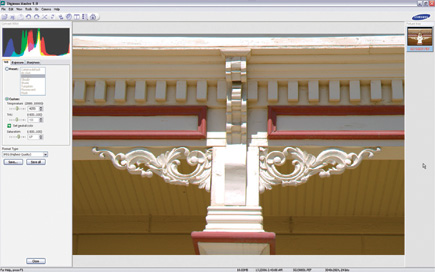 The Windows-based software that Samsung includes with the GX-1S does a good job with the Samsung SLR's raw files. Mac OS users are on their own until Adobe integrates PEF functionality in a forthcoming version of Adobe Camera Raw that was not available when I was finishing this story, but may be ready by the time you read this.
Upgrading From P&S?
Although it has its quirks, Samsung's GX-1S is well suited to shooters who want more than the tiny (no matter how many megapixels it may be rated) imaging chip in their point-and-shoot cameras. The SLR's ergonomics are excellent, controls are well placed, and young people and users with smaller hands will love its camera handling.

Compatibility with the K-mount gives access to a wide, wide world of lenses from many sources. That means you can buy a Pentax K-mount lens on eBay for $50 and it will work with the Samsung SLR. That's a great way for a student or young person just getting involved in digital photography to grow a lens system without breaking their piggy bank. When combined with impressive image quality from 6 megapixels, the Samsung GX-1S makes a great introduction to digital SLR photography.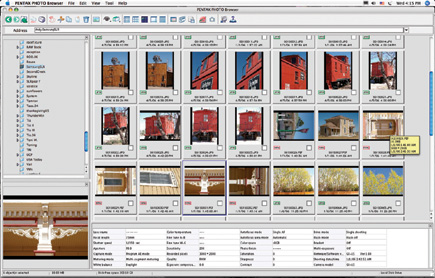 While Samsung does not provide Mac OS software for the GX-1S, Pentax Imaging includes Mac OS software with its cameras that read Samsung's PEF files. The only problem is you have to buy a Pentax SLR to get the software; the only updates are available from the Pentax website.
Technical Specifications
Image Sensor: 23.5x15.7mm CCD
Effective Pixels: 6.1 megapixels
Lens Mount: Pentax KAF bayonet mount
Usable Lenses: Schneider D-XENON lens; all Pentax digital SLR lenses are available; KAF2 (not power zoom compatible), KAF mount lenses, KA mount lenses
LCD Monitor: 2.5" low-temperature polysilicon TFT color LCD monitor
Shutter Speed: 30-1/4000 sec with Bulb
Metering: Multi, center-weighted, spot
ISO Equivalent: Auto, 200, 400, 800, 1600, 3200
Flash: Built-in retractable P-TTL auto pop-up flash
White Balance: Auto, Daylight, Shade, Cloudy, Tungsten, Fluorescent (W, D, N), Flash, Manual
Shooting Modes: Auto SCN, Normal, Portrait, Landscape, Macro, Moving Object, Night Scene, Portrait, Flash Off
Exposure Modes: Program, Shutter Priority, Aperture Priority, Manual, Bulb
Drive Modes: Single, Continuous, Auto Bracket
Continuous: 2.8 fps up to eight frames (JPEG), five frames (raw)
Interface: USB 2.0
Power Source: 4xAA lithium, alkaline, Ni-MH, 2xCR-V3 (lithium) batteries
Dimensions: 4.9x3.6x2.6"
Weight: 16 oz (body only, without batteries and card)
Price: $699.95 with D-XENON 18-55mm lens
For more information, contact Samsung Camera, 40 Seaview Dr., Secaucus, NJ 07094; (201) 902-0347; www.samsungcamerausa.com.

FEATURED VIDEO