The Pentax K20D; A Rugged Enthusiast-Level D-SLR With The Highest Resolution In Its Price Category Page 2
Although I really appreciated the Custom Image features, the modification functions in Playback mode are more suitable for an entry-level D-SLR. In fact, the K10D includes many of the same tools for JPEG enhancement. Some of the post-processing options produced acceptable to good results while others created an artificial-looking effect. Much better results are possible with a bit of expertise in Adobe Camera Raw and Photoshop or other equally versatile software. On the other hand, my friends and family rated the camera's post-processing features as "very cool" and felt they would be ideal when making prints directly from the camera or memory card.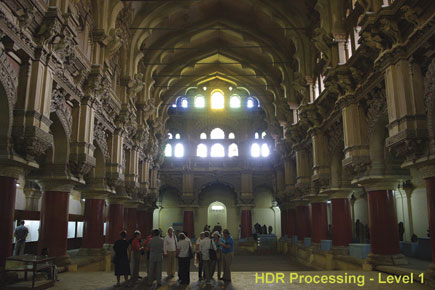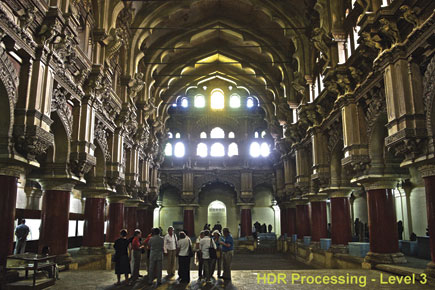 In addition to the D-Range 200 percent feature in Capture mode, the K20D offers a High Dynamic Range (HDR) post-processing option with levels adjustment for a moderate or more obvious effect. As these examples indicate, the Low level provided the most natural-looking effects. (The Large/Premium JPEG image was made at ISO 800 with multi-segment metering and a +3 exposure compensation factor. It was then post-processed three times in Playback mode, applying one of the HDR levels; the camera generated three additional JPEGs but also retained the non-modified original image.)
Image Capture And Processing
All other Pentax D-SLRs employ a CCD made by Sony, but the K20D benefits from a new CMOS chip co-developed with Samsung. Although it's covered with an extra 4.6 million photosites, new technology reduced the size of the circuitry in the pixel field allowing for an expanded light-sensitive area. According to Pentax, the photo diodes are as large as those on other manufacturers' 12-megapixel sensors. The company also emphasizes the other benefits of a CMOS vs. CCD chip, including analog to digital conversion and signal amplification right at the sensor.

That's complex stuff but it provides a few practical benefits: great sensitivity to light, a wide dynamic range for better highlight/shadow detail, less heat, and less digital noise. Those aspects are valuable particularly at high ISO levels (up to 6400 with the K20D) and for Live View: a continuous, real-time preview on the 2.7" LCD monitor. A CMOS sensor is particularly practical for Live View because of minimal heat buildup during extended exposure to light that can prevent a loss of image quality caused by increased digital noise.

The PRIME processor has been slightly upgraded and it can now provide a D-Range 200 percent function in Capture mode for a 1 EV increase in tonal range or highlight/shadow detail while retaining adequate contrast. While that's not a dramatic improvement, the results look very natural so it's worth using this feature when shooting in harsh lighting conditions. There's a new High Dynamic Range function in Playback mode, too; it's similar in concept but allows the user to adjust the intensity level. To avoid an effect that looks unnatural or overprocessed, use this feature at the lowest available level.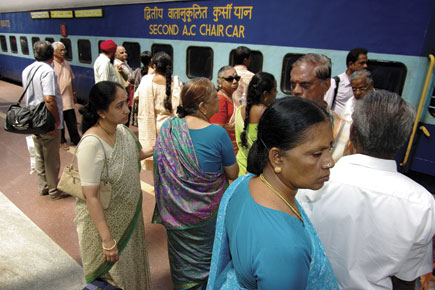 (Above): Although an articulating LCD monitor would make Live View more versatile for very high-level or low-level shooting, the screen does provide a 160? viewing angle. That allowed me to shoot with the camera held about 24" above my head, while viewing the live display, a useful feature in crowded locations. (This image was made in Program mode at ISO 400, using autofocus, multi-segment metering, the Vibrant Picture Style mode, and a +0.5 exposure compensation factor.) (Below): Although the K20D targets the photo enthusiast, it may also appeal to some pros who shoot events and need 14.6-megapixel high resolution and a very wide range of features for achieving just the right effects in camera. (This image was made at the Halton Bridal Fashion Show at ISO 400 in Aperture-Priority mode at f/4.5, with a +0.5 compensation factor using the Monochrome Picture Style mode with a moderately high level for Sharpness and Contrast.)
Evaluation: The K20D provides a new Premium JPEG option that's well worth using. In this quality level, or in raw capture, images made at ISO 100-400 exhibit absolutely stunning resolution. The 48MB files are suitable for making exhibition-grade 13x19" prints. Avoid underexposure and the camera will generate surprisingly clean images even at ISO 800; they'll be suitable for very nice letter-size glossies. (The multi-segment meter does tend to underexpose light-toned subjects calling for plus compensation for better results.) Digital noise is more obvious at ISO 1600 but the pattern is quite fine and the resolution is still very high; "graininess" is objectionable only at ISO 2500 and above.
Live View
All D-SLR manufacturers are now making some new models with a live preview feature but the K20D takes a slightly different tack. Touching the shutter button does not activate autofocus so there's no reflex mirror action while you're composing; hence, the live view is not interrupted. However, if you simply take a photo it's unlikely to be sharp unless you used manual focus (with up to 8x magnification if desired). Autofocus is available in Live View but requires constant pressure on a separate button marked AF. That causes the reflex mirror to drop, producing LCD blackout for a second or two while focus is acquired. When you decide to take the photo, the LCD screen will black out again for a couple of seconds, making Live View impractical for action photography.

Evaluation: The interruption of Live View during AF operation is common with any D-SLR (including the K20D) that employs conventional phase-detection AF. A few of the latest D-SLRs from Panasonic, Canon, Nikon, Olympus, and Sony can employ contrast-detect AF instead, using a secondary AF sensor. That technology does eliminate display blackout during autofocusing but AF tends to be slower, except with the Sony A300/A350. (Read my review of those Alpha cameras in the August 2008 issue or online at www.shutterbug.com.)
During Live View the effect of the Pentax camera's Shake Reduction stabilizer mechanism is visible in the image display, a useful benefit. Picture taking is not instantaneous with autofocus because of an obvious "shutter lag" so it's certainly not useful for tracking a moving subject. Frankly, as with most D-SLRs, I definitely preferred to use manual focus in Live View. A tilting LCD (not available with the Pentax cameras) would make this feature even more useful for taking photos from ground level or high above the heads in a crowd, for example.
Final Assessment
The K20D is a far more desirable camera than the K10D but it is pricey at $1050, the street price at the time of our deadline for this issue. Hence, it competes with the high-end, enthusiast-level D-SLRs, including some with even greater speed or more convenient Live View features and/or larger LCD screens. Even so, this Pentax model would be a fine choice for those who value higher resolution, exceptional versatility, a stabilizer that's effective with any lens, and an unusually rugged, splashproof body. In my estimation, this is a very desirable camera that will satisfy its target market. It should particularly appeal to those who often shoot outdoors in inclement weather and need massive image files for making oversized prints of superior quality.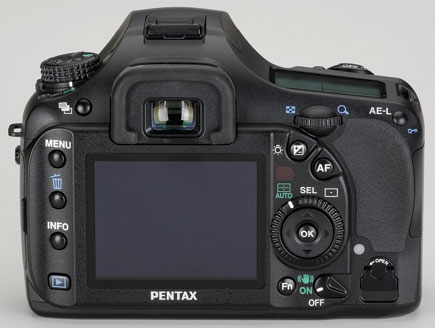 Technical Specifications
Sensor: 14.6 megapixels (4672x3104) effective; 12 bits per channel in raw capture
File Formats: JPEG, raw (PEF or DNG), raw+JPEG
Lens Mount: KAF2; accepts AF and MF lenses and with an adapter 645/67 and screwmount lenses
Sensitivity: ISO 100-6400
Storage: SD or SDHC card
Dimensions/Weight: 5.6x4x2.8"; 25.2 oz
Street Price: $1050
Full Specs: www.pentaximaging.com

For more information, contact Pentax Imaging Company, 600 12th St., Ste. 300, Golden, CO 80401; (800) 877-0155; www.pentaximaging.com.
A long-time "Shutterbug" contributor, stock photographer Peter K. Burian (www.peterkburian.com) is the author of "Mastering Digital Photography and Imaging" and several "Magic Lantern Guides" for Pentax and Sony D-SLRs. He is also a digital photography instructor, teaching two online courses at
BetterPhoto.com.

LATEST VIDEO

SPONSORED VIDEO
Testing Tamron's SP 150-60mm G2 lens while capturing birds and alligators in Apalachicola, Florida.