Pentax K-1 DSLR Review
The Pentax K-1 ($1,796.95) is the first full-frame (36x24mm) SLR from the company since it introduced the legendary LX film camera back in 1980. The Pentax K-1 has a 36.4-megapixel sensor that lacks an anti-aliasing filter to increase sharpness and image quality, a trendy feature these days. Pentax spins it differently by including an AA Filter Simulator that eliminates moiré without requiring a physical anti-aliasing filter.
Pentax's first full frame DSLR also features a new SR II five-axis in-body shake reduction system; a Pixel Shift Resolution System; an Astro Tracer function; a flexible tilting LCD screen on back that can be twisted in a variety of horizontal, vertical and diagonal directions; a new SAFOX autofocus system; and a surprisingly compact yet solid camera body that's dustproof and weather resistant.
In short, the Pentax K-1 is one of the most hotly anticipated DSLRs of this year, or any year. This is not surprising when you consider that the camera has been rumored about, in some form, since 2010, if not earlier. Let's take a closer look at this intriguing full frame DSLR from Pentax with its surprisingly reasonable price tag.
Camera Build & Features
The Pentax K-1's chassis is made from magnesium alloy with 87 points of sealing making it dustproof, weather and cold resistant. The K-1's SAFOX 12 autofocus mechanism has 33 AF points, with 25 cross-type sensors in the middle producing, in my testing, fast and accurate autofocus. The body's built-in five-axis shake-reduction system reduces the effect of camera movement to five stops while compensating for horizontal and vertical movement as well as roll. The SR II (Shake Reduction II) unit tilts the image sensor unit in all directions, offering auto level compensation and an AstroTracer function for astronomical photography that uses the camera's built-in GPS module.
To eliminate sensor dust, the Pentax K-1's DR II (Dust Removal II) mechanism uses shake-and-bake ultrasonic vibration. And then there's Pentax's much talked about Pixel Shift Resolution System, which promises to up the image quality beyond what 36-megapixels can deliver. (I'll discuss the Pixel Shift Resolution System later in this review.)
In 1957, the Asahi Pentax was the first Japanese SLR offering a fixed-pentaprism so it's not surprising the K-1 has an optical viewfinder equipped with a bright, "nearly 100-percent" field of view with 0.7-times magnification. It also has a 3.2-inch LCD that's articulated through 35 degrees of horizontal and 44 degrees of vertical adjustment and the LCD panel can be laid flat up or down. Instead of copying the camcorder designs that's used by other companies, this is a clean sheet design that seems overly complicated but is clearly more robust. A Smart Function dial lets you select frequently used functions without diving into a LCD menu tree, which is probably a good idea because with so many options, it's not as intuitive as some but that's also seems to be an trend these days.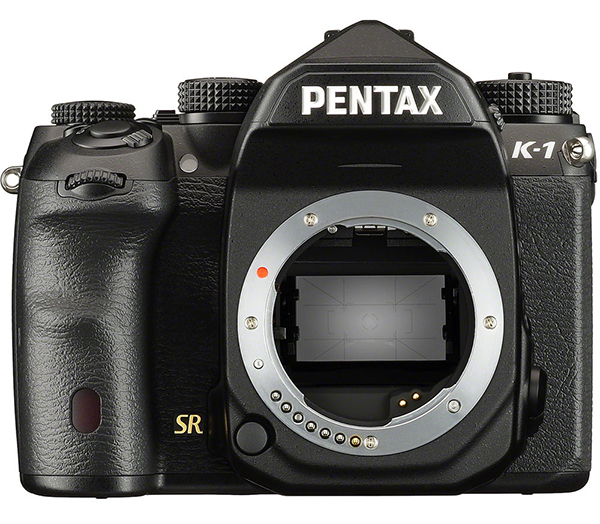 The cameras' PRIME IV imaging engine is capable of 14-bit Raw-format image recording and shooting up to ISO 204,800. That is not a typo. PRIME IV lets you continuously capture as many as 17 Raw images or a maximum of 70 JPEGs in a single sequence, with a top speed of 4.4 images per second. You can shoot Raw in DNG, Pentax, or JPEG in selectable quality and resolutions. The K-1 permits HD movie recording at 1920 x 1080 pixels in the H.264 recording format but Pentax doesn't seem to want to beat us over the head with that.
The camera offers dual SD card slots and menus for card management. When shooting in (my favorite) Raw+JPEG mode, the K-1 lets you record Raw images onto one memory card and JPEG files to the other. Like most contemporary DSLRs, the K-1 incorporates Wi-Fi, allowing image transfer to a tablet or smartphone via their ImageSync app. The K-1 is compatible with Pentax's Image Transmitter 2 tethering software. You can download it from Ricoh Imaging's website. (us.ricoh-imaging.com)
Adding to the K-1's "they thought of everything" design, there are Operation Assist Lights, which are small, white LEDs above the lens mount, located behind the LCD monitor, at the memory card slot, and at the cable switch jack for use in low-light environments. No flashlight required. This might also suggest why the D-LI90 battery is a big one.
The camera works with the optional ($199.95) D-BG6 Battery Grip that holds a D-LI90P battery in addition to one in the camera, giving you longer shooting times. An extra battery will only set you back $40.
In addition to the dedicated lithium-ion rechargeable batteries, the grip accepts six AA batteries. The D-BG6 adds a vertical shutter release, a set of control buttons for AE lock, AF, ISO, exposure compensation, green, preview lever, and dual electronic dials like those on camera. It features the same dustproof, weather-resistant construction as the K-1.
New Lenses
Pentax is offering 12 full-frame compatible lenses, including two new ones that I tested with the K-1: the D FA 15-30mm f.2.8 ultra-wide angle zoom ($1,449.95) and D FA 28-105mm f/3.5-5.6 ($499.95). Existing Pentax shooters can use their APS-C lenses by utlizing the K-1's Crop Mode, which offers in-camera settings for either APS-C or full-frame sized shooting. It has an Auto mode that detects the type of lens and sets the camera accordingly.
Focusing with the K-1 and the 15-30mm f.2.8 lens was fast and quiet. There's a Quick-Shift feature for swiftly switching between auto and manual focusing for shooters who need that feature. The 15-30mm lens focuses as close as 1.64-feet and has a nine-blade rounded aperture diaphragm for smooth out-of-focus elements creating nice bokeh (as seen in the illustration.) It's also dust and water-resistant with sealing at eight points.
The lens uses ED glass elements to control chromatic aberrations and reduce color fringing with multi-layer coating to reduce reflections, flare, and ghosting. It's compatible with Pentax's APS-C cameras, where it will produce a 43-161mm equivalent focal length range. To limit flare and offer protection, the lens includes a hood, at no extra cost. An optional S-80-120 Soft Lens Case ($34.95) is available to protect the lens during transport or storage.
While the camera body has the look and feel of a much more expensive camera, the FA 28-105mm f/3.5-5.6 has the look but not necessarily the feel. Zoom control is not as smooth as a $500 lens should feel.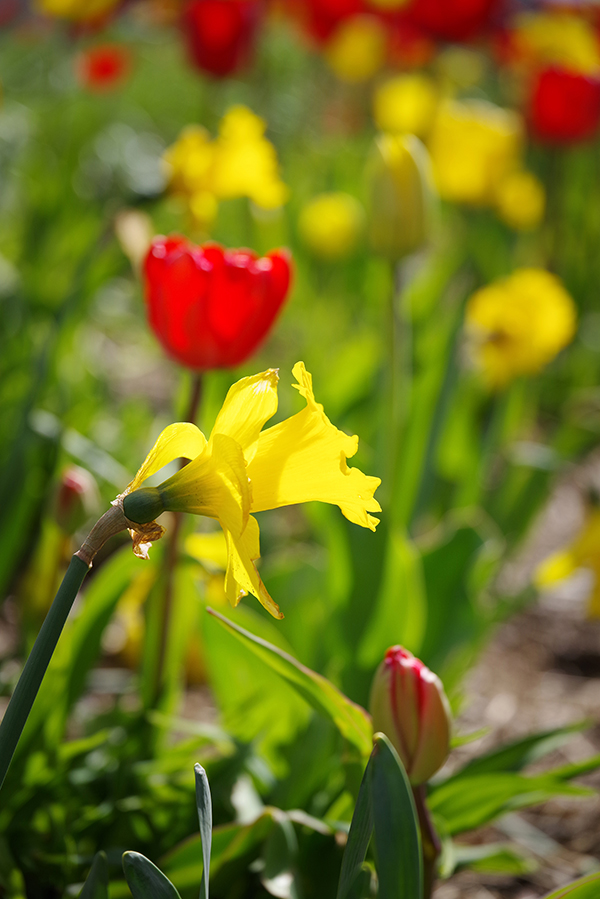 Handling
While the Pentax K-1 is similar in size to a Canon EOS 5DS, its magnesium alloy chassis and pumped up looks contribute to making it weigh 2.8 oz more. The K-1 has the serious styling of the Pentax 6x7 medium format film camera and is a Lamborghini Countach compared to the softer Maserati lines of the Canon 5DS. I don't know when I've loved a camera's styling more than the K-1's.
I always take new cameras to Parker, Colorado's O'Brien Park for an initial shakedown and while it was a chilly day, both tulips and daffodils were in bloom and I tried to find, yet another different way to photograph the gazebo. The K-1's LCD has an Outdoor View Setting mode that lets you choose the desired screen brightness but I didn't mess with it since using it in the default mode produced images that looked a whole lot like the captured file.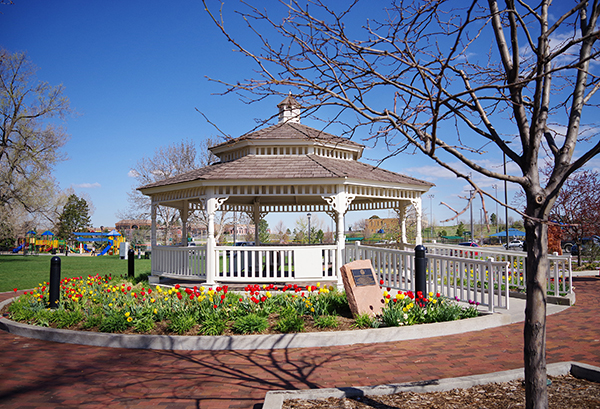 Performance & Image Quality
Next a trip to Hidden Mesa Open Space gave me chance to test the cameras' HDR capability. The short answer is: Don't bother. There are more details about my experience in the captions. Other than that is was a fine companion for a morning stroll around the complex while I paused to photograph trees and the ancient, unrestored farmhouse of the property making it another favorite place to put a new camera through its paces.
And to answer your question: Yes, the Pentax K-1 is infrared sensitive and performed flawlessly when shooting using IR filters—that lack of AA filter helps—at McCabe Meadows, even though the Colorado spring has not produced enough leaves on the trees I photographed to get the entire Wood Effect. But because of the K-1's excellent high ISO performance I was able to shoot at ISO 1600 with no concerns about accumulative noise even with exposures up to one second.
Next it was off to attend the first Saturday's car show in Colorado Springs and it was here that the incredible detail produced by the 36-megapixel AA-less chip yielded remarkable results. Car shows are great place to test cameras because there is so much detail and (sometimes) color that pushes a camera's abilities to the limits. In my monochrome image of the rat rod (below), for example, the image is so crisp that when clicking the magnifying tool, I was able to read the engraving on the carburetor (that thing under the scoop that the air cleaner sits atop) and saw it read "Holley Performance."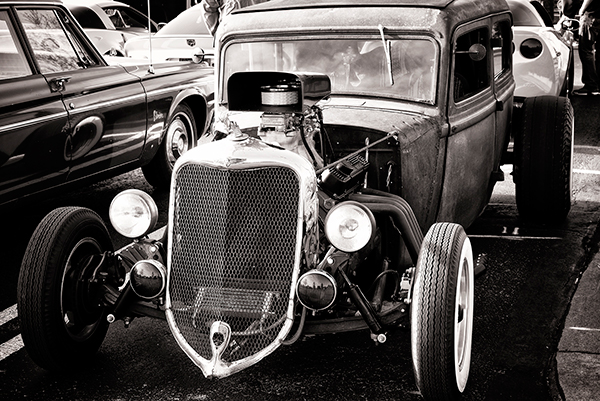 To test high ISO performance, I photographed Ruth Memorial Chapel on Main Street in Parker, Colorado, which is illuminated at night by a single streetlight. So what is shooting at ISO 204,800 like? I'm guessing you won't be surprised to learn that it's really noisy. How noisy was it? I could see amplified noise on the 3.2-inch LCD screen.
So I had to see what cranking it down to 102,400 produced. The result was still noisy but falling closer to my high ISO comfort zone. In case you missed my last lecture on this subject… Everyone has their own ideas of how much noise is acceptable, which is why I encourage shooters to make their own tests to find their ISO sweet spot. Me? I was comfortable with the K-1 even at 102,400 and would treat 204,800 as a "break glass in case of emergency" option.
On the image processing side of things: The files from the K-1 are big. Typical daylight exposure JPEGs produce a file about 15-16MB while high ISO exposures, such as my nighttime tests, created JPEG files around 20MB. If you shoot Raw you'll create an image file that's 45MB in size. My modestly powered 5K iMac handled the image just fine, though.
Pixel Shift Resolution
Pentax's Pixel Shift Resolution System uses a technique in which the K-1 captures four images of the same scene while shifting the image sensor by a single pixel for each image. It then combines them into a single, composite image. How does that differ from what Olympus does with their E-M5 Mark II up its image quality from a native 16 to 40 megapixels?
In the Olympus High Res system, eight images are captured using the camera's 16-megapixel sensor with the sensor moved in 0.5 pixel steps between each exposure. The data from the eight shots are combined in camera to produce a single, high-resolution image that Olympus claims is "equivalent to the one captured with a 40-megapixel image sensor." This feature is perfect for capturing fine arts and landscape images but not so much for portraits or sports.
The Bayer system used in most camera sensors—Foveon excepted—makes each pixel on the sensor capture data for a single color. Pentax's approach captures four images of the same scene, moving the sensor one pixel between each shot and then produces a composite image with the full RGB color information for each pixel.
The resulting images are still 24-megapixels but Pentax says the shots have "more truthful colors and less noise than those captured with the typical Bayer methodology." Check out the graphic below to see how Pentax's Pixel Shift Resolution System works.

My Ruth Memorial Chapel noise test didn't use this method for two reasons: One it was hand-held and two I wanted you to see the worst-case scenario. In order to minimize noise, I would have to photograph the chapel with the K-1 mounted on a tripod. Which is why it should also be obvious this technique is best suited to landscape or still life photography instead of pictures of your daughter driving her Hello Kitty Jeep in the driveway.
Conclusion
At $1,796.95, the Pentax K-1 ain't cheap but it isn't $6500 (like the Nikon D5) either, and this Pentax camera clearly punches above its weight for the features and image quality it delivers. What's more, the K-1 is a camera that feels a lot smarter than the average full frame DSLR. I was constantly discovering features that showed this camera was not rushed to market but serious people and engineers took the time to ask pros what they wanted before adding some mode, dial or switch just for the heck of it.
My philosophy in writing these reviews has always been that I don't like to spend the reader's money and usually point users of existing camera systems to stick to new cameras from that same manufacturer's system. But the impressive Pentax K-1 has me changing my mind about that. If there were ever a traditional sized DSLR that could get me to dump my existing DSLR rig and change systems, the Pentax K-1 would be it.
(Editor's Note: You can see a few more test images we shot with the Pentax K-1 here. You can see early sample images captured with the K-1 here. And finally, you can see a video walkthrough of the K-1's features here.)
Joe Farace is the author of Magic Lantern Guides: Pentax K100D/K110D, which was the company's first digital SLRs. Since then he's reviewed and tested many Pentax cameras for Shutterbug, including the MX-1, K-X, K-5, K-30 and not to be confused with the K-1, the K-01. If you would like to see the kind of equipment that's in his actual gear closet, visit www.joefarace.com or www.joefaraceblogs.com and click on "Gear."