Panasonic's Lumix DMC-L10; A Versatile 10-Megapixel D-SLR With Live View Page 2
The 2.5" LCD provides a bright image in playback, too bright in fact. Initially, I assumed that all of my images were overexposed when in fact they were just fine. The penta-mirror viewfinder is a bit small (as with most Four Thirds cameras) but includes a diopter correction control. Add the 1.2x "magnifier eyecup" (included) and the viewfinder image is much larger; however, your eye must be pressed very close to the rubber eyecup if you want to see the data panel beside the viewing screen.

The DMC-L10 provides reliable autofocus with the Leica D kit lens, using a three-point AF system. The 3 fps Continuous Drive speed is still average and it's great to shoot an "unlimited" number of full-resolution JPEGs in a single burst with a fast SD card. Surprisingly, the camera can take only three shots in raw capture before a long pause for buffer clearing. For action photography, I would want a telephoto with a high-speed ultrasonic focus motor, such as the Leica D 14-150mm, a 28-300mm equivalent XS ("extra silent") zoom, or the Olympus Zuiko Digital 50-200mm SWD (Supersonic Wave Drive) lens.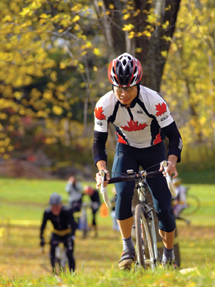 At the time of testing, neither the Leica D nor Olympus Zuiko Digital telephoto zooms with ultrasonic focus motor were available, so I used an inexpensive after-market 55-200mm zoom not designed for serious action photography. Autofocus performance was fine for some shots, but an ultrasonic lens will provide the more reliable tracking focus that's useful with faster, more erratic motion. (ISO 400 in Sports Program mode; image cropped.)
Panasonic's Mega OIS system is very effective, useful for sharp photos at a 100mm equivalent focal length at a 1/15 sec shutter speed instead of the usual 1/100 sec. During a trade show, I tried a preproduction Zuiko Digital SWD zoom for a few minutes, and the DMC-L10 certainly provided more impressive Continuous AF speed. Since ultrasonic lenses were not yet available for testing, I used an inexpensive Sigma 55-200mm f/3.5-5.6 zoom, with a conventional focus motor. (Sigma does not make ultrasonic HSM lenses in Four Thirds mount.) That was fine for subjects moving at a leisurely pace but not very reliable with dirt bike race competitors accelerating aggressively toward the finish line.
Panasonic is a leader in Optical Image Stabilizer technology, and the Leica zoom's MEGA OIS system was certainly very effective. The stabilizer allowed me to shoot at a much lower ISO level than with conventional equipment, in order to maintain optimal image quality while correcting camera shake. (Images made at a 1/15 sec shutter speed with an 85mm equivalent focal length.)
Overall Assessment
In spite of the emphasis on Live View, this is a fine camera kit in many other respects, including the first-rate performance provided by the Leica D lens and the very effective multi-zone metering system. In flash photography however, the test sample camera often overexposed, easily solved with a minus setting for flash intensity. While the three frame burst depth in raw capture is disappointing, the DMC-L10 produced excellent results in JPEG capture. Panasonic uses very successful sharpening algorithms, making a JPEG look better than a raw capture; for the best results at ISO 100 to 400, experiment with a +1 level
for Sharpness.
Even at default settings--in point-and-shoot picture taking--the DMC-L10 often produced beautiful JPEG photos. As discussed in the text however, there are some methods for getting even greater detail and sharpness in low ISO photos from the new 10-megapixel Live MOS sensor. (Image made in Program mode; Hoya S-HMC polarizer.)
My JPEGs made at ISO 100 to 200 are particularly impressive with high resolution, wide dynamic range, and accurate, but rich colors. The best images are beautiful, suitable for richly-detailed 13x17" prints. To maximize the definition of intricate details at those low ISO levels, try setting the Noise Reduction (NR) control to -1. At higher ISOs, the default NR level is preferable for a smoother effect. Night shots made at ISO 800 are sharp and quite clean, with a very tight "grain" pattern. By ISO 1600, a more "grainy" effect is obvious but the photos are still sharp, suitable for decent 8x10" glossies. Setting a higher NR level will produce a smoother effect but also smudges fine detail, a problem with aggressive NR processing with any camera.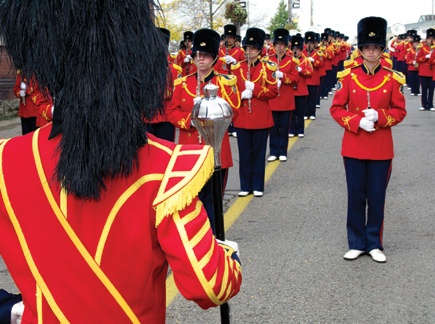 The test sample DMC-L10 produced excessive brightness in flash photos made outdoors with an accessory FL-series flash unit, but after I set a -1 level for flash exposure compensation, the results were usually close to perfect. (Image made with an accessory FL-50R flash unit.)
I found this Lumix D-SLR very convenient to use in basic operation. Naturally, some of the Live View features and certain menu items required study of the instruction manual. While the kit price might seem expensive, it is competitive with other 10-megapixel cameras when a dealer bundles them with a comparable high-grade zoom. Panasonic's Leica-designed Vario-Elmar 28-100mm equivalent lens--with two aspherical and two ED glass elements plus a stabilizer--definitely adds value to the DMC-L10 kit.
Panasonic's latest SILKYPIX Developer software includes an unusually versatile raw file converter with tools for modifying numerous image parameters. Not all of the available utilities are shown in this illustration and some are complex, requiring experimentation. The program updates the preview image quickly whenever modifications are made; the actual conversion is a bit slow.
Panasonic's research indicates that most of today's D-SLR buyers have never owned a 35mm or D-SLR. Because of its digicam-style features and controls, the Lumix DMC-L10 should certainly attract this group of upgraders. While this
is not the fastest or most feature-rich 10-megapixel camera, families with shooters of all experience levels should appreciate the many automatic and advanced options, Live View with contrast-detect AF, the superb lens, and ease of use. The very traditional DMC-L1 was a "niche" product but the newer model should have broader appeal, making it a strong contender among the mid-range D-SLR cameras.
Although it makes the camera kit seem expensive, the new Leica D Vario-Elmar 14-50mm f/3.8-5.6 ASPH zoom is an impressive lens. At every focal length, it produced images with high contrast, fine resolution across the entire frame, and minimal linear distortion. Optimal image quality was provided in the f/8 to f/13 range. (Image made at f/10 at ISO 100 using a Hoya S-HMC polarizer.)

LATEST VIDEO

SPONSORED VIDEO
Testing Tamron's SP 150-60mm G2 lens while capturing birds and alligators in Apalachicola, Florida.