Olympus' EVOLT E-330; Full-Time "Live View" In A Digital SLR Camera Page 2
Performance And Image Quality
During the test period I made hundreds of outdoor images while exploring Central Florida, in both daylight and after dark. Closer to home, I gave the camera a good workout indoors, inside a cathedral, at the Canada Blooms Flower & Garden Show, and for recording the gorgeous classic vehicles at the Legendary Motorcar Company that's often featured on Speed TV.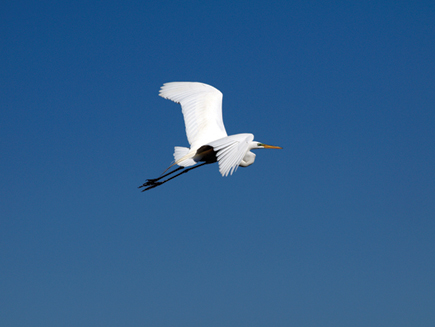 While serious sports and wildlife photographers may need a high-speed camera that allows for shooting a long series of the largest/finest JPEGs, the EVOLT E-330 should meet the needs of the general outdoor photographer. (Image made with 3 fps drive, Continuous AF; full-resolution SHQ JPEG capture; 1/1250 sec shutter speed.)
Speed: In terms of overall speed and autofocus, the EVOLT E-330 is a competent performer that will satisfy most photo enthusiasts. In Continuous Drive mode it's a bit faster than the 8-megapixel EVOLT E-500 with a 3 vs. 2.5 fps (frames per second) rate. Those who often shoot sports action may need a digital SLR with an even faster framing rate and the ability to shoot more than four raw or SHQ JPEGs in a single sequence. Burst depth is much greater at the HQ JPEG quality level, however.

Image Parameters: In many respects the overall look of E-330 images is similar to those made with the E-500, because both use the same processor. While the new camera provides numerous overrides, images made in default modes were generally well exposed, with pleasing color and a wide tonal range.

I shot numerous photos using multi-pattern metering, Auto White Balance, sRGB color space, and the default level for contrast, sharpness, color saturation, and tone. These images exhibit moderately high sharpness (that does not emphasize artifacts in lower quality JPEG capture), rich but not garish colors, and moderate contrast that complements the wide dynamic range. On sunny Florida days, some slight overexposure (up to 1/2 stop) was common with mid-tone subjects; in low light, slight underexposure was noticeable. The Auto White Balance system proved to be very reliable except under artificial lighting; the white balance presets were better in such conditions but Custom White Balance produced the best results.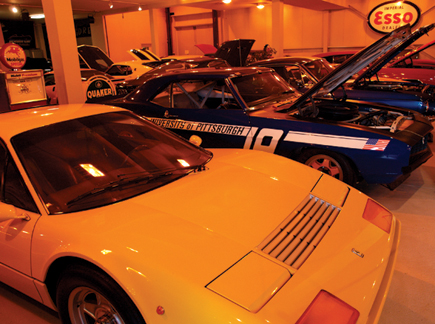 Like many other digital SLRs, the EVOLT E-330 underexposes in low light and sets incorrect white balance under artificial illumination when default settings are used. Technical problems like these, and many others, are easy to solve with the full range of in camera overrides or, if raw capture was used, with the converter software. (Left image made in default modes with Auto White Balance; Right image made with Custom White Balance and a +1.3 exposure compensation factor. Manfrotto tripod used for both images. Location courtesy of Legendary Motorcar Company, Halton Hills, Ontario.)
Image Quality: My full-resolution SHQ JPEGs exhibit no obvious artifacts at 100 percent magnification. There's virtually no difference in 7.5-megapixel resolution (E-330) vs. 8-megapixel resolution (E-500). My technically best photos made for beautiful 13x17" output at 240dpi after a file size increase in Photoshop CS2. For the ultimate in image quality I switched to TIFF capture but found processing to be very slow. Hence, I preferred to use raw capture for similar quality but faster recording speed. This option provided another benefit: the ability to adjust many aspects of the ORF format file in a computer, using the Olympus Master converter software.

High ISO Issues: The combination of nMOS sensor and TruePic TURBO processor produced superb image quality at ISO 100 to ISO 400; the E-330 is similar to the E-500 in this respect. By ISO 800 the images look clean but are a bit soft due to a fairly aggressive noise reduction system. Still, the ISO 800 images are certainly useable; after a bit of judicious sharpening in Photoshop CS2, I was able to make some decent 8x10" inkjet prints. By ISO 1600, however, the E-330 images are excessively soft, with a loss of fine detail caused by automatic noise reduction. The "Noise Filter" option makes matters worse and should not be activated.

The Olympus Master software (included) provides no control over the level of noise reduction in raw images but the optional ($99) Studio software does. The latter--or an equally versatile after-market converter--would be useful for anyone who frequently shoots at very high ISO levels. It allows for moderating the noise reduction level in order to retain fine detail at the expense of a more "grainy" effect and some mottled color specks.

The Bottom Line
The Olympus EVOLT E-330 benefits from the best of the E-300 and the highly-rated E-500 and adds the new Live View modes and the articulating LCD monitor. It's not quite a match for the E-500 in ISO 1000 to ISO 1600 quality, but that's relevant only to those who often shoot in very low light without flash. The newer camera's live preview options will probably be most appealing to those trading up from a compact digicam and to photographers who often shoot "macro" images. Whether they'll be willing to pay more for the extra E-330 features remains to be seen.

Aside from those amenities, this is a highly desirable digital SLR that's likely to satisfy even the most experienced digital shooter. It's also very portable, convenient to use in many respects, and quite fast/reliable in the most common types of photography. If you want the latest technology and appreciate the benefits of the new features, you'll probably consider the $999 street price to be a worthwhile investment.

For additional information on the E-series of cameras, flash units, accessories, and Zuiko Digital lenses, visit the Olympus website at: www.olympus-esystem.com. You can also contact Olympus America Inc., Two Corporate Center Dr., Melville, NY 11747; (631) 844-5000; www.olympusamerica.com.

A long-time "Shutterbug" contributor, stock photographer Peter K. Burian (www.peterkburian.com) is the author of several books, including "Magic Lantern Guides to the Maxxum 7D and Maxxum 5D" (Lark) as well as "Mastering Digital Photography and Imaging" (Sybex). He is also a digital photography course instructor with BetterPhoto.com.
Technical Specifications
Sensor: 17.3x13mm Live MOS (nMOS); 7.4 megapixels effective
Lens Mount: Four Thirds mount; 2x focal length magnification factor
Shutter: Electronic; speeds from 60 seconds to 1/4000 sec selectable; also, Bulb
Viewfinder: Optical porro mirror finder with diopter correction dial and eyepiece shutter; 95 percent coverage; 0.93x magnification; full data display
Exposure Control: Center-weighted, 49-zone Digital ESP, spot (2 percent), highlight-based and shadow-based spot metering; exposure compensation, bracketing, and AE Lock
Operating Modes: Aperture and Shutter Priority AE, metered Manual, standard Program plus 21 Scene modes
Flash: Built-in TTL auto pop-up flash, GN 13 in meters; Auto, Redeye, Slow Sync, Second Curtain Sync, and Fill Flash modes; flash sync at 1/180 sec or slower; high-speed sync possible with accessory FP flash units; flash exposure compensation
Storage: CompactFlash and xD
Connectivity: USB 2.0 (low speed); video output
Power: One rechargeable BLM-1 lithium ion battery; optional AC adapter
Dimensions/Weight: 5.5x3.4x2.8"; 19.4 oz, body only
Street Price: $999, body only

FEATURED VIDEO