Olympus' EVOLT E-330; Full-Time "Live View" In A Digital SLR Camera
The Olympus EVOLT E-330 is the first interchangeable lens digital SLR with a true, full-time Live View feature. Framing a shot with the E-330 is just as convenient as it is with a compact digital camera. You can preview the subject in full color on a flip-out, variable-angle LCD monitor, another first for a digital SLR camera.
In fact, there are two distinct Live View modes and an entirely new nMOS image capture sensor. Aside from these unique technologies, the E-330 offers a high level of familiarity for anyone who has used an EVOLT camera. In feature set and LCD size (2.5") it's similar to the highly versatile E-500, but in styling it resembles the sleeker E-300. And like all EVOLT cameras the E-330 is equipped with the Supersonic Wave Filter that removes sensor dust, a valuable amenity. (You can find our reviews of the other Olympus cameras at www.shutterbug.com; use the Search function with the keywords Olympus E-1 and EVOLT, for the E-330 and E-500 reviews.)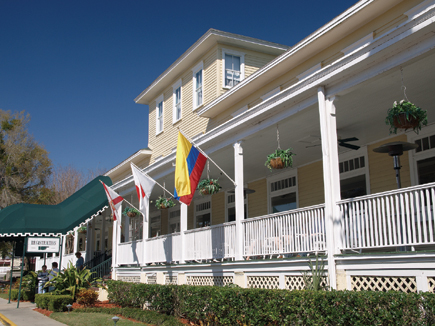 Although Live View is the most significant feature, the EVOLT E-330 is a fine image-making device in many respects. It was a welcome companion during extensive travel photography in Florida, including my favorite small town, Mount Dora, north of Orlando. (Aperture Priority AE mode; f/10; ISO 100; raw capture.)
All Photos © 2006, Peter K. Burian, All Rights Reserved
Design And Capabilities
Like the EVOLT E-300, the new model has no penta-prism hump because it employs an optical porro finder with three mirrors plus a reflex mirror that swings sideways (not up/down). The viewfinder seems small and a bit dark in low-light shooting, as with the other EVOLT cameras.

Because the E-330 is a close cousin to the E-500, it inherited most of that camera's controls. In this respect, the E-330 is definitely preferable to the E-300. The many buttons and keys reduce the need for frequent access to the menu, making operation quick and convenient. All of the controls are very well marked and logically placed. Press the [OK] button and you get quick access to some other functions that do not have a dedicated button. My only complaint is that depth of field preview activation is far too complicated; it must be set with a custom function in the menu.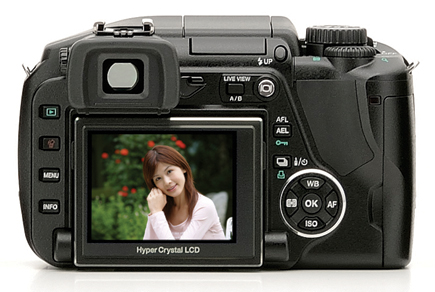 In order to maximize the value of the Live View feature, Olympus equipped the E-330 with a large, 2.5" LCD monitor with anti-glare coating and great versatility. Pull the screen away from the body and it extends out and faces 45Þ downward. A second hinge allows for tilting it upward to a 45Þ or 90Þ angle. Activate Live View and you can use the LCD for framing a scene while holding the camera at ground level, waist level, or above others' heads when shooting in a crowd. Later, you'll appreciate the wide, 160Þ viewing angle, great for image sharing in Playback mode.

First time SLR buyers will find the E-330 easy to use thanks to the numerous Program modes selected with the [SCENE] setting on the mode dial. But serious shooters will want to explore the five-part electronic menu that contains a vast range of functions for controlling virtually every aspect of a digital image. In spite of the logical layout, menu navigation is tedious because of the sheer number of items. And some of the options definitely call for a review of the instruction manual for full specifics as to their purpose and value.

Evaluation: The variable-angle LCD monitor is a strong selling point, although it's not as versatile as the one on some compact cameras; this LCD tilts but does not rotate. Still, it's preferable to the more typical fixed monitors, and its range of movements is adequate for many purposes.

In more typical digital SLR aspects, this is a remarkably versatile model that's very competitive with others in its league, with one exception. Instead of five or more focus detection points, the E-330 is limited to three, so it's less useful for quick snapshooting with small, off-center subjects. The ultrasonic dust removal system is a real bonus, although it extends start-up time from 1.6 seconds to 2.1 seconds, much longer than average. In long-term E-330 use, I would personally miss only one feature: the ability to quickly delete an image in instant playback, without the need to switch to the full Playback mode.

Live View Technology And Benefits
Until the E-330 was announced, we accepted the fact that a digital SLR camera was unable to provide a full-time live preview. Because the reflex mirror is positioned in the light path, it blocks the sensor, so the other cameras don't allow us to frame a subject using the LCD monitor. There were only two exceptions to this rule: the Canon EOS D20a (irrelevant because live preview is only for astronomical photography) and the Fujifilm FinePix S3 Pro. The latter allows for previewing a scene--in monochrome and for only 30 seconds--by flipping its reflex mirror into the "up" position. During that brief time, you can zoom and check focus, but you cannot take a shot until returning the camera to normal operation. For the same reason, the S3 Pro cannot provide a mirror lockup function.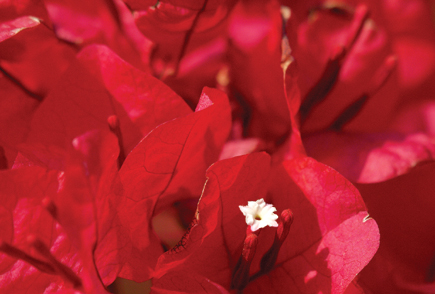 For reasons discussed in the text, Macro Live View is not a multipurpose mode. However, it is very useful for high-magnification photography such as extreme close-ups of small items (Camera mounted on a tripod; f/11 in Aperture Priority mode).
Most digital SLR owners have gotten by very nicely without live preview on the LCD monitor by using the optical viewfinder. Still, the "live view" could be seen as attractive to consumers who stepped up from and became used to shooting with a compact digicam.

Olympus was the first to fully resolve this issue. A month later, Panasonic announced their Lumix DMC-L1, employing some of the same technology, but offering only one Live View mode. The EVOLT E-330 offers two distinct options. Full Time Live View was made possible by installing a secondary sensor into the camera, a 5-megapixel CCD. Naturally, there's a primary image capture sensor as well, a 7.5-megapixel chip that also provides another Live View mode.

Live MOS Sensor
Designated as a Live MOS or nMOS (for negative MOS), the new 7.5-megapixel capture sensor is made by Panasonic. It's also used in their Lumix DMC-L1 (not yet available at press time), another digital SLR that provides the "Macro" Live View option. The nMOS sensor employs some CCD-type technology but has low-power requirements like a CMOS sensor. It benefits from various technologies designed for high sensitivity, including a new low-noise photodiode signal amplification circuit, simplified circuitry, and a large photo-sensing surface. As well, low-voltage processing is said to minimize digital noise.
According to Olympus engineers, a conventional CCD sensor is unsuitable for providing a preview image for an extended period, because of the risk of overheating. Long-term live preview is practical with the nMOS sensor (in Mode B) because it generates less heat thanks to the energy-efficient circuitry.

Macro Live View Mode
Although it's designated as Mode B, let's start with this option. When it's selected, a preview image is provided by the Live MOS capture sensor. How is that possible in a digital SLR? The answer is surprisingly simple, as shown in the illustration.
When this mode is selected, the camera automatically flips the reflex mirror out of the sensor's light path. Once that obstruction is removed, light can strike the nMOS sensor. The image data that's captured is directed to the LCD monitor for live preview. That sounds similar to the approach used by Fujifilm in the S3 Pro, but it's far more practical with the EVOLT E-330 (and the Panasonic Lumix DMC-L1). The live preview is provided in color; it's not limited to 30 seconds; and camera operation is more "normal," though not in all respects.

Mode B In Use: Select Live View Mode B with the pertinent button and the reflex mirror flips out of the light path. You must now use the LCD monitor for framing a scene; the optical finder is blacked out because the reflex mirror prevents light from reaching the viewing screen.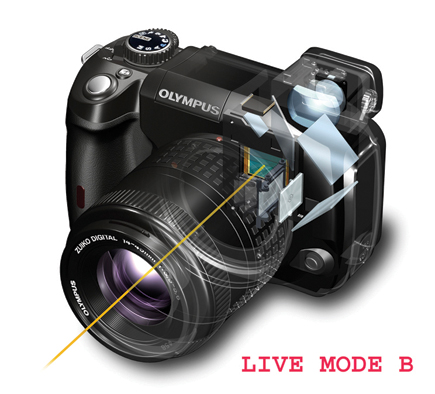 The preview image--provided by the high-grade, light-sensitive nMOS sensor--is remarkably crisp. Even in dark conditions it's very smooth, but changes to monochrome below a certain light level. The exposure and color value display is not fully accurate but the 100 percent field of view allows for accurate framing. The Live View image can also be used to preview actual depth of field (the range of acceptable sharpness) at various f/stops. When the user depresses the shutter release button to take a photo, the monitor goes dark while the reflex mirror's position is reset; normal operation resumes in less than a second.

That sounds straightforward, but there are a few issues that must be mentioned. Mode B cannot be used in conjunction with Continuous Drive mode. During Macro Live View, some camera controls are disabled while others gain a new function: designating a desired image area for magnification. Finally, autofocus is disabled so you must focus manually. However, you can select Image Magnify to enlarge designated areas of the frame by up to 10x; that aids in setting critical focus on the most important subject element.

Evaluation: As the term "Macro" implies, Olympus recommends this Live View mode especially for extreme close-ups of static subjects: a tiny blossom, a coin, or a piece of jewelry, for example. That makes sense, because the limitations of Live View Mode B make it less useful for many other types of photography. As well, reflex mirror lockup--to minimize even minor internal vibration--is provided and that's necessary only when using high magnification. (At high magnification, the effects of any vibration are amplified, increasing the risk of some blurring.

For the same reason, it's important to use a rigid tripod.) Live View Mode B may also be useful for some super elephoto--also high magnification--photography of wildlife subjects at rest.

Full-Time Live View
Designated as Mode A, this is the primary live preview option with the Olympus EVOLT E-330. (It's not available with the Lumix DMC-L1.) Because of the secondary sensor's unusual location, it can provide a live preview without interfering with the optical viewfinder image. This CCD is small so it generates little heat, making it useful for extended Live View. And because this secondary sensor is not used for capturing the actual image, any digital noise caused by heat buildup will not affect photo quality.
Roughly 80 percent of the light that enters the lens is reflected to the optical viewfinder so it's a bit darker than usual. Most of the remaining light is directed to the CCD sensor that provides the live preview, although some light is diverted to the exposure metering cell. Olympus recommends closing the eyepiece blind when using Mode A; that's a useful precaution for preventing stray light from affecting the exposure.

Mode A In Use: When you select the camera's single frame advance, live preview works exactly as you would expect. If you switch to the Continuous Drive mode, there's a slight delay in refreshing the preview display as you recompose. That makes Live View less practical when shooting a series of frames of a moving subject; of course, the same is true for digicams with built-in lenses.
Even in this dark cathedral, I was able to use Live View Mode A for framing various scenes because the "boost" feature ensured that the LCD screen image was quite bright. In very dark locations, live preview is actually more useful than the optical viewfinder because the latter is not as bright.
There are two other minor drawbacks. The preview display is not fully accurate in terms of exposure, color values, and the point of focus, so it should not be used for evaluating these aspects. Also, the LCD monitor displays only 90 percent of the subject area compared to 95 percent when using the optical viewfinder.

Evaluation: It may not be perfect, but Mode A is great for quickly framing a shot on the articulated LCD monitor. Outdoors and in moderately bright indoor conditions the color display is quite bright, with decent overall quality. If shooting in darker conditions, set the Live View Boost (gain-up) feature in the menu. That will provide a fairly bright display, although it will become very grainy in low light and will change to monochrome. Even so, the preview will allow for composing a photo in surprisingly dim conditions, making it useful for some night photography.


FEATURED VIDEO