Nikon D3100; The Video Beat Goes On
The Nikon D3100 ups the D3000's megapixel ante from 10.2 megapixels to 14.2, adds Live View, video capture, and support for all functions of AI-P Nikkor lenses except autofocus and 3D Color Matrix Metering II. For a comparison of the major features of these two compact SLRs be sure to read the comprehensive review of the D3000 written by our Editorial Director George Schaub. It's online at: www.shutterbug.com. I'm here to add a few comments on what's new with the D3100 and share some opinions on what I liked about this plucky little SLR.
New Nikon Glass
In addition to the AF-S 18-55mm VR kit lens, Nikon loaned me a pair of VR reduction lenses, one of which—the new AF-S DX Nikkor 55-300mm f/4.5-5.6G ED VR lens—is a perfect and affordable ($399.95) complement to the D3100. If you're new to the Nikon system, I suggest you purchase this lens with the D3100 body because it opens a wide array of capture options that the kit lens does not allow. The 55-300mm lens provides users with an affordable way to achieve super zoom focal lengths from 82.5mm to 450mm (35mm equivalent). A High Refractive Index (HRI) element keeps the lens compact while offering high contrast even at maximum aperture. The optical construction consists of two Extra-low Dispersion (ED) elements that minimize chromatic aberration at even the widest aperture settings. The lens also has a Tripod Detection Mode that lets users keep VR image stabilization activated and automatically compensates for minute vibrations when the camera and lens is mounted on a tripod.
The new AF-S 24-120mm f/4G ED VR zoom lens costs more than the camera ($1299.95) and is a medium focal range lens with a constant aperture. The chunky 24-120mm features two ED elements, three aspherical lens elements, an M/A Focus Mode Switch, Internal Focus, and a Nano Crystal Coat to reduce ghosting and flare for clarity across the entire frame. This high-performance lens offers a maximum aperture of f/4 to maintain exposure settings throughout the entire zoom range and is perfect for photographing landscapes, portraits, interiors, and weddings.
It's All About The Video
Nikon claims that the D3100 is the first SLR to introduce full-time autofocus in Live View and D-Movie mode to achieve critical focus when shooting Full 1080p HD video, and you know this new camera is all about the video don't you? Using contrast-based AF, the D3100 automatically focuses on subjects when Live View is activated and uses Face Detection technology to lock focus on up to 35 human faces. You can record 24p video clips or shoot sequences at 24 or 30 frames per second (fps) at 720p, ideal for sharing online. To simplify video shooting, Live View can be activated "at a single flick of a dedicated switch," but I found activation easier on most Canon or Olympus models that I previously tested. Once you've gotten Live View stoked up, HD video capture is achieved by simply pressing a button. When shooting video it's a good idea to use one of Nikon's Vibration Reduction (VR) II lenses to eliminate camera shake. That's why, in addition to the AF-S 18-55mm f/3.5-5.6G Zoom-Nikkor VR kit lens, Nikon loaned me a pair of VR reduction lenses (see "New Nikon Glass" for details).
This noisy image was captured by firelight using the D3100's Hi-2 a.k.a. ISO 12,800 setting, resulting in an exposure of 1⁄50 sec at f/5.6. I tried Nik Software's Dfine 2.0 noise reduction on this photo and was astounded by how much the noise was reduced. So if you must shoot at these high ISO levels, keep Dfine in your toolbox.
Mary Farace
Sharing and editing video clips is easy because the D3100 records in the H.264 AVCHD codec (.mov) format. While playing back in the camera, you can edit recorded clips by cutting footage from the beginning or end of a sequence. HD movies and stills can be shared on an HDTV via the camera's HDMI output jack and you can control slide shows and video using the HDMI Consumer Electronics Control (CEC) interface that's a part of most modern HDTV remote controls.
This cabinetmaker was photographed in his shop using a mixture of ambient light and fill from the D3100's pop-up flash. Program exposure was 1⁄60 sec at f/4 and ISO 400 with the AF-S 18-55mm VR kit lens at 24mm.
Mary Farace
Making Clicks & Shooting Pix
Nikon's name for an APS-C-sized sensor that nominally measures approximately 24x16mm is DX format, although the D3100's CMOS sensor actually measures 23.1x15.4mm, slightly smaller than the D3000's 23.6x15.8mm imaging chip. It produces a 1.5x magnification factor.

The D3100's 11-point autofocus system lets you focus on a subject through a viewfinder design that uses what Nikon calls "hollow"—they look just like dots to me—focus points to give a clear view of the subject. Nikon's 3D Subject Tracking continuously focuses on fast-moving subjects throughout the frame, resulting in crisp action shots, especially when combined with the ability to capture images at up to a not-so-fast 3 fps. Nikon says that the D3100 does offer "fast" shutter response, eliminating the shutter lag frustration that ruins so many pictures made with these kinds of entry-level SLRs. When pre-focused this could be as fast as 0.117 seconds, a feature that "second" wedding shooters will love for those walking-down-the-aisle shots. Wedding shooters will also like the D3100's Quiet Shutter Release mode, which reduces the sound of the mirror while shooting from the back of the church during those available light ceremony shots.

The D3100 incorporates Nikon's Integrated Dust Reduction System that prevents the accumulation of grit and grime on the camera's image sensor and I never had to dust spot any of the more than 2000 test shots I made. The camera's shutter is tested to 100,000 cycles and should meet the demands of amateurs, aspiring pros, and professionals (for light use). It's compatible with the new SDXC (eXtended Capacity) memory card format for storing large amounts of photo and video data so users can shoot multiple scenes without interruption. I couldn't get a hold of one of these cards but did use a 32GB SanDisk (www.sandisk.com) Extreme (30MB/sec) SDHC card for flawless still and video capture. The D3100 also supports Eye-Fi (www.eye.fi/) memory card functionality, enabling wireless transfer of images from the camera to a computer when using Eye-Fi memory cards.
Captured at the Colorado Railroad Museum using the high-performance AF-S 24-120mm f/4G ED VR zoom lens at 24mm with a Program mode exposure of 1⁄640 sec at f/13 and ISO 400.
Joe Farace
The new EXPEED 2TM image processing engine enhances camera performance and helps ensure brilliant image quality while managing color, contrast, exposure, noise, and speed for optimal results. The D3100's nominal ISO range extends from ISO 100 to 3200 but can be "expanded"—consider it push processing—using the Hi-2 setting to increase how it works. How does it work? Mary shot some test images at a nominal ISO 12,800 and there's no getting around it—it's beaucoup noisy. Law enforcement will love the results, fine art photographers will faint, but wedding photographers might be able to capture shots, especially with one of these VR lenses, in really dark churches without flash. Think candlelit ceremonies.

Nikon's Active D-Lighting system automatically rescues dark or backlit images to create even tones which can be useful when photographing backlit subjects to produce an even exposure. The D3100 employs Mixmaster technology which blends COOLPIX technology into the camera, resulting in an Auto Scene Selector feature in Live View that automatically selects the best Scene mode to match shooting conditions. When engaged, the camera automatically recognizes if you're shooting a landscape or fast-action sports and adjusts the camera settings to create an astounding image. How do they do that? I think they have a little guy inside like in the Men in Black movies but maybe I'm wrong.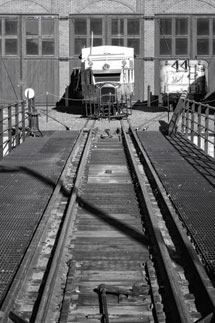 In Shutterbug's review of Nikon's D3000 (available at www.shutterbug.com; type Nikon D3000 into the Search box), our editorial director goes into extensive detail on the camera's ability to apply special and film-like effects to captured images so I won't repeat them here. I found using most of them, with few exceptions such as Landscape and Monochrome mode (shown here), to be not so much fun. Regular readers know I love in-camera special effects but prefer the way they're implemented on the similarly priced Olympus E-620. But that's just me.
Joe Farace
While the D3100 offers a built-in flash, the camera also operates with Nikon's Creative Lighting System and is capable of Advanced Wireless Lighting when using the SB-900 Speedlight or the SU-800 Wireless Commander. That pop-up flash has a Guide Number of 39 at ISO 100 (in feet) and comes in handy when used as fill for available light photographs. Instead of studio shots, as with previous tests, we made photographs of a cabinetmaker at work in his shop. The camera was set at ISO 400, in Program mode, and the flash was popped up. Under these mixed lighting conditions, the color balance and skin tones were perfect, needing no correction, and the little pop-up flash did a great job as fill, keeping attention on the subject's face in two different parts of the shop.

FEATURED VIDEO