Gimbal Heads: An Essential Long Lens Accessory
I've been a dedicated gimbal head user for a long time. If you shoot with seriously long lenses, no other head comes close to offering a gimbal's stability, articulation, and flexibility. Forget ball heads and anything else designed to attach long telephotos to a tripod. If you're a big lens user and you photograph things that move, a gimbal is the only way to go.
There are now at least a dozen manufacturers around the world producing gimbals of one kind or another. About half are located in the US. From indigenous to international the quality ranges from fair to absolutely superb. Without exception, the quality level is reflected in the price. Only the best, however, offer all the features and exceptional construction serious photographers have come to expect from products of this kind.
Regardless of manufacturer, the mission objective of a gimbal head is to create a perfectly balanced lens/camera combo that permits concurrent movement in both vertical and horizontal axes. Additionally, if a lens has the capability (and most long telephotos do), the camera and lens can be rotated from horizontal to vertical while being panned or tilted. If everything is set up properly (this usually requires a little trial and error), the lens and camera will be movable using just one finger. When you remove that finger, the entire assembly will stay put.
The better-made gimbals are stout, noticeably on the heavy side, and designed to be extremely rigid when locked in place and while supporting a heavy load. Because movement dampening at any point is critical, only gimbals manufactured to the tightest tolerances and using the best materials are capable of adequately handling the largest telephotos.
All gimbals are designed to accommodate 1⁄4"-20 head mounting screws and/or a base mount thread size of 3⁄8"-16. Heavy tripods are mandatory as the loads, when combining a 600mm or 800mm lens with a camera body and a gimbal head, can easily exceed 25 lbs or more.
For some two decades, the industry standard in the gimbal-type tripod head world has been the archetypal Wimberley. Built like a Baldwin locomotive and weighing almost as much, Wimberley's gimbal was designed by company founder David Wimberley for a lifetime of hard use and trouble-free dependability.
It's a workhorse that remains arguably the most popular head of its kind on the planet.
My first Wimberley—sometimes referred to as the Wimberley Version I—arrived at my front door about 12 years ago. The first time I used it my big lens world was flipped upside down. I've never made the slightest attempt to flip it back. When the improved second-generation Wimberley Version II (a.k.a. WH-200) was announced some eight years later, I wasn't long in selling the old and buying the new.
The Wimberley is indeed a superb gimbal. Arguably, for a long time, it was the best gimbal money could buy. It was in fact also the only gimbal money could buy, at least until about five years ago. But time marches on and the competition rarely sleeps. And so it has been in the small world of gimbal heads.
There are those who will argue that the Wimberley's simplicity, attention to detail, and ruggedness are all but impossible to beat. Though I might agree, I will also take things a step further and say that that does not mean those admirable traits can't be matched by other manufacturers. Over the past dozen years or so, the popularity of gimbals has spread ever further throughout the photography community. With this popularity has come an ever-growing list of challengers to Wimberley's supremacy.
Time has now come to review what I have determined to be the best of the best in the gimbal world. Accordingly, what follows is my assessment of the five "leaders of the pack"—those gimbals that would deign to knock the Wimberley from its "King of the Hill" status. Here in alphabetical order is a listing of what I have determined to be the five best true gimbal-type heads (as opposed to side-mount gimbals) of those I have field tested. But be forewarned! You'll never look back once you've used a gimbal!
Custom Brackets (www.custombrackets.com)—CB's gimbals are built like tanks. There are three true gimbal models (the company advertises four, but one is a side-mount design), the CB Gimbal, the CB Gimbal Upgrade, and the CB Gimbal-LS. Each differs from the other in detail, but suffice it to say the CB Gimbal Upgrade is the one with all the bells and whistles, the CB Gimbal is the basic unit sans drag feature, etc., and the CB Gimbal-LS is optimized for lightness and also lacks the drag feature.
All the parts, with the exception of the soft rubber-coated knobs (two lock and two drag on the Upgrade) and the stainless steel bearings, are made from billet, aircraft-grade, black, hard-anodized aluminum. Everything that can be disassembled (for ease of portability) can be unlocked and pulled apart in about two seconds—or three if you take your time.
Every part is locked in place via aluminum assembly knobs and every part fits snugly as a result of the CNC machining equipment that CB has in-house. Tolerances are commendably tight—but not so tight that mating two parts requires a critical eye or the touch of a neurosurgeon.
Precision roller bearings make for one of the smoothest, easiest to use gimbals on the planet. Things are so smooth, in fact, that CB has added adjustable drag locks. These permit variable friction adjustment to both panning and tilting, thus giving the photographer further, very subtle control over lens movement.
There is also a built-in bubble level, a lock to hold the tilt arm in place while a lens is being attached, and laser-engraved angular markings for precise panning (and to improved stitching results, if one is so inclined). The lens platform is an Arca-Swiss type. Dedicated lens plates must be used to attach a lens to the head.
I liked the knob placement with tilt and pan both located on one side. However, I found the drag knobs to be almost redundant in light of the inability to fully lock the swing arm using the standard tilt knob. The latter is offset, however, by the inclusion of a dedicated swing arm lock knob. All of the knobs make for a busy gimbal—but once you have them figured out and mastered, they all make sense.
Overall, the CB Gimbal is one of the best of the best, and though expensive, worth every penny. Weight is 3.3 lbs (2.5 for LS); height is 9.75" (9.1" for LS); width is 8.5" (8" for LS); and depth is 3.9" (3.5" for LS). Tilt range is +/-80˚. Max loading is unknown—but you can bet it's way beyond anything you'll ever attempt to put on it! Retail is $579.95 ($505 for the LS).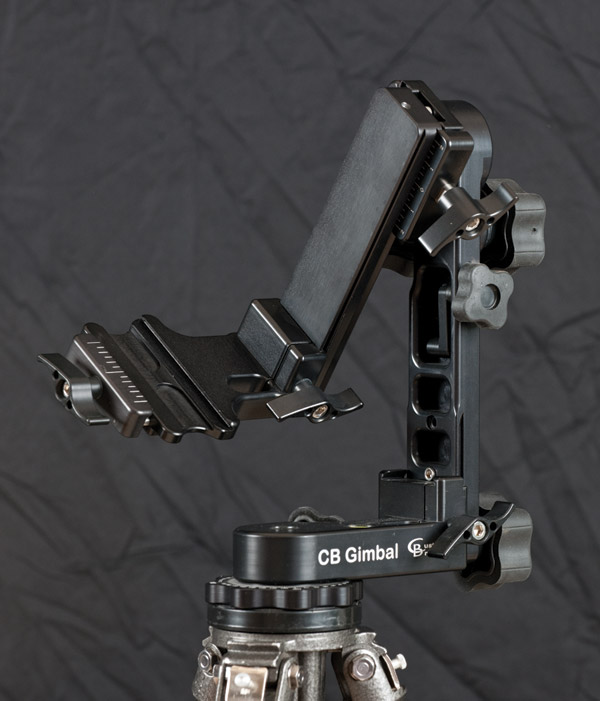 Jobu Design (www.jobu-design.com)—All three of the gimbal heads Jobu currently offers—the BWG-Pro (available in green or black), the Black Widow Jr.3, and the Black Widow Heavy Duty Mk. II—are manufactured in Canada. These are excellent gimbals very much along the lines of the pioneering Wimberley, but varying considerably in detail such as tilt and pan lock knob placement and construction methods.
Jobu touts their Pro series as having incredible stiffness and rigidity, full ball-bearing support in tilt and pan axes, and numerous features such as a low-profile lockout switch, powder-coating, and soft-touch knobs. Their quick release is a standard Arca-Swiss type. Unusually, for those who request it, Jobu offers a special-order, larger-than-standard 4" quick-release platform.
I was pleasantly surprised by the quality of the BWG-Pro. It is easily one of the smoothest gimbals available, thanks in no small part to Jobu's use of ball bearings for all articulated parts. The Pro is also very stoutly built—and easily a match strength-wise for any other gimbal in its price range. A pro shooter would have no qualms about using the Pro for the heaviest of lenses.
I particularly liked the very convenient tilt arm lock that, with the push of a thumb, locks the arm in place for lens attachment or removal. Some of the other gimbal manufacturers would be smart to copy this in future iterations of their own products.
The less expensive Black Widow Jr.3 is designed for smaller and lighter lenses. It has fewer adjustment features; the swing arm and lens platform can only be moved up or down by removing a pair of screws and using one of three paired hole options and their associated vertical spacing to change swing arm height. Cumbersome, but it works in a pinch.
Overall, the Jobu units are exceptional gimbals and most certainly as good as the best currently available. They are not cheap, but you most certainly get what you pay for here. Specs for the BWG-Pro include a weight of 3.5 lbs; height of 11.5"; and width of 9". Tilt range is +/-90˚. Max loading is 35+ lbs. Retail is $590. Specs for the Black Widow Jr.3 include a weight of 1.7 lbs; height of 8"; and width of 8". Tilt range is +/-90˚. Max loading is 12 lbs. Retail is $314.96. Specs for the Black Widow Heavy Duty Mk. II include a weight of 1.8 lbs; height of 11"; and width of 8.5". Tilt range is +/-80˚. Max loading is 25 lbs. Retail is $449.
Rob Pleas Photography (robpleasphotography.com)—The GH-13 from Rob Pleas Photography is a compact, lightweight gimbal designed to meet the basic needs of users without the high price tag of its larger, more complex competitors. In order to keep the price low, lens options are limited to those that are smaller than a 600mm f/4 or a 400mm f/2.8.
The GH-13 uses bearings on all rotating shafts. As a result, its operation is extremely smooth and fast. To use the Pleas gimbal, the user simply pulls and rotates two pins on each shaft (it took me a minute or two to figure out this one, but once I did, I concluded it was very clever and very intuitive). The rotating arm can be locked in an instant when the unit needs to be transported. Downside is, there is no intermediate locking mechanism and no easy way to "drag" the articulation.
Made in the US from CNC-machined, anodized aluminum, the GH-13 is undeniably a gimbal designed to fit the needs of photographers who want a highly portable, lightweight, budget-friendly product.
The GH-13 is, in my opinion, an excellent value for the money, but it is also a minimalist gimbal designed for those who prefer to live without all the bells and whistles found on the more sophisticated offerings. Specs include a weight of 1.5 lbs; height of 9.4"; and width of 5.5". Tilt range is +/-80˚. Max loading is 20 lbs. Retail is $349.
ProMediaGear (promediagear.com)—Arguably the most exotic of the current crop of gimbal heads, ProMediaGear's Katana, as it's called, is also the most aesthetically appealing—though I would be hard pressed to rationalize that as a reason for buying it!
Everything about the Katana is absolutely top drawer—from the manufacturing quality to the type of ball bearings used in the articulated parts. Construction materials are CNC-machined, hard-anodized, aircraft-grade aluminum, with steel ball bearings where appropriate. The grips for the lock/release knobs are a soft rubber compound and similar to those found on the Wimberley and Jobu gimbals. Though currently offered only in black, there are plans to make the Katana available in other colors. Additionally, the company has plans to eventually produce a graphite-composite version—thus offering exceptional lightness as well as exceptional rigidity.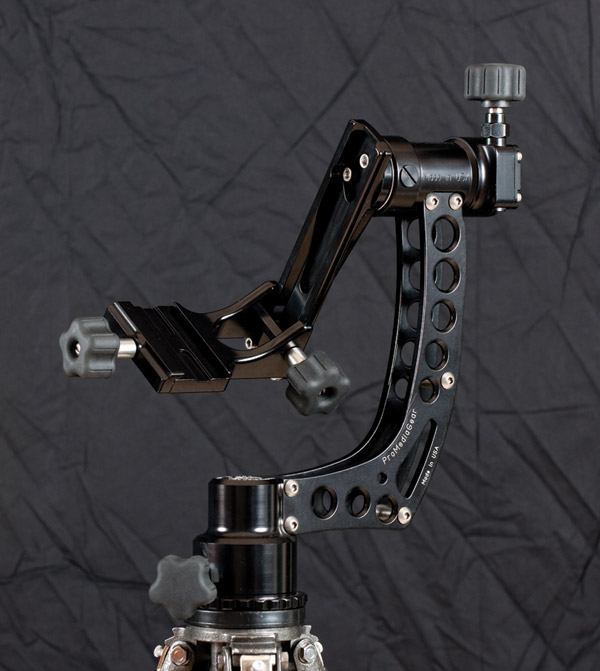 Dimensionally, the ProMediaGear gimbal is somewhat larger than average in order to give the user more maneuvering room when mounting a lens or using the unit in the field. Internally, the ProMediaGear gimbal offers some technological advances that are not readily apparent when just looking at it. Not the least of these is an innovative "braking" mechanism that is said by the manufacturer to be a notch above the rest of the pack when it comes to pan-and-tilt drag adjustments. Based on my field tests with the Katana, I cannot help but agree—it was easily the smoothest in tilt and pan of all the gimbals I tested—and at intermediate settings, the drag adjustments were considerably more refined and nuanced. Other standard features include an Arca-Swiss lens platform quick release and a vertical adjustment option for the platform.
Only negatives are the placement of the tilt lock knob on the top of the unit and placement of the pan lock knob at an angle. These latter force the photographer to use both hands—one for tilt and one for pan. If you're like me, this is extremely awkward and—when one is in a hurry—potentially catastrophically time consuming. To ProMediaGear's credit, they have designed the pan knob and base assembly so that the knob's position can be reversed if the user so desires. This is a partial, albeit, imperfect solution to the problem, however.
Overall, ProMediaGear's gimbal is an extraordinary piece of equipment. Though pricey, it is exceptionally well made, smooth as butter, and great to look at! Specs include a weight of 5 lbs; height of 13"; width of 10.5"; and a depth of 4.2". Tilt range is +/-80˚. Max loading is 40 lbs. Retail is $995—though the street price is currently $750.
Wimberley, Inc. (www.tripodhead.com)—David Wimberley's WH-200 gimbal Version II—the second-generation and somewhat smaller and lighter (by 1 lb) successor to the Version I—is the father of all gimbals on the market today. Still arguably one of the very best, it has aged well and remains worthy of its legendary reputation for quality and durability.
Considered by many to be the industry standard, the Wimberley has a beautiful black powder-coat finish, utilizes very high-quality all-metal construction, and is designed to accommodate the heaviest of lenses. Unlike some of the more modern gimbals, it still uses sleeve bearings for moving components, but everything is essentially state of the art and made of the best materials. Equipped with easy-on-the-hands tilt and pan locks that are sensibly located so that both can be operated by either the right or left hand (depending on which side one positions the vertical part of the gimbal), it also comes with a standard, easily adjustable (in height) Arca-Swiss-style lens platform.
Overall, Wimberley's gimbal is near faultless. Though it lacks some of the more exotic bells and whistles found on a few of the other high-end units, its simplicity is in many ways what makes it so extraordinary. That, coupled with Wimberley's penchant for flawless quality, makes it a default choice for many pro shooters. Though it lacks full-up ball or roller bearings, the smoothness of its articulation is excellent; it is calibrated to be the best compromise setting for the vast majority of photographers. Weight is 3.15 lbs; height is 9.25"; width is 3.50", and depth is 9.73". Tilt range is +/-80˚. Max loading is so high, it's not worth mentioning! Retail is $595.

FEATURED VIDEO