Canon EOS 5D Mark IV DSLR Camera Review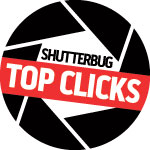 (Editor's Note: Lab Review lab tests and comments are supplied by BetterNet, Shutterbug's TIPA-affiliated testing lab and edited by George Schaub. Shutterbug is the sole U.S. representative within TIPA, a worldwide association of photo and imaging magazines. You can see a video of Shutterbug testing the Canon EOS 5D Mark IV in the field at this URL: http://bit.ly/2esC08D.)
The newest version of Canon's workhorse, full-frame DSLR, the EOS 5D Mark IV, offers a brand-new 30.4MP sensor system, while its forerunner used a 22MP sensor. The new sensor offers Dual Pixel Raw images and new Raw converter software, Digital Photo Professional 4. In addition, the new sensor offers Dual Pixel CMOS AF, which first appeared in the Canon EOS 70D and is helpful when shooting in live view mode or when recording videos.
Features, Build & Handling
The Canon EOS 5D Mark IV has a new autofocus (AF) system that offers 61 AF sensors: 41 of these sensors work as cross-type sensors and, when using f/2.8 lenses, five sensors in the center of the image work as double cross-type sensors. In addition, when using an f/1.8 lens at least 21 sensors work as cross-type sensors. As a result, and by combining phase and contrast detection, the AF system is very powerful and fast. During our tests we took some images at a soccer game and had no problem in capturing precise focus of the action in nearly every scene. By using the high-speed burst mode with up to 7 frames per second and an unlimited series of images in JPEG format, the 5D Mark IV strikes us as a surprisingly good camera for shooting sports or action photography. (Previous iterations of Canon's 5D-series DSLRs were aimed at wedding, portrait, and landscape photographers.)
The AF system is also highly configurable. By pressing the AF area button on the back and the "M-Fn" button on the top, the photographer can configure the AF system in many ways, including the selection of groups of AF sensors to define areas to be monitored for focusing.
Handling is very comfortable and intuitive. There is a setup dial on the top, a very large and handy setup dial on the back, including a Set button to confirm current settings, a small joystick, numerous function buttons on the back, and a large status display on the top. All functional elements are placed exactly where the photographer needs them to be. The Canon 5D Mark IV offers a lot of individual settings in the menu, with navigation made easy via a combination of setup dials and the joystick. The body is well balanced and well sealed, which means it can be used without concern in inclement weather.
The Canon 5D Mark IV has two card slots for still and video recording. It offers a CF card, including the latest UDMA 7 standard, and an SD card slot for SD/SDHC/SDXC cards, plus UHS-I cards. The camera records 4K video with extremely high bit rates up to 500 Mbit/s. We should note that some people expected CFast 2.0 media prior to the presentation of the camera, but Canon decided to use "standard" card systems. The camera offers a fast USB 3.0 interface for data transfer and additional interfaces, including a standard sync interface for studio flash systems and HDMI output for image and video presentation.
The Canon 5D Mark IV has additional features, many of which are already standard for compact and mirrorless cameras, including a Wi-Fi system and NFC technology. This allows the user to establish a connection between a mobile device (smartphone, tablet) very quickly and easily and use the Wi-Fi connection for data transfer and remote control of the camera. In contrast to the current Nikon "SnapBridge" system, it doesn't need an additional Bluetooth connection.
The Canon 5D Mark IV has a large and bright viewfinder with numerous overlay elements, most of which can be selected from the menu by the photographer. In addition, it offers live preview on a new LCD screen. This screen has the same size as the LCD of the 5D Mark III, but offers a higher resolution (1,620,000 RGB dots instead of 1,040,000 RGB dots). The LCD screen is fixed. A swivel LCD would have been a nice touch, especially for video and low-angle stills.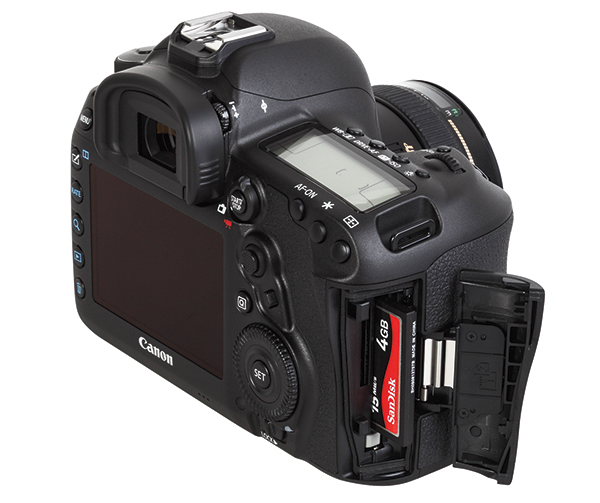 Comments on Image Quality
Color: The new Canon EOS 5D Mark IV yielded excellent results in our color tests. The average saturation in standard mode is a little higher than in images taken with professional SLRs, but with near perfect reproduction (103.2 percent instead of 100 percent). The white balance system shows a slight shift into the bluish area of the color space while the brightest neutral tones show a small shift into the direction of the yellow color area. The level of color errors is very low; only red nuances are a little exaggerated and show a shift into the yellow/orange direction (typical behavior for Canon cameras). Nevertheless, the differentiation, even of the highly saturated red nuances, is very good. This is visible in the red spool of the standard test box shot and in the model's clothing.
Sharpness: The Canon EOS 5D Mark IV performed very well in our resolution test. The ISO 12.233 chart was reproduced with 4,285 of 4,480 lines per picture height, so images taken with the Canon will convert nearly all of the nominal sensor resolution into visible details in images. Just like nearly all Canon cameras, the 5D Mark IV uses an intense sharpness filtering system to enhance contrast lines. This is noticeable in the test chart and is visible in some elements of our test images.
Noise: The basic luminance noise level of the Canon EOS 5D Mark IV is a little higher than the results from some other Canon SLRs. Nevertheless, the images look very smooth and clean, mainly because color noise is on a very low level. In all shots taken from ISO 100 to ISO 1600, images are nearly noise free. At ISO 3200 we noticed very unobtrusive color noise effects, which remain very discreet up to ISO 12,800. Starting with ISO 25,600, color noise and noise artifacts based on color noise and anti-noise filtering created some "color clouds" in homogeneous and darker areas of the image. But even at ISO 32,000 images look more than acceptable. In images taken in additional "high modes" up to ISO 102,400 color noise effects are very noticeable.
The dynamic range test results of the 5D Mark IV are excellent. The camera achieved a maximum of 11.5 f/stops and yielded the same result in images taken at ISO speeds up to 400. Even at ISO 1600 it is still very high: 10.8 f/stops. At higher ISO speed settings the dynamic range drops down to 8.9 f/stops, which is still a good result.
Comments on Video Functions
The new Canon EOS 5D Mark IV offers video recording in a variety of image resolution and file format settings. It can record "real" 4K videos with 4096x2160 pixels and an aspect ratio of 16:9. Surprisingly, it doesn't offer UHDTV formats with 3840x2160 pixels. The camera offers a MPEG-2 format for recording in high quality with very low image compression. Our standard sample scene was shot with the highest quality mode at 500 Mbit/s and resulted in an extremely large file: more than 726MB for an 11-second clip. The file is very large because the camera records 4K video with 4:2:2 color subsampling, but 10-bit mode is missing (real broadcast quality). For these high-quality video recordings you will need very fast CF cards with very high capacities.
In addition to its 4K mode, the Canon 5D Mark IV is able to record Full HD videos with MP4 compression technology and different compression settings (ALL-I mode or IPB mode). In these modes the camera creates videos with 30 to 180 Mbit/s. In Full HD mode the camera offers frame rates up to 60 frames per second (50 fps for PAL production; 24 fps for cinema/Blu-ray production); it will record 4K movies with a maximum of 30 frames per second (NTSC compatible 29.97 fps).
The camera lacks a second video record button. The photographer has to switch the Live View button into its "video" position. The Live View button is then used to start and stop video recording, while the LCD screen will show a live preview in a 16/17:9 aspect ratio.
The Canon 5D Mark IV offers all standard exposure modes for video recording; exposure modes are selected by the mode dial on the top. It also allows the user to set the ISO speed. In video mode, the standard maximum is ISO 12,800 instead of ISO 32,000 in photo mode. But the camera is also able to record in "video high modes" with ISO 25,600; 51,200; and 102,400.
The Canon 5D Mark IV showed a very good performance in AF mode. The Dual Pixel CMOS AF delivers a very fast reacting continuous AF mode, with face detection and tracking modes to keep moving objects in focus. The camera also has manual sound level control. A microphone jack and an additional port for headphones allow direct sound control.
Comments on Video Quality
The Canon EOS 5D Mark IV showed very good results in our video tests. The 4K image of the sample scene looks very crisp and clear, even though the maximum resolution of 1,629 lines per picture height in 2160p mode and 931 lines per picture height in 1080p mode isn't really very high. But the low compression settings and the high data rate create very smooth and clear-looking video clips.
The color results are comparable to the still image results. The camera created very neutral-looking colors with a very slight shift into the blue color area for darker neutral tones and a little shift into the yellow direction for brighter neutral tones.
In video mode the noise results are even better than in photo mode because the camera can use groups of pixels for luminance information. The noise at ISO 100 to ISO 6400 is very low; in videos taken at ISO 12,800 mode we noticed some color noise artifacts. At ISO 100 the dynamic range result was nearly as high as in photo mode, at 11.4 f/stops. Recording with higher ISO speeds will drop the dynamic range noticeably.
Scorecard
Pros
› A high-end, high-performance DSLR
› Very high image quality
› Very fast and configurable AF system
› Fast burst rate
› Intuitive handling
› Wi-Fi, GPS, USB 3.0
› High-end video features
Cons
› Not a major upgrade from previous model
› No swivel monitor
› No built-in flash
› Small battery recharger for only one battery (note: top-of-the-line SLRs made by Canon offer a larger recharger for two batteries)
The Canon EOS 5D Mark IV (body only) has a list price of $3,499. For more information, visit usa.canon.com.
(Lab Review is where we publish web-exclusive lab reports on cameras. To read more Lab Reviews, click on the Reviews tab on the top navigation bar of this page. New photo gear reports are published frequently, so check Reviews for more equipment evaluations from Shutterbug writers.)

FEATURED VIDEO