Canon's EOS 7D; Full HD Video In An 18MP D-SLR Page 2
The camera uses the (unique to this model) BG-E7 Battery Grip that holds two LP-E6 batteries or six AA batteries to double shooting time, but just as importantly includes a mode wheel and a vertical shutter release that makes holding the camera in a vertical position more comfortable. I wasn't able to test the EOS 7D with this grip but since my personal EOS 5D Mark II and EOS 50D have similar grips, I'd recommend it to anyone who makes lots of vertical photographs and doesn't mind the extra weight on top of the EOS 7D's already hefty 28.9 oz. Nevertheless, those two batteries can probably capture an entire day's shoot, so wedding shooters should find the BG-E7 indispensable and it only costs $219.95.
| | |
| --- | --- |
| | |
| Stepping out of my studio comfort zone, I shot this black-on-black low-key image of Victoria using two White Lightning X1600 monolights. The main light (camera left) had a medium-sized Paul C. Buff Foldable Softbox while the light on camera right (and behind the model) had a Foldable Stripbox mounted. Lens was the EF-S 18-135mm f/3.5-5.6 IS at 62mm and the Manual mode exposure was 1⁄80 sec at f/8 and ISO 125. | For this full-length photograph of Victoria, the main light (camera left) was a White Lightning X1600 monolight with a 22" Matte Pan Reflector with Diffusion Sock mounted. The second X1600 was placed at camera right. Background was an Adorama Belle Drape muslin backdrop. Lens was the EF-S 18-135mm f/3.5-5.6 IS at 70mm and the Manual mode exposure was 1⁄80 sec at f/6.3 and ISO 125. |
In lieu of a grip, studio shooters might prefer to attach the unfortunately acronymed WFT-E5A wireless file transmitter that offers IEEE802.11a/b/g and Ethernet connectivity options. You can fire up to 10 cameras simultaneously from across the room or across the country while maintaining control over settings and remote Live View on a laptop or smart phone. The WFT-E5A can also transfer and display images on DLNA (Digital Living Network Alliance) compatible televisions and photo frames and geotagging is possible via Bluetooth, using compatible GPS devices. Since I didn't get one of these either, I tried to use the poor man's equivalent, onOne Software's (www.ononesoftware.com) DSLR Camera Remote (see Digital Innovations in the October 2009 issue) for the iPhone and iPod touch but, alas, it was not supported as I write this, but I hope it will be by the time you read this.

With the launch of the EOS 7D Canon introduced three new lenses, including the EF 100mm f/2.8L Macro IS USM, the EF-S 15-85mm f/3.5-5.6 IS USM, and the EF-S 18-135mm f/3.5-5.6 IS that I tested. The EF-S 18-135mm f/3.5-5.6 IS lens is the go-anywhere, do-anything upscale kit lens that wedding photographers will find especially useful. This lens is equivalent to 29-216mm and features a compact Image Stabilization (IS) unit that should provide shake correction for up to four shutter speed stops. It may be able to support four stops slower but that ultimately depends on the shooter and focal length selected, and during night scene shots in Las Vegas I couldn't hold 1⁄4 sec to get sharp images. In the past, I have been able to hand hold 1⁄2 sec or more with the Olympus E-3's in-body stabilization and their 12-60mm lens. Maybe it's just me.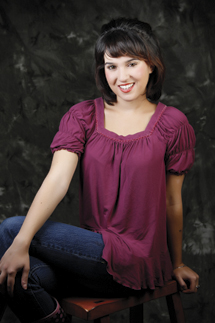 For this image of Victoria, the main light (camera left) was a White Lightning X1600 monolight with a 22" Matte Pan Reflector with Diffusion Sock mounted. The second X1600 was placed at camera right. Background was an Adorama Belle Drape muslin backdrop. Lens was the EF-S 18-135mm f/3.5-5.6 IS and the Manual mode exposure was 1⁄80 sec at f/10 and ISO 125.
The focal-length range is useful and makes a good all-around lens as I discovered at the 2009 SEMA show while shooting motorsports action and personality shots indoors and outside. Like any good EF-S lens, it features a square white line-up dot and instead of the cryptic symbols Canon used in the past for turning IS on and off uses the English language words. The EF-S 18-135mm f/3.5-5.6 IS lens costs $499.99 and uses an EW-73B lens hood that sells separately for $30.95, but thrifty shoppers might want to check out the Adorama (www.adorama.com) version that costs $16.95 and have a few bucks left over to add an OP/TECH (www.optechusa.com) Hood Hat for further protection.

Thanks to a wide range of ISO speed settings from 100-6400 (expandable to 12,800 via Custom Function), the EOS 7D has excellent low-light imaging capability so I decided to give it a real world available light test by shooting it in Las Vegas. Shooting at ISO 1250 and at the "expanded" setting of 12,800 produced a predictably noisier image, but if I showed you the file and told you it was shot at ISO 1600 you'd believe me. What does that say about the ISO 1250 shot? The noise levels there were equivalent to what we have come to expect from ISO 640 from some small-chip D-SLRs.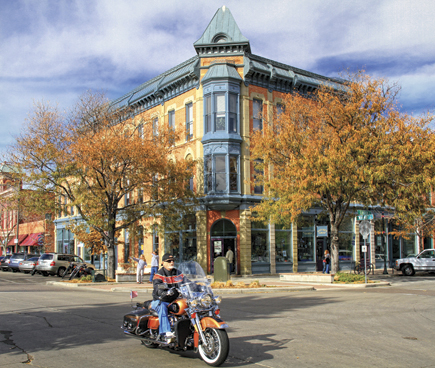 I had just photographed this great-looking old building in Fort Collins, Colorado, when this motorcyclist rode by. I had the chance to quickly lower the camera and shoot one frame as he sped off. But the top of the building and sky were cropped off, so I combined both frames into one using Photoshop's Layers. Exposure for both photos in Program mode was 1⁄320 sec at f/11 and ISO 320.
Hitting the ISO 12,800 image file with noise reduction software such as Nik Software's (www.niksoftware.com) Dfine narrows the gap between images made at 1250 and 12,800. Tip: Since Dfine applies noise reduction as a separate layer in Photoshop, you can change the layer's Opacity setting to produce maximum noise reduction, maximum sharpness, or somewhere in between, which I do, preferring 80 percent as a nice compromise.

The EOS 7D's pop-up flash features a built-in Integrated Speedlite Transmitter for control of multiple off-camera EOS Speedlites without the need for an external transmitter. This built-in wireless option is a compact and economical solution for studio and wedding photographers who are using multiple flash setups. With the high ISO capabilities of the camera, using the pop-up flash for fill indoors produced really impressive results.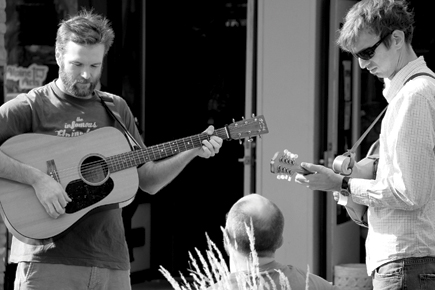 I photographed some bluegrass musicians performing at the Old Town mall using the EOS 7D's Monochrome mode but, because I may want the color version one day, also used Raw+JPEG capture by choosing the convoluted menu (you must select Raw and JPEG separately using separate commands) over the dedicated button because I still haven't figured out how to use it.
I wanted to test the in-studio capabilities of the EOS 7D but because my home studio is still in deconstruction (see the October 2009 issue of Shutterbug) my colleague Jack Dean (www.jackdeanphotography.com) allowed me to do a test shoot at his facility. Like a real pro camera, the EOS 7D has a PC connection for wired connection to studio lighting but I used PocketWizards (www.pocketwizard.com) to trip the White Lightning (www.white-lightning.com) X1600 monolights used during the session. I was pleased with the results and how well the camera handled and focused under these conditions, although I occasionally struggled with the camera's menus to make changes such as turning off the focus indicators on the LCD screen. (If you want to show a subject what they look like, having the displayed image peppered with tiny red rectangles takes the edge off the presentation and makes it hard for them to appreciate the photograph.)

The EF-S 18-135mm f/3.5-5.6 IS seemed like an all-around lens, so to give it a focal-length workout, I headed north to Fort Collins, Colorado (home of the infamous "balloon boy"), and photographed one of their municipal buildings along with some activity on the Old Town section and the lens performed perfectly throughout the zoom range, whether doing street photography of musicians or static subjects such as architecture. Please keep in mind that as an EF-S lens it cannot be physically attached to any EOS cameras that has a lens multiplication factor less than 1.6x.
I shot this image with the EF-S 18-135mm f/3.5-5.6 IS lens handheld and set at 20mm. To get maximum depth of field an Aperture Priority (Av) exposure of 1⁄500 sec at f/13 and ISO 320 was used along with a -1⁄3-stop exposure compensation.
In the field, what I first noticed about the EOS 7D is that the 3" LCD preview screen is extremely bright and sharp and it turns out to be accurate as well. In the past, other EOS cameras' screens I've used have displayed bright images and fooled me so much that I cranked down exposure only to underexpose the shots. Not so with the EOS 7D. What you see is indeed what you get. On the other hand, shooting in the Standard Picture Style produced images that appeared slightly warm to my taste; not overly warm like the magenta images the EOS 50D produced before being corrected by a firmware update, but more like what Canon promises in its description of "Standard" mode. Images indeed look like what Canon calls a "successful snapshot" and the Color Tone and Saturation levels are set to obtain vivid colors. For a more vivid look, I occasionally shifted into Landscape Picture Style to produce eye-popping colors just shy of Olympus' Pop Art effects.

Like the Nikon D300S, the EOS 7D is forcing me to take a hard look at cameras with 1.5/1.6x lens multiplication factors. Their flexibility (video capture) and overall high image quality along with rugged build quality make them a workhorse for pros without a huge price tag, although the $1699 EOS 7D is hardly cheap. Oh sure, there's that whole wide-angle lens thing, and the EF-S 18-135mm f/3.5-5.6 IS really produces the equivalent of 28.8mm, which is barely a wide-angle field of view. This is either an issue for you or not. If it's not, there's no problem. If it is, take a look at the Pro-Optic 8mm f/3.5 Fish-Eye CS lens (www.adorama.com). It costs $289.95 and produces the field of view of a 12.8mm lens. That's wide angle!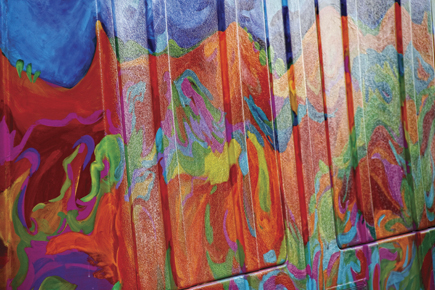 Since all of these electrical cabinets behind a building in Fort Collins, Colorado, were covered with artwork it seemed more planned than graffiti, but nevertheless the colors seemed natural for some in camera enhancement by selecting the EOS 7D's Landscape Picture Style. Exposure in Program mode was 1⁄250 sec at f/6.3 and ISO 320 with a -1⁄3-stop exposure compensation that was clearly observed in the EOS 7D's bright, accurate 3" LCD screen.
The ability to use a pop-up flash on a pro-level camera is a big plus and those big 11.52x17.28" 300dpi image files will make your eyes pop. The camera is the first of a new generation of go-anywhere, do-anything D-SLRs that will ultimately change they way we capture images. The Canon EOS 7D may not be perfect, but as Gaff said in Blade Runner "…then again, who is?"
Comparison Chart (38 KB)

For more information, contact Canon U.S.A., Inc. at: www.usa.canon.com.