Canon's EOS 7D; Full HD Video In An 18MP D-SLR
The new EOS 7D fills a gap in Canon's D-SLR line-up that never existed before, fitting somewhere between the EOS 5D Mark II and EOS 50D; it also goes head-to-head with the Nikon 300S I tested for the January 2010 issue of Shutterbug. In fact, the EOS 7D is almost exactly the same size as the 300S, differing only in extremely minor ways in dimensions and weight. It's also similar to the EOS 5D Mark II in size, shape, and ergonomics. (See the "EOS 7D Vs. EOS 5D Mark II" chart in the Instant Links section of the Shutterbug homepage.) The main highlights of the EOS 7D include 18-megapixel resolution, 8 fps (frames per second) continuous shooting speed, and—wait for it—Full HD video recording with variable frame rates and manual exposure control.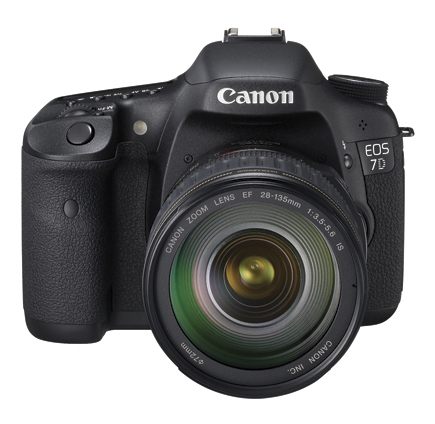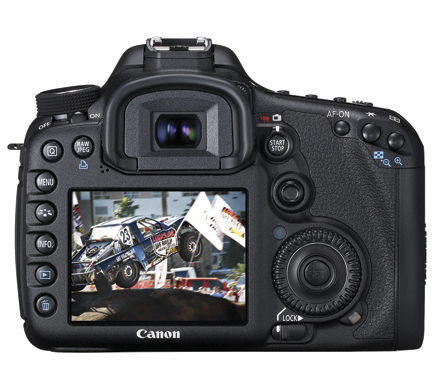 All This And Video, Too
Before you ask if this is a professional camera let me give you my definition of pro gear: a professional camera is one used by a professional photographer and since I can see many pros, especially wedding shooters, jumping all over the EOS 7D I consider it to be a professional camera—1.6x lens multiplication factor aside. The camera's nine internal seals enhance weather resistance and claimed 150,000-cycle shutter durability certainly position the EOS 7D as a workhorse for professionals. It's capable of 8 fps continuous shooting of up to 126 Large JPEGs when using a UDMA CompactFlash card. Yet, unlike the Nikon D300S, it only has one memory card slot.

The EOS 5D Mark II and EOS 50D both have nine user-selectable AF points, while the EOS 7D's system includes a multi-axis cross-type 19-point AF grid, where focusing points are evenly spread out across the image plane and displayed in Canon's Intelligent Viewfinder using a liquid crystal overlay that displays focusing points and zones, on-demand grid lines, and a spot-metering circle. The LCD overlay can be illuminated in extreme low-light situations or turned off completely. The viewfinder also features 1.0x magnification with 100 percent coverage, something the EOS 5D Mark II lacks.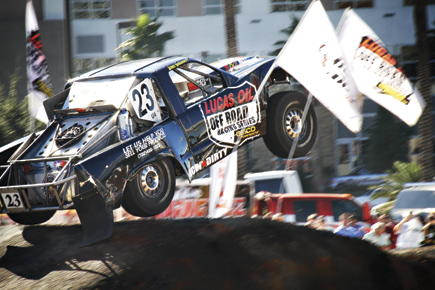 The EOS 7D's 8 fps continuous shooting capability makes it possible to capture images like this, the point where all four of this off-road truck's wheels begin to leave the ground. The Shutter Priority (Tv) was 1⁄125 sec at f/18 and ISO 640.
All Photos © 2009, Joe Farace, All Rights Reserved
The EOS 7D's AF system permits clever AF Area Selection modes such as Spot AF, which reduces the size of a single AF point to focus on small subjects, and AF Point Expansion, which uses a cluster of AF points adjacent to the selected point to assist focusing on moving objects. Then there's Zone AF which divides the 19 AF points into five selectable focusing zones, making it easier to achieve focus on subjects that may be difficult to track. To complement the new AF system, the exposure metering system for the EOS 7D has been redesigned to take color information into account, sounding a bit like Nikon's Color Matrix Metering, and reads illumination and color even as the light source changes. The only thing I can add is that it works as advertised, whether I was photographing fast-moving models or fast-moving race trucks.
They're Gonna Put Me In The Movies
With all apologies to Alvis Edgar Owens, the EOS 7D features Full HD video captured at 1920x1080 resolution with selectable frame rates of 24p, 25p, or 30p. The camera's native 24p (progressive) recording capability produces a cinema-style look without requiring post-processing. The camera offers manual exposure control and selectable frame rates for NTSC or PAL standards, just in case you want to shoot something for European friends. You can use three Video Recording modes, including Full HD, 16:9 HD, and Standard Definition (SD) in a 4:3 aspect ratio, all at selectable frame rates.

All of this is accessed via a dedicated button/lever (more about the EOS 7D's buttons later) that initiates Live View for either video or still shooting. Like the EOS 5D Mark II, you can use an external stereo microphone or the built-in monaural mic.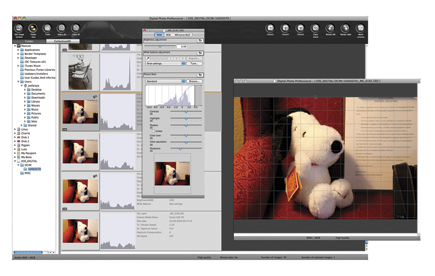 Even if you are a Canon shooter and already have Digital Photo Professional software on your computer, you should install the updated (3.71) version of Canon's software found on the EOS Digital Solutions Disk and only then will you be able to read all three versions of the Raw files that the EOS 7D is capable of producing. Perfectionists might want to use this for all their Canon Raw files because company representatives have told me many times that the ACR solution has been reverse engineered and does not deliver the image quality that's possible through the proprietary Digital Photo Professional software.
Smart And Not So Smart Features
Some photographers will like Canon's built-in Dual Axis Electronic Level that features an artificial horizon on the rear LCD screen during Live View or in the viewfinder using illuminated AF points while others (like me) will not. The Dual Axis Electronic Level shows both horizontal roll and vertical pitch and might be a helpful tool for architectural and landscape photography or might just be another "check box" feature that few people will use.

An Intelligent Macro Tracking function helps reduce blur during close-up photography by recognizing when a macro lens is attached and automatically adjusting the AI Servo sampling frequency. It adjusts for slight camera movement forward and back, a typical occurrence when moving in close for a macro shot as photographers move back and forth or when a flower blows in the wind.

Is there a danger of jamming too much technology into a D-SLR? I think so and it wouldn't be a new Canon D-SLR if there weren't some sort of glitch. Some users reported "ghost" traces of the previous photo appearing in the next image file. Canon agreed, "In images captured by continuous shooting, and under certain conditions, barely noticeable traces of the immediately preceding frame may be visible. This phenomenon is not noticeable in an image with optimal exposure." In my own experience—and that includes lots of continuous shooting—I did not encounter this problem and instead of the foot-dragging that accompanied teething problems with previous new cameras, Canon fixed this problem with a firmware update (1.1.0) within 10 days of publicly admitting the problem. This was much faster than the nine months it took to fix the magenta color cast in images from the EOS 50D, but it turned what was, for me, an utterly useless camera into one I love to shoot. If you get an EOS 7D make sure you install the update so you don't have any problems out of the box.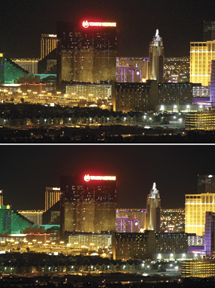 Here are two cropped images that represent about 2⁄3 of the image file. Both images were shot in Program mode with the Image Stabilized (IS) EF-S 18-135mm f/3.5-5.6 lens. The handheld exposure for the top photo was 1⁄40 sec at f/5.6 and ISO 12,800, and while somewhat noisy (see text) is tack-sharp. The exposure for the bottom image was 1⁄4 sec at f/5.6 and ISO 1250 and is not sharp even with the IS lens.
Out Here In The Real World
The EOS 7D has a rounded but somewhat chunky shape that is nevertheless pleasant to hold. In truth, it might be a handful for photographers with smaller than normal hands but fit my US-Medium paws perfectly. Unfortunately, the camera was attacked by the button brigade and is festooned with more controls than I have seen on any Canon D-SLR since the now seemingly quaint EOS D30. Do we really need a separate Raw+JPEG button? I don't think so. The camera has a new Quick Control button, which opens an easy-to-navigate menu on the camera's LCD screen that looks a heckuva lot like what Olympus has been doing from Day 1, but also reminds me a bit of the old film-based Canon EOS Rebel Ti. And what's with the inability of Canon's designers to pick a place for the on/off button and leave it there? When EOS 5D Mark II and EOS 50D shooters try to turn on the 7D they will lock the control wheel. Here's an unoriginal idea for camera designers: less is more.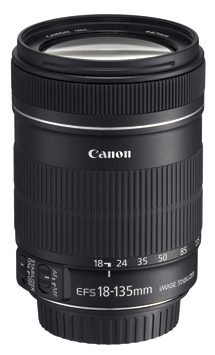 The unretouched image of Mary doing her Courtney Hansen imitation on the left was made using only available light with the EOS 7D's Program mode, producing an exposure of 1⁄100 sec at f/5.6 and ISO 1250. For the unretouched image on the right all I did was pop up the flash that produced an exposure of 1⁄200 sec at f/5 also at ISO 1250. Noise? I don't see no stinkin' noise! The second image was cropped to match the first one. To see the entire fill-flash image and more SEMA 2009 images, visit my SmugMug page (http://farace.smugmug.com).
Speaking of Raw, Canon believes that "not even all professional applications require full-resolution images" and so the EOS 7D offers full-, medium-, and small-sized Raw file options. I think they are wrong because the minute you shoot small Raw files to save card space, a client will order a 40x60" print. OK, you get to drag out Genuine Fractals (www.ononesoftware.com) to save the day but what's the point of shooting Raw if you don't save all the pixel information? I don't get it, so maybe it's just me. On the upside, the current version of Adobe Camera Raw happily reads the standard-sized Raw files from the EOS 7D. If you want to read the mRaw and sRaw files it'll require Canon's Digital Photo Professional software that comes in the box at no additional charge.

FEATURED VIDEO