Tripod Heads: A Buyer's Guide: Match To Your Shooting Needs
Just as interchangeable lenses on an SLR each have a specific purpose or meet a certain need, the same applies to tripod heads. Even if a head comes as part of the tripod kit, you soon realize you may need to replace or supplement it. In this buyer's guide to tripod heads we'll look at some of the factors to consider, including budget, load considerations, applications, and matching heads to "sticks." We'll also look at the various types of heads available and how each can be used for very specific shooting needs.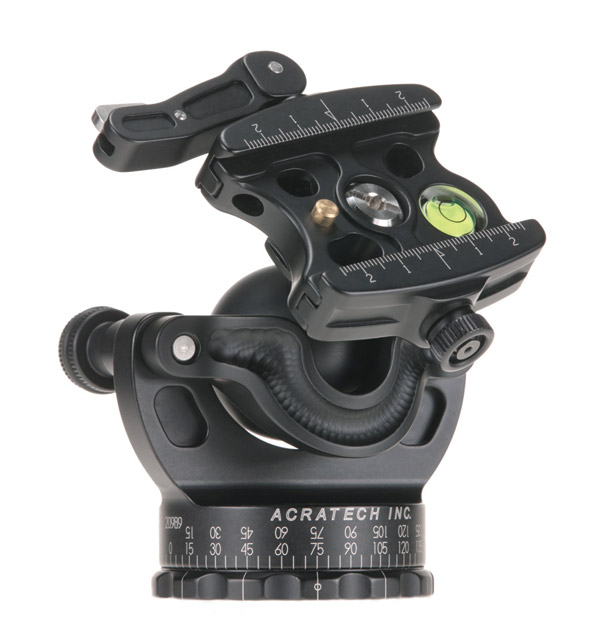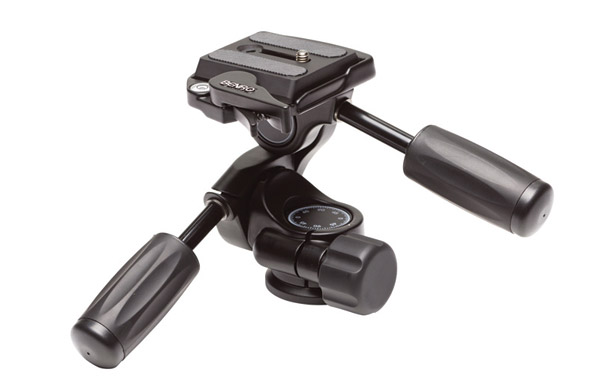 First off for some might be budget. Heads can cost less than $50 or as much as several hundred dollars for a heavy-duty head and even upwards of $500 for special-purpose heads; simply stated, you get what you pay for, but you can find a very capable head in the $75 to $200 price range, without making serious compromises, if you shop wisely.
Probably the most crucial objective measurement you need to make is maximum load capacity (a value usually provided by the manufacturer). This tells you how much gear you can safely plant on a head for it to be properly balanced: too much and the head starts to creep, leading to a precipitous drop, which could possibly destabilize the tripod, causing it to topple. Heft and size of camera body are factors. Longer (which usually translates into fast telephoto) lenses exhibit a greater rotational torque and therefore need to be compensated with a choice of a more capable head better suited to this load (which may be a gimbal head). If you plan to attach a flash, factor that in. The size of the ball joint on a ball head is roughly an indication of the head's load-bearing capacity.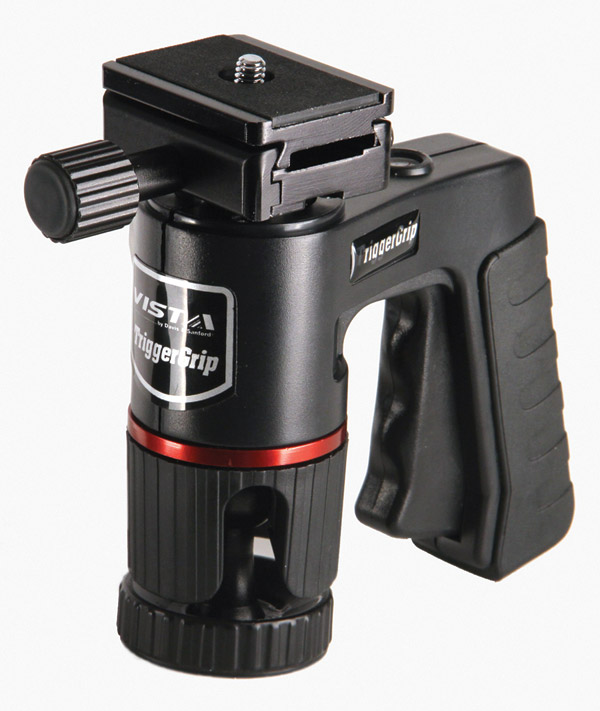 Of course, none of this works in a vacuum, so you should factor in your application. Will the head serve you for studio or travel/location use? Will you be doing portraiture, still life and tabletops, architecture, landscapes and stitched panoramas, macro, panned motion, birds in flight, HD-SLR video? In turn, this helps choosing a head based on features and comfort level. How simple/fast or complex/deliberate do you want the action to be in setting it up and using the head?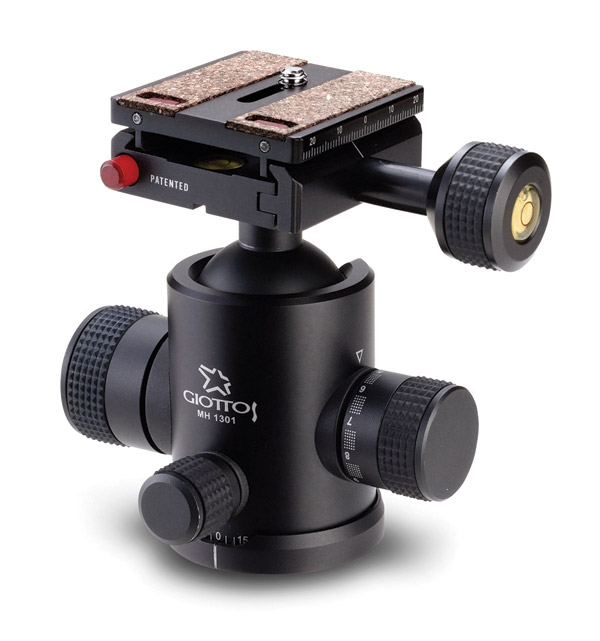 Types Of Heads And Options
The most popular and noteworthy head options include pan/tilt head, ball head, pistol grip head, gimbal head, geared head, video pan head, panoramic head, leveling head/ball, and tilt head (all of which are explained below). You should also consider whether or not you want a Quick Release (QR) system. If you expect to be changing cameras or tripod-mounted lenses during a shoot or switch from tripod to handheld, then a quick release is a very worthwhile option (camera/lens mounting plate may be sold separately). QR systems vary widely, but one standard has emerged: Arca-Swiss (or Arca) style, which uses interchangeable mounting plates sized for the camera base or lens tripod mount that are accepted by a wide range of compatible QR baseplates. Many tripod head manufacturers, however, offer proprietary QR systems. The quick release should feature a dual-locking (or other safety) mechanism as security against accidental release.
Of course the tripod you mount the head on plays more than a supporting role. Don't mix and match substantive with insubstantial—if the tripod is a heavyweight, it deserves a head of substance (not necessarily heavy but something with the necessary degree of control); equally important, don't rest a heavy head on scrawny shoulders, as this combo spells imminent disaster; however, feel free to mix and match different brands. The head must fit the tripod screw. Many less expensive heads will only fit a 1⁄4" thread on a tripod. More heavy-duty heads require a 3⁄8" fitting but accept or come with a 1⁄4" bushing/adapter.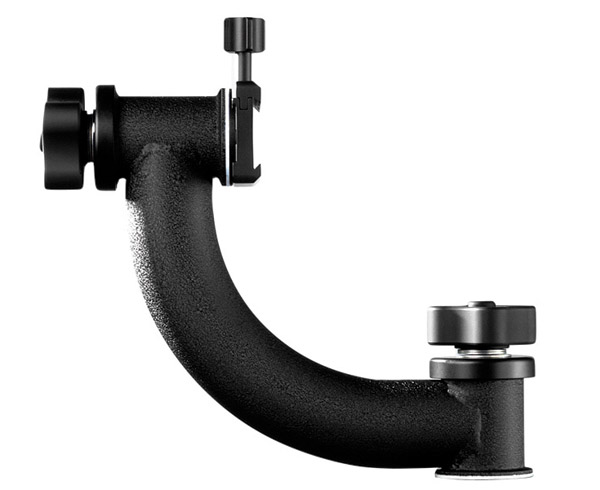 Choosing The Right Head
To paraphrase the Bard, there are more tripod heads than are dreamt of in our philosophy. Why do we need so many? Ask 10 pros and you'll likely receive 10 different responses, even among those willing to spend upwards of $300 or more for a head alone. (Author's note: I haven't included every type of head imaginable, but have focused on the popular and noteworthy designs. Photos shown represent one example. Additional products and product lines, perhaps including different categories of tripod head, may also be available from that source. A complete list of manufacturers can be found toward the end.)
Pan/tilt head: Three-way heads, or more simply pan-tilt or pan heads, afford individual control of panning, up/down tilt, and side-to-side tilt, although less expensive heads may combine two of these functions; handles may be long or short and stubby or replaced by knobs or levers, or any combination of these. (Two-way heads are geared more toward video and spotting scopes and lack the side tilt function. More on professional video heads in the sidebar.) The three-way head functions best in controlled situations, largely indoors, where time is not an issue; outdoors, handles can be obtrusive. I would avoid very heavy or very long lenses on these heads, unless they have separate drag/friction controls.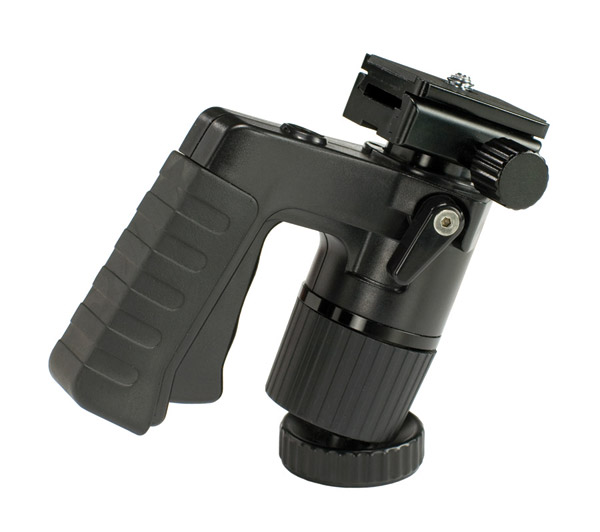 Ball head: The most compact type of head available for everything from studio (especially with camera stands) to outdoor applications, this head features a ball-and-socket design, with the camera seated atop a swiveling ball joint that is housed in a base. Movements are governed by knobs and/or levers (single-action = one knob/lever controls all movement; with more versatile heads featuring up to four knobs/levers to control panning, swivel, tilt, and tension/friction; some heads exclude a separate panning function).
These heads come in numerous flavors and sizes. There are basically two designs: center-ball (centering the camera over the ball) and off-center (which provides freer movement). Arguably, the center-ball design provides a more stable platform. The camera platform is either circular or rectangular and, as with pan heads, it is topped with cork or other gripping surface to prevent the camera from shifting position. Shooting verticals with the camera swung over to the side can be destabilizing, while throwing off the composition. An optional L-bracket drastically improves the situation by allowing the camera to go from horizontal to vertical without shifting the center of gravity while maintaining a constant viewpoint. The lower (shorter) the head, the more stable, owing to a lowered center of gravity. A thick, short neck is seen as providing a more stable platform, compared with a long, slender neck.
Pistol grip head: Also known as a grip-handle head, this variation on the ball head greatly simplifies operation of the head by providing an oversized squeeze trigger that releases tension on the ball to allow movement in any direction, while letting go of the trigger locks the ball in place. The panning function, where provided, may be primarily intended as an aid to composing stitched panoramas. Even though the camera/lens appears balanced when the friction knob is loosened somewhat, it's safest to set it to the maximum/locked position (unless there's a separate locking function) to prevent creep or a drop. Some pistol grips require strong pressure to release the ball joint, which may not be suitable for arthritic hands or a weak grip. I would limit use to lenses no larger than 70-200mm f/4 with a tripod mount.
As with more traditional ball heads, height is a factor in a pistol grip: lower is better.
Gimbal head: This type of head, somewhat odd looking and usually costly, is relished by bird, wildlife, and action enthusiasts. In contrast to typical tripod usage, you never actually let go of the camera when shooting because the whole idea is to enable you to better and more smoothly track a flying bird or other fast-moving subject, owing to ultra-smooth panning movement in the head and the freely swinging camera seated or suspended in the mount. However, a gimbal head does require time to set up properly, as the camera/lens combo must be correctly balanced so that the head will remain stationary whether level or tilted. Head manufacturers may offer a gimbal conversion head that attaches to any top-quality ball head with an Arca-Swiss-type quick-release mount.
Geared head: Photographers find these pricey heads useful in architectural and other exacting
work because the three-way geared movement is ultra-precise. What's more, the head doesn't need to be locked down, as the geared movement does that automatically.
Panoramic head/base: It could be as simple as a basic rotating platform for stitched panoramas. Etched markings indicate detent positions and may represent degrees or lens focal lengths, as applicable.
Leveling head and leveling ball/base: This device assists in leveling the camera, regardless of the terrain, thereby avoiding the need to splay the legs unevenly and possibly destabilize the tripod. It is especially handy for stitched panoramas.
Tilt head: These heads are designed largely for monopods, providing up/down tilt and thereby allowing the pod to remain fully upright.
Heads For HD-SLRs
What sets a video head apart from a head designed primarily for still photography? It begins with fluid panning movement, or fluid-effect on less expensive heads. Also, video heads normally limit movement to horizontal and up/down panning. But there's much more to this story when it comes to professional video heads, which are often used for HD-SLR movie shooting, as THK Photo's Michael Burnham explained, with particular reference to the Daiwa heads marketed by this company.
"A professional video head is sealed, with the moving parts riding in an expensive heavy oil.
All Daiwa heads are true fluid heads and not 'fluid-effect' or grease-packed heads.
"There are independent drag controls for both the pan and tilt movements. These are separate from the pan-and-tilt friction locks. The drag controls allow the photographer to customize the resistance to movement in each direction to the weight of the camera and personal preference without the 'grabbiness' and vibration of a partially engaged friction lock. Photo heads are designed to hold a lot of weight locked in one position or another while professional video heads are designed to hold the weight while moving smoothly.
"The better, heavier-duty Daiwa heads have a counterbalance system that counterweights and balances the camera through the entire tilt movement as well. This means that the photographer can tilt the camera up or down and then let go and the camera will not 'dive'—it just stays in place without being locked down.
"The bottom of the professional video head is curved, semicircular that fits into a tripod with a rounded 'cup' that matches the ball base of the head. Being perfectly level is of absolute importance and the ball base makes leveling the head much faster and easier than messing around with slight height adjustments of each leg."
In conclusion, choose the head that's a good match for your budget, gear, tripod, subject, and style of shooting. And there's one criterion that we saved for last, so it does not get lost amid all the options: the head should maintain alignment once the knobs and levers are tightened. You may find yourself compromising on this feature for price, if you don't mind the inconvenience—and spoiled pictures. But think twice before you make any compromises, and this head will likely be seated atop your tripod for years to come.
Tripod Head Manufacturers & Distributors
The following manufacturers and distributors offer tripods discussed in this article. A few companies failed to respond to our queries, but have been included in this list nonetheless. Companies marked with an asterisk (*) specialize in professional/broadcast video heads that may be suitable for HD-SLR video shooting.
• 4th Generation Designs: www.4gdphoto.com
• Acratech: www.acratech.net
• Arca-Swiss: www.precisioncameraworks.com
• Benro: www.benrousa.com; www.macgroupus.com
• Calumet: www.calumetphoto.com
• Cullmann: www.rtsphoto.com
• Custom Brackets: www.custombrackets.com
• Daiwa: www.thkphoto.com*
• Davis & Sanford: www.tiffen.com
• Feisol: www.feisol.net
• Flashpoint: www.adorama.com
• FLM: www.omegabrandess.com
• Foba: www.bronimaging.com
• Giottos: www.hpmarketingcorp.com
• Gitzo: www.manfrotto.us
• Induro: www.indurogear.com; www.macgroupus.com
• Jobu Design: www.jobu-design.com
• Kaiser: www.hpmarketingcorp.com
• Kirk Enterprises: www.kirkphoto.com
• K-Tek: http://ktekbooms.com/camera/norbert/*
• Linhof: www.hpmarketingcorp.com
• Majestic: www.bencher.com/photo/gearheads.php
• Manfrotto: www.manfrotto.us
• Markins: www.markinsamerica.com
• Miller: www.millertripods.com*
• Novoflex: www.hpmarketingcorp.com
• OSN: www.osnusa.net
• Really Right Stuff: www.reallyrightstuff.com
• Sachtler: www.sachtler.com/us*
• Slik: www.thkphoto.com
• Smith-Victor: www.smithvictor.com
• Sunpak: www.tocad.com
• Uni-Loc: www.uniloctripod.com
• Vanguard: www.vanguardworld.com
• Velbon: www.osnusa.net
• Vinten: www.vinten.com*
• Wimberley: www.tripodhead.com
All photos are courtesy of the respective manufacturers/distributors. Note that not all companies in the list have illustrated or mentioned products. Please contact them and visit their website for more information. Please consult the company web pages for current pricing. Products shown here are good examples of the great variety of heads available.

FEATURED VIDEO