Sony A57 DSLR Review
The Sony (alpha) A57 is based on Sony's SLT viewfinder system that uses a fixed and semi-translucent mirror. This enables viewing via a live preview on the LCD screen on the back or through the electronic viewfinder. In addition, the mirror reflects the image onto an AF sensor based on the classic phase detection system used by "normal" SLR cameras. The AF sensor works continuously because there is no moving mirror system to cover the sensor when the picture is taken. This aids in continuous shooting speed and when recording videos.
The camera offers very high performance speed when taking images in burst mode. It allows the user to shoot up to 12 frames per second for a series of 23 images, the same speed as the Sony A77. And, as with the A77, to achieve the maximum speed it works with a special recording mode that doesn't allow any manual exposure or ISO speed settings, plus it crops the sensor area slightly. Nevertheless, this speed and burst rate capability will make this camera very appealing to sports and nature photographers.
The camera offers numerous functions normally associated with point-and-shoot compact cameras: it has seven scene modes, automatic scene detection, smile detection, creative filter effects, and more. The camera is also able to record panoramic images by simply panning the camera and shooting images in burst mode. In addition, it is able to create 3D panoramas. The camera can be set to record raw images and JPEGs simultaneously.
The A57 records Full HD video with 1920x1080 pixels in AVCHD 2.0 mode. This means it is able to record up to 50 Full HD video frames per second and use 28 Mbit H.264 compression.
Due to its mounting on the lower part of the body, the LCD screen isn't totally articulated. This applies especially when using a tripod, because the tripod head inhibits a total movement in all directions. Most cameras offer an LCD attachment on the left side of the body to avoid that problem. Nevertheless, the monitor can be flipped up- and downward and the user can rotate the screen to the front.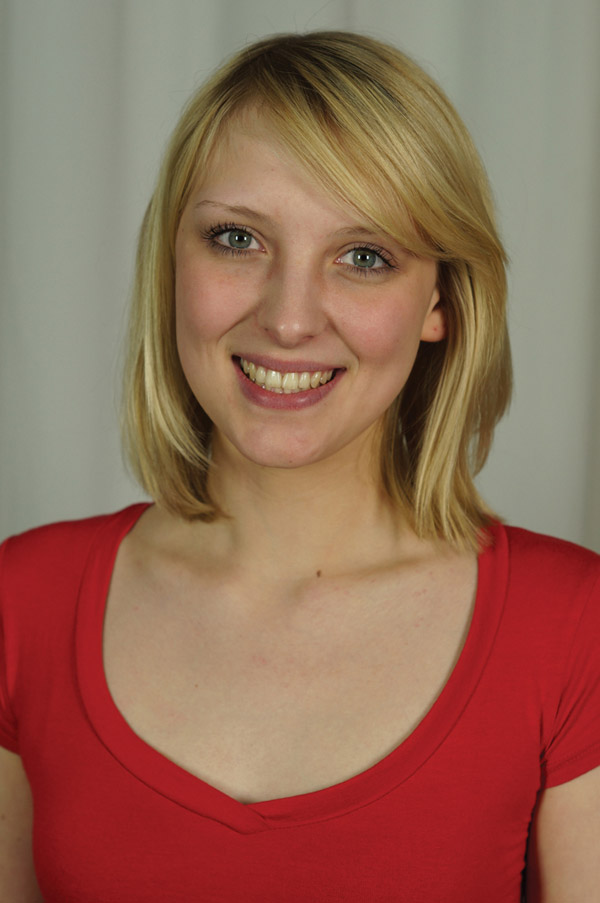 Image Quality
Color: The camera showed an average performance in our color tests. The automatic white balance system sometimes caused a bluish touch in images taken with fluorescent light, noticeable in the standard test box image and in the GretagMacbeth test chart. The portrait shot has a slight yellowish or greenish touch. The A57 reproduced all images with high saturations (in standard setting) and boosted red nuances. Skin tones have higher yellow rates than in images taken with other cameras.
Sharpness: The camera showed very crisp and clean images. The resolution chart was reproduced with 2638 lines, which is a good result for a camera with a nominal resolution of 3264. In some images we noticed sharpness-filtering effects, like halos on extreme contrast lines and the lines of the Siemens star. The portrait shot shows a well-balanced relation of real resolution and sharpness filtering. The hair structure looks natural, not over-sharpened. Differentiation of the fibers in the red T-shirt isn't good because the camera shows extreme intense red nuances.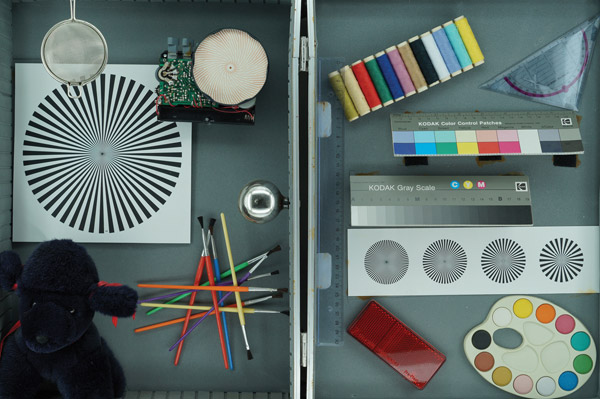 Noise: The camera showed clean images up to ISO 3200. In images taken with higher ISO speed settings we noticed color clouds in homogeneous color areas. The camera uses an intense anti-noise filtering but keeps filtering artifacts on a low level in images taken with ISO 3200 and 6400. In images taken with higher ISO speed settings (up to 16,000) we noticed a reduction of image details due to this filtering. The dynamic range results are very good. The camera achieved a maximum of 11 f/stops and showed high results (around 10 f/stops) even up to ISO 3200.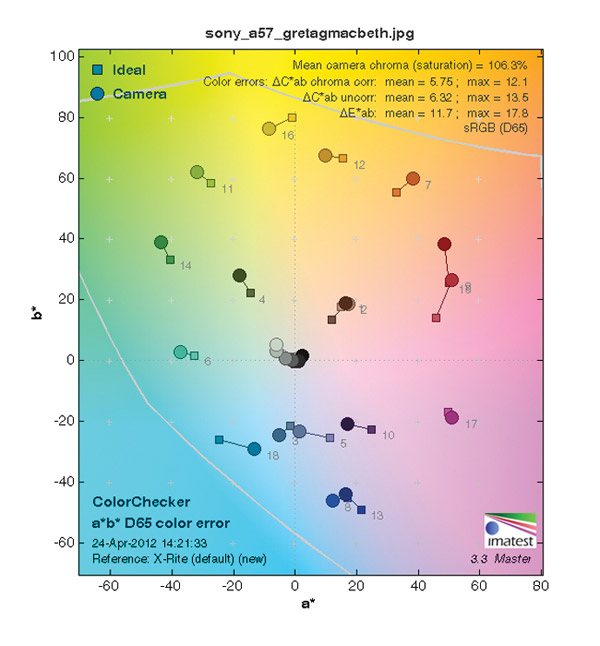 Scorecard
Pro
• Very fast mid-level system
• Compact body
• Swivel LCD screen
• High-resolution ELV
Con
• Swivel monitor is not totally articulated (on a tripod)
Image Tech
Image Tech is where we publish web-exclusive lab reports on cameras. To read the reports please go to the Shutterbug homepage at www.shutterbug.com and click on the Image Tech tab on the top navigation bar. New reports are published frequently, so check Image Tech for updates.
The Sony A57 SLT with an 18-55mm lens has a list price of $799. For more information and further tech specs, visit: www.sonystyle.com.
Lab results and test images by BetterNet, our TIPA-affiliated testing lab. Edited by George Schaub.

LATEST VIDEO

SPONSORED VIDEO