Projet Inkjet Printing Papers; A House Brand's Art Paper Offerings
Like most everything else these days the cost of "art" inkjet printing paper seems to be going through the roof, so printmakers are seeking alternatives without sacrificing quality. The perceived issue with some so-called "third-party" papers (those that do not carry the printer maker's brand, thus lack a profile installed with the original start up disk) is incompatibility with profiles already in the printer driver. Some printmakers still hesitate to wander outside the canned profile realm. In fact, every reputable company selling papers offers profiles on their website for a variety of printers or at the least suggests compatibility with the profiles already in the driver. For those who want the finest control, creating personal profiles is the way to go, something made easier these days with products like Datacolor's PrintFIX and other calibration/profiling setups.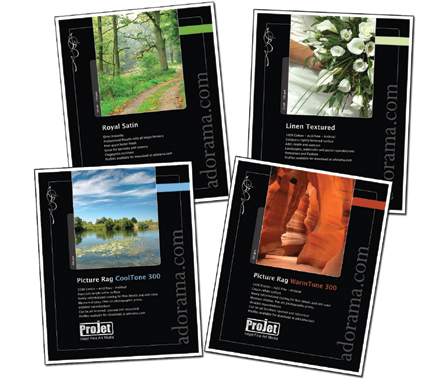 One indie brand we recently checked out was Projet, distributed by Adorama. While the fact that Adorama is a retailer/distributor of the paper makes for a better price, cost alone should not drive your choice. The investment in time, ink costs, and of course the quality prints you can produce should be the overriding factors in picking printing papers. But having paper that costs less overall doesn't hurt.

When Adorama called me and offered papers for test I asked that they pick a sample of what they consider their "art" papers, as this is where the cost for some papers has jumped considerably and the type of papers I and Shutterbug readers often choose. Of those sent I chose to work with the Projet Picture Rag 300 WarmTone and CoolTone, Linen Textured, and Royal Satin, all in 13x19" sheet size. I worked with an Epson Stylus Pro 3800 and an Epson Stylus Photo R1800, the former for the matte papers and the latter for the Royal Satin, a microporous RC (Resin-Coated) stock.
The first step was finding profiles for the papers for each printer. (I did not custom profile the papers.) You find the profiles on Adorama's website, and while this was no problem for the R1800, there were no profiles I could find for the 3800. In fact, the profiles were all for Canon and Epson printers, so those using HP printers are out of luck, as are those not having printers in the rather limited list. There is also this note: "The windows archives in Zip files contain newer or expanded profiles. These are perfectly useable on Mac machines but may have to be `tickled' to work under OS-X. Go to www.apple.com and look under color-sync profiles and the links to using Windows (*.icm) profiles on your Mac (*.icc)." Working on Macs I must say this caused me some concern, but I pressed on.
Royal Satin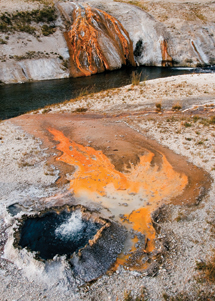 This color image came up very nicely on the Royal Satin, an RC paper that is not as bright as the CoolTone 300 tested, but provided a nice, classic photographic-style surface for the print. This was printed on an Epson R1800 using the Adorama supplied profile; screen and print match was right on the money.
All Photos © 2008, George Schaub, All Rights Reserved
The instructions for installing profiles for Mac are also off a bit, as they tell you to go to System Folder/Color Sync/Profiles and place them there. For Leopard it's close, except you start in Library. For 10.3 and 10.4 it's actually Library/Application Support/Adobe/Color/Profiles. The instructions also refer to Photoshop 6 dialog boxes and steps for making the nice supplied test image. In short, the profile instructions need updating and other printers should be added to the list.

Since the R1800 had the profiles I needed for the Royal Satin (which uses photo black) I started with that paper. (All the other papers had R1800 profiles as well.) Royal Satin works with both pigment and dye ink printers, and is a very good all-around choice for a variety of color images, from portraits to landscapes. It has the sharpness and color richness of glossy without the surface sheen. It is an eminently "photographic" paper that looks and feels very much like classic, medium weight custom color paper stock. I printed using the supplied profile on my calibrated Mac PowerBook G4 and Photoshop CS3. The image on the screen and the print matched in terms of color saturation and exposure (density), even with the somewhat enhanced saturation I gave the photo of a Yellowstone geyser.
Picture Rag WarmTone 300
This 100 percent cotton rag, acid-free paper is touted as having retouch, spot, and airbrush capability. It is a fairly thick paper, almost card stock, that fed with no problem through the Epson 3800 (check that your printer can handle 300 weight stock) rear manual feed slot. It provided a perfect surface for this scanned image printed using the "warm" option with Epson's Advanced Black and White Printing mode.

FEATURED VIDEO