LexJet Sunset Fibre Rag 335g: A Fine Art Inkjet Printing Paper - Test Report
What qualifies a digital inkjet printing paper as "fine art?" To begin, it should be able to reproduce a wide range of tonal values and colors that satisfy the photographer. It should be "archival", meaning that there should be no contaminants or even optical brighteners that could affect the print stability long term. And perhaps most important is that it should have that "look," sometimes described as emulating a well-made darkroom print.
All of the above applies to a new printing paper from LexJet, dubbed Sunset Fibre Rag. It displays the look and feel of double-weight glossy dried matte (non-ferrotyped) and is 100% cotton rag base. For those who have never donedarkroom printing this means the best of both worlds. A glossy finish for the best sharpness and rich tones, and elimination of the glare associated withglossy surfaces, attained in the fiber days by drying the print face down on the cloth and not the metal, or ferrotype plate. Matte surface papers were simply too "diffuse" to offer the snappy look glossy afforded, although they certainly had their place and purposes.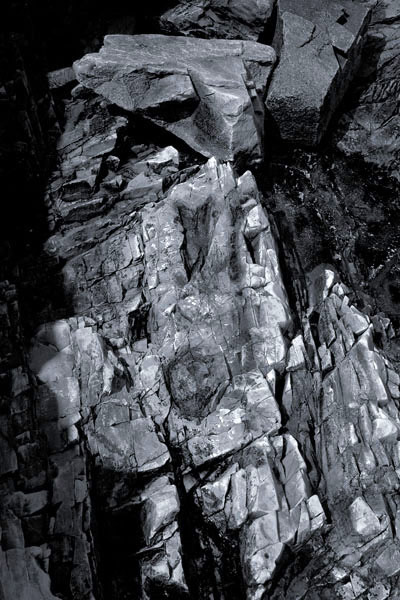 The paper has a fairly neutral, if warm base, at least when put against a bright white paper. And while I have become used to cotton rag papers having a matte surface, this one has a pleasing smooth gloss finish with a relatively smooth, though ever-so-slight textured surface.
I tested the paper on an Epson 4900, which can take the large sheet and roll paper in which this paper is offered. It is also offered in more "conventional" cut sheet sizes such as 13 x 19" and 8.5 x 11". The folks at LexJet sent me 17 x 22" size, which meant I could work large and be able to judge the paper in a typical "fine art" format.
The LexJet web site did not have a specific profile for the paper when I tested it, but they did send me an alternative, namely the glossy Sunset fiber profile. I trust that by the time you read this the specific profile will be available for download on their site; as an alterative I tried Epson ProGlossy (PPG-250) it seemed to work just fine. Those with other brand printers should use a similar profile. I loaded the paper in the cut sheet stack and had no problem with transport from the 25 sheets in the holder, and followed the usual practice of "thumbing" through the stack before loading.
I tested the paper on monochrome, color and low saturation images, and workedwith Photoshop CS6 Beta software on a MacBook Pro V6.2. The monochrome images displayed a deep, rich black with fine repro of the mid-tone values. When an image had a range of bright highlights, the slightly warm base added to their reproduction while not muting their place in the image. This encouraged me to work with numerous images that often came out too contrasty on pure gloss or metallic base papers (and too flat on purely matte surfaces) and I found that they had newfound life on the LexJet surface.
There was a very slight "dry-down" effect but nothing that would eliminate first impressions as close to the final look. In fact, the richness of the prints was very satisfying in every case. Muted color or what I call "low saturation" images were equally satisfying, and full-color images even more so.
There's no underplaying the role played by rich blacks even in prints that are mostly about color, as they play a key role in defining edges and shadows. And when you rub your finger across the surface of the paper you get that satisfyingsound that only a medium to heavyweight fine art paper delivers. That is what could count as a "feel the material" type of qualification, but I often use that as part of how I judge a paper. The weight of the paper makes it easy to work with when matting and mounting, and the durability is a strong factor in paper choice.
Finally, what really matters is how the images you select for printing look when mounted for display, and when you print this large size you have a chance to step back and admire what you have created. In the range of images I selected Sunset Fibre Rag did not disappoint, and for me joins the ranks of papers that I would unhesitatingly select for my work.
Specs
LexJet's Sunset Fibre Rag 335g is compatible with all dye and pigmented inks, although for me pigment inks are still the choice for fine art work. The LexJet profile used for these tests was "EP4900LJFibreElitePrGlossy250Q4HS.icm": the Epson profile used was PPG250. I trust a specific profile for the paper will be posted by the company soon. A 50-sheet pack of 13x19" paper lists on their site for $145; a 50-pack of 8.5 x 11" runs $55. It is also available in 17" sheet and roll (50 ft $111) and wider rolls.
For full specs and pricing visit www.lexjet.com.