The Pentax K2000; A Great Entry-Level D-SLR Page 2
In The Field & Studio
The K2000's ergonomics are similarly comfortable to those of the K100D. It's a small camera that fits my medium-sized paws; photographers with smaller hands, such as my wife Mary, felt comfortable using it, too. I couldn't find any cold weather information on the camera in the official specifications but I shot the camera at temperatures between -1 and -8? (F) and the little camera came through like a champ with no mechanical or electrical problems asserting themselves. The fact that Pentax Imaging's US headquarters are in Golden, Colorado, might have something to do with that. Ya think? The camera's Dust Removal system keeps image files squeaky clean and I never had to retouch dust specks on any of the hundreds of photos captured with the K2000.

I have a friend, Michael, who shoots with a K100D and routinely makes 12x18" prints for friends directly from the camera files. He has no interest in using Photoshop or any other digital-imaging software to tweak or enhance his photographs, but I suspect that he, and a whole of other Michaels out there, are going to love the K2000 because of its in camera special effects capability. The K2000 has so many digital filters that can be applied during capture or later in camera that the options exceed even that of the Olympus E-30, a camera specifically designed around its built-in special effects.
To Flash Or Not To Flash
In order to make the before and after tests as close as possible, I set the K2000 in Program mode and ISO 200 and snapped the shutter to make this photo of Mary. The camera-selected exposure was 1⁄180 sec at f/9.5. Not a bad photograph and some people might find it acceptable but it's not as good as it could be. (Both images were made in the K2000's Portrait Custom Image mode.)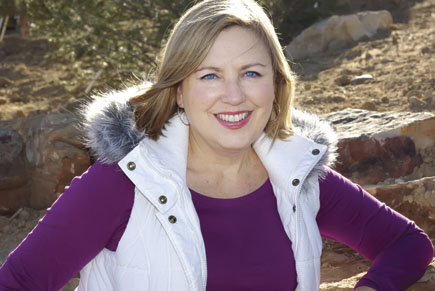 For this photograph, all I did was turn on the AF200FG flash. That's it. Notice a few things: in additional to better exposure on Mary's face, the entire tonality on the photograph shifted warmer—much more pleasingly warmer. Interestingly, the exposure selected was identical for both photographs. The first is just a picture of Mary; the second is a nice causal portrait of her.
Standard Capture modes include Image modes such as Bright, Natural, Portrait, Landscape, Vibrant, and Monochrome. Digital filters can also be applied on the capture side, including Toy Camera, High Contrast, Soft, Starburst, Retro, and Color Extract. When shooting in any of the special Capture modes you will notice longer than normal write times to the memory card and along with that ever so slightly increased battery consumption.

Tip: On a long shoot or trip, bring along some extra AA batteries in addition to the four AA Energizer lithium batteries packed with the camera. But that's part of the joy of shooting a K2000: if you need batteries, they're as close as the nearest 7-Eleven or Loaf 'N Jug.

Digital filters that can be applied post-capture in Playback mode include Toy Camera, High Contrast, Soft, Starburst, Retro, Color Extract, Illustration, HDR, B&W, Sepia, Color, Slim, Brightness, and Custom. When applying any of these filters to an image file, the K2000 creates a new file (producing the in camera equivalent of "Save As") so your original file remains untouched and available.

The K2000 uses the same .PEF (Pentax Electronic File) raw format as the rest of the Pentax D-SLRs and you can also capture in raw+JPEG so the special effect will be applied to the JPEG file and not to the raw image—your original color image is always available. The camera's .PEF files can be read by Adobe Camera Raw for Photoshop or Photoshop Elements and Pentax has always provided Mac OS and Windows software that does more than an acceptable job of converting .PEF files into a more portable format.
Colors right off the SanDisk memory card were bright and vibrant, when set in the default "Bright" mode as in this studio portrait of Haley. Exposure when made using three Adorama Flashpoint II monolights was 1⁄60 sec at f/8 and ISO 200.
Also included with the system is the easy-to-use Pentax AF200FG automatic shoe-mount flash. This hot shoe flash features a compact, lightweight body, wide-angle diffuser, a guide number of 20 (at ISO 100/m), and simple dial operations, making it easy for new SLR owners to add flash to indoor and outdoor photos. One of the problems with most consumer-level D-SLRs is that their pop-up flashes (and the K2000 has one, too) aren't all that powerful. The AF200FG not only is twice as strong as the built-in flash but has additional controls for full manual output along with the ability to power down the Automatic mode by one half or one full stop. This helps prevent overexposing outdoor portraits when using the flash for fill. It's nicely made and the four AAs that power it load from the top so you don't have to remove the flash from the camera to add or change batteries. In fill flash tests that I made with the camera set in Program mode, the results between "before" and "after," with the only difference being turning the flash on, were simply amazing. The AF200FG is so well made yet has such a svelte profile that if this were my personal camera I would leave it on the K2000 all the time.

A studio shoot using Adorama's (www.adorama.com) Flashpoint II monolights went flawlessly, tripping them with Booth Photographic's wireless Flash Waves transmitter and receiver (see the October 2008 issue of Shutterbug), because, like many entry-level D-SLRs, the K2000 lacks a traditional sync connection. Under studio lights, the color coming off the memory cards was just a little warmer than I might have preferred—you may like it—and required the tiniest amount of tweaking using PictoColor's (www.pictocolor.com) iCorrect EditLab Pro to get the portrait skin tones to meet my taste. This is not uncommon and I often find myself doing similar tweaks with files from other manufacturers' cameras, not just from this one. It might be the lights; it might be me.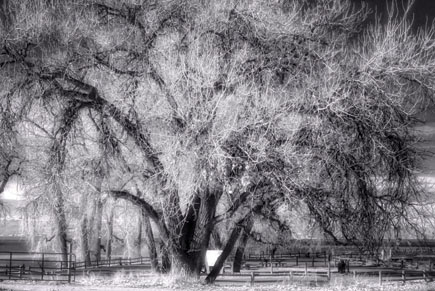 This infrared shot was made with the Hoya R72 filter, which is my favorite for digital IR capture when using on-lens filters. Manual exposure was 6 seconds at f/8 and ISO 800 and the noise was remarkably controlled for such a long exposure and high ISO. I did apply the Tonal Contrast filter that's part of the Complete Edition of Nik Software's (www.niksoftware.com) Color Efex Pro 3.0 because it was still winter here in Colorado and I wanted to punch up the photograph, ever so slightly.
I ran the K2000 through my standard train room low-light tests and saw that the noise levels produced were remarkably low and barely noticeable even at ISO 800, becoming apparent only at ISO 1600. Based on the testing procedures described in my story "Noise Reduction Comes Of Age" (see the March 2009 issue of Shutterbug), I shot JPEG files with the High ISO Noise Reduction (NR) Custom Function set in the middle or "weak" setting. (The camera's other NR options include "weakest" and "strong.") Initial tests were made with the Slow Shutter Speed NR Custom Function turned off and then switched on for comparison. While positive results from this setting were apparent at all ISOs, they were not as dramatic as what could be produced by external NR software such as Imagenomic's (www.imagenomic.com) Noiseware Photoshop-compatible plug-in, but then again the Slow Shutter Speed NR feature is built into the camera and doesn't cost anything extra.

Like the K100D that I tested, the K2000 has a pretty good response for digital infrared capture and I tested it with three different filters: the Cokin 007 (www.cokin.com), Hoya R72 (www.thkphoto.com), and Singh-Ray I-Ray (www.singh-ray.com). The first two worked perfectly and even focused through the filter, which tells you that they have a more limited IR response. I noticed that exposure times for the Hoya filter were slightly longer (by about one stop) than with the Cokin 007 (Wratten 87B). At a 30-second exposure time at ISO 800, the I-Ray filter did not produce a usable image and I never pressed beyond that (the maximum possible in Manual mode with the K2000) by using the Bulb setting because I don't think it would make much difference except in the amount of noise. Noise? Who needs it, but there was some acceptable noise in the images captured at 4 and 6 seconds with the Hoya and Cokin filters, though surprisingly less than I would expect with that combination of high ISO and long exposure.

What's not to like about the K2000? It's an inexpensive do-everything package that provides the entry-level D-SLR shooter with access to a system that has an extensive array of lenses and accessories and a long, fabled photographic history to boot. It's a camera that produces great image quality, wrapped around a well-built camera with built-in special effects capability for the photographer not quite ready for Adobe's Photoshop or even Photoshop Elements. It allows you to produce photos that have style and panache and, more importantly, fun! The K2000 would be my first recommendation for any young photographer just getting into photography, much as the storied K1000 was oh-so many years ago.
For more information, contact Pentax Imaging Company at: www.pentaximaging.com.
Joe Farace is author of the "Magic Lantern Guide" for the Pentax K100D/K110D published by Lark Books. It is available from your friendly neighborhood Barnes & Noble or Amazon.com.

FEATURED VIDEO