The Pentax K-x; What's Black And White And Red And Blue All Over? Page 2
Along with the K-x, Pentax announced the smc DA L 55-300mm f/4-5.8 ED super-telephoto zoom lens, which I didn't get to test. This lens will be exclusive to a K-x Twin Lens Kit package consisting of a K-x body, this new lens, and the smc DA L 18-55mm f/3.5-5.6 lens that I did get to shoot and liked a lot. Since the K-x has a 1.5x multiplication factor, this latter lens translates into a 27-82.5mm focal-length range, making it a good snapshooter's choice. Many of the images that appear here and all of the SEMA photos were made with the 18-55mm f/3.5-5.6 lens, which offers the typical exceptional optical performance found in all Pentax lenses.
For this shot, I used a White Lightning X1600 monolight with Paul C. Buff Foldable Medium Softbox attached (camera right) and another X1600 with an umbrella used as fill on camera left. A Nikon SB-800 Speedlight was used as a background light. Manual mode exposure was 1⁄100 sec at f/6.3 and ISO 200 with the Pentax DA 50-200mm f/4-5.6 ED lens.
© 2009, Joe Farace, All Rights Reserved
Real-World Special K
With its all-white finish, the K-x I tested got major style points everywhere it went. When Mary shot the camera at the SEMA show she received compliments from car and media people alike, including Lexus' official photographer who was shooting the $375,000 LFA and raved about the camera and wondered why all cameras didn't offer a white option. Event photographers, especially wedding photographers already shooting with its big brother K20D, should get one of these white cameras for their assistants. Not only will they provide their clients with great-looking images, but the props they score with the people at the event will add a subtle guerrilla marketing touch. In these difficult economic times any edge you can get over the competition can translate into more bookings, events, and weddings, and from that comes greater profitability.

The K-x's ergonomics are similar to those of the K2000 I tested for the November 2009 issue of Shutterbug and while it's a small camera, it easily fits my medium-sized paws and photographers with smaller hands will feel comfortable using it, too. It must have been a challenge to place the controls on this diminutive SLR, yet Pentax engineers had no problem producing a camera with excellent human factors engineering, something often lacking in larger SLRs from the competition. The camera's dust removal system keeps image files squeaky clean even when Mary was photographing me driving a Toyota FJ Cruiser on a dusty off-road track. In looking at the hundreds of images I made, I only had to dust spot one tiny speck on a particular image file. The camera has an official operating temperature range of 32-104?F but I shot the camera at temperatures well below that lower limit while doing cold weather testing and experienced no mechanical or electrical problems.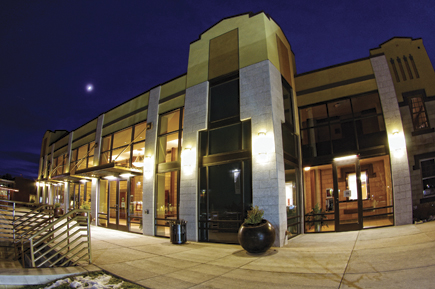 Pentax has many useful and interesting lenses, including the 180? angle-of-view smc DA 10-17mm f/3.5-4.5 ED (IF) Fish-Eye ($649.95) that I used to make this nighttime image of the Brighton Cultural Center when doing noise and cold weather testing. The compact size of the lens was a nice complement to the K-x's small body. At the default noise reduction settings, there was no accumulative noise with an exposure of 2 seconds at f/7.1 and ISO 400.
© 2009, Joe Farace, All Rights Reserved
I wanted to test the in-studio capabilities of the K-x and my friend Jack Dean (www.jackdeanphotography.com) again allowed me to do a test shoot at his Fort Lupton studio. Not surprisingly, the K-x does not have a connection for a sync cord to connect it to studio lighting equipment so I used PocketWizard's (www.pocketwizard.com) Plus II transmitter/receiver to trip the White Lightning (www.white-lightning.com) X1600 monolights used during the session. I was pleased with the image quality as well as how the camera handled, focused, and functioned under the kind of conditions that a working pro would encounter during a portrait session. The smc DA L 18-55mm f/3.5-5.6 lens worked perfectly for full-length shots, but since I prefer to shoot portraits at longer-than-normal focal lengths, I switched to the 50-200mm f/4-5.6 ED for the closer, 3⁄4-length photographs.
The (currently) public beta version of Adobe Lightroom 3 contains the next generation of Adobe Camera Raw software, which should also appear in the next version of Photoshop when it launches, and appears to be the best ever version of this product and capable of extracting the maximum image quality from your Raw files.
© 2009, Joe Farace, All Rights Reserved
Like its sibling K2000, the K-x has no (count 'em) visible focusing points in the viewfinder, something a sharp-eyed Shutterbug reader took me to task for omitting in my review of that camera. Instead, a focus confirmation dot blinks in the viewfinder. While useful with manual focus lenses, experienced shooters will miss this feature with Pentax AF lenses and it really is something we've come to expect with SLRs. Pentax seems to be betting that entry-level shooters moving up from point-and-shoot cameras—that don't have the feature—won't notice. I think they are wrong. By comparison, the 10.1-megapixel Canon EOS Rebel XS, a camera I shot at last year's SEMA show and disliked, costs $499.95 with a lens and yet includes illuminated in-viewfinder focus points, so I have to wonder why Pentax omitted it.

In recent noise tests I've moved out of my train room into night photography and while I did some of that, too, I know many readers enjoy those train photos so I shot some images at ISO 6400 at the Rocky Mountain Toy Train Show (www.rockymountaintoytrainshow.com) and was impressed by what I found. The camera offers two kinds of built-in noise reduction via Custom Functions: one for long shutter speeds and the other for high ISO settings. Another Custom Function lets you set the point where high ISO noise reduction kicks in. The default is 800 and that's a good place to start. At the K-x's maximum ISO setting of 6400 and default noise reduction settings, the results, while slightly noisy in shadowy parts of the image, were remarkable, which is a testament to the chip design and image processor.
This infrared shot was made with the Hoya R72 filter, which is typically my favorite for digital IR capture when using on-lens filters. Manual exposure was 4 seconds at f/4 and ISO 800 and the noise was remarkably controlled for such a long exposure and high ISO. I applied the Adjust filter that's part of Topaz Labs' (www.topazlabs.com) plug-in bundle because I wanted to punch up the photograph ever so slightly.
© 2009, Joe Farace, All Rights Reserved
The K-x uses the same .PEF (Pentax Electronic File) Raw format as the rest of the Pentax D-SLRs and you can capture images using the Raw+JPEG option. Adobe Camera Raw 5.6 easily reads the camera's .PEF files but Pentax has always provided Mac OS and Windows software with their cameras, in this case SILKYPIX (March 2010 issue of Shutterbug) which does a more than an acceptable job of converting the camera's .PEF files into a transportable format. Perfectionists might prefer to use the (currently) public beta version of Adobe Lightroom 3 which contains the next generation of Adobe Camera Raw built-in. Or you can minimize all the brain damage by selecting the optional DNG (Adobe Digital Negative) format in the K-x's menu.

Compared to the K2000, the K-x has a low to moderate threshold for digital infrared capture and I tested it using Cokin 007 (www.cokin.com) and Hoya R72 (www.thkphoto.com) filters. The Hoya filter produced acceptable results and the Cokin less so. The camera didn't care to focus through either filter, which tells you that it has a more limited IR response than previous Pentax SLRs. I noticed that exposure times for the Hoya filter were slightly longer (by about two stops) than with the Cokin 007 (Wratten 87B). The images weren't as sharp as I would like because I had to hold the filters in front of the lens during the long 4-second, sometimes more, exposures. Since the 18-55mm lens has a 52mm filter mount, a 52mm Hoya R72 filter ($43.25) plus a sturdy tripod will produce sharper images. Noise? At ISO 800, even with a 4-second exposure, there was not too much and I didn't feel the need for any external noise reduction software other than what Pentax provides in camera.
As you can see by the close-up of the Foose Design wheels on the Magnitude hot rod, Mary has a fascination with car wheels. I've always considered wheels to be car jewelry, so maybe that's it. This exposure was made under extremely mixed lighting conditions in the Las Vegas Convention Center using the K-x's AWB mode and 18-55mm lens. Exposure was 1⁄60 sec at f/3.5 and ISO 800. Noise is nearly invisible and the color captured under mixed lighting sources only required slight tweaking using PictoColor's (www.pictocolor.com) iCorrect Edit Lab Pro plug-in.
© 2009, Mary Farace, All Rights Reserved
The Pentax K-x is the ideal camera for those point-and-shoot users on a budget who want to graduate to a quality SLR that uses interchangeable lenses. The digital K-mount gives them access to millions of excellent lenses and contemporary AF Pentax lenses are affordable and offer an interesting selection of focal lengths. The K-x also makes the ideal starter camera for the young photographer who has not been mesmerized by the virtual world of video games and wants to explore their own vision. The Pentax K-x is not perfect, however few modern devices—cameras included—are, but everybody who I've recommended Pentax's entry-level SLRs to over the past several years have found them to be useful and practical and are happy with the images they've produced. I think you will be, too.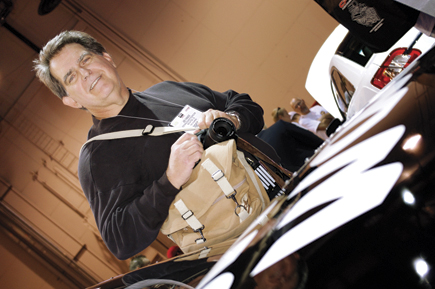 The K-x's flash, like the rest of the camera, is tiny but effective as fill, especially when used at high ISO settings like the 800 Mary used to capture me with Roush Racing's new NASCAR Mustang. Exposure was 1⁄60 sec at f/5.6 and a +1⁄3 stop exposure compensation was used.
© 2009, Mary Farace, All Rights Reserved
For more information, contact Pentax Imaging Company at: www.pentaximaging.com.

FEATURED VIDEO