Nikon D5 DSLR Review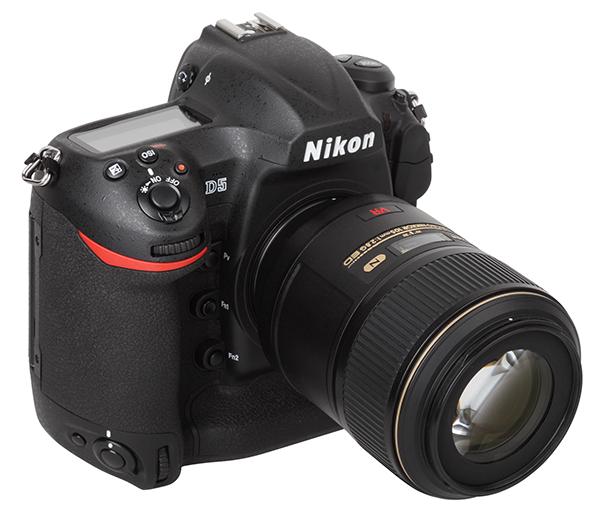 (Editor's Note: Some image and video evaluation information in this Nikon D5 review has been provided by BetterNet, Shutterbug's TIPA-affiliated testing lab.)
The 20.8-megapixel D5 is Nikon's latest flagship full-frame DSLR and with its robust, almost muscular build and speedy overall performance, this professional camera is designed for action and sports photographers and photojournalists. One of the Nikon D5's most eye-popping features though is that it can shoot at up to ISO 3,280,000 (no, not a typo!) to capture images in extreme low-light conditions, which could open this camera up to a whole new group of photographers. (Surveillance imaging, anyone?)
Couple this with a new FX-format (full frame) CMOS sensor; a revamped autofocus system designed to lock in on subjects in dim environments; an impressive 12 frames-per-second (fps) burst speed with full auto exposure and autofocus (or 14 fps with the mirror locked); and a new Expeed 5 processor that helps the camera shoot 4K UHD video, and you have a DSLR that seems suited to capture just about anything.
To put this formidable imaging machine to the test, I teamed up with photographer Jordan Matter (jordanmatter.com) to shoot dancers on the streets of New York City with the D5 for Matter's upcoming book, Dancers After Dark. (You can see a video of the D5 street test we did with dancers here.)
So what did we think of the Nikon D5, which has been one of the most anticipated DSLRs of 2016? Read on to find out.
Camera Build & Layout
Make no mistake about it: The Nikon D5 is a serious DSLR with a seriously large and heavy build. If you're someone who has any interest in this camera, though, you're likely well aware of the D5's robust, weather-sealed body and may even appreciate it.
Matter, who has been using Nikon's flagship DSLRs through several iterations (he currently owns the D4S), actually likes the D5's substantial build even though his work photographing dancers and doing headshots of actors and performers doesn't necessarily require the extra protection from the elements. It's worth noting though that the over three-pound D5 can even be used in heavy rain and in the course of our street test we used it worry-free during a couple of downpours.
Though the D5 closely resembles its predecessor, there are a few subtle but helpful changes. We loved the D5's new 3.2-inch, 2,359K-dot XGA LCD display with touchscreen features. In particular, being able to pinch and zoom images and swipe and scrub them in playback was a plus. "We're all so used to doing that on our iPhones, it makes a lot of sense to have that feature on the D5," Matter remarked.
It also made a lot of sense to move the ISO button from the lower back of the camera to the top of the grip, just behind the shutter button. With an extended ISO range of 50 to 3,280,000 and surprisingly low noise at higher ISOs (more about this later), you'll want fast access to this feature at all times. In exchange, Nikon has moved the Mode button to the left shoulder stack of the camera, which can take some getting used to if you've shot with previous models.
What also takes some getting used to is that the camera comes in two versions: one with two CompactFlash card slots and one with two XQD slots. The loaner model we received from Nikon was the dual XQD version but we were given just one XQD card. This card format is much less common and more expensive so we ended up just shooting with one card. On the plus side, the speedy XQD cards feature faster recording times. See how this came into play in the next section.
We also liked how buttons and dials now illuminate for those times when you're shooting in the dark and that two more function buttons have been added so you can customize the camera to your liking.
Performance
The Nikon D5 was a swift and reliable performer during our shoots of dancers in New York City. This was key because the images for Matter's forthcoming Dancers After Dark book are nudes, making the circumstances behind our shoot technically illegal. (Topless is apparently okay in New York City but full public nudity is not.) So we had to work quickly in low-light conditions, which was an ideal test for the D5.
We were both impressed with the focusing speed and accuracy from the D5's new autofocus (AF) system, which features the company's first dedicated AF processor, dubbed the Multi-CAM 20K sensor module (that's a mouthful). The new system features 153 AF points, including 99 cross-type sensors.
In real-world testing that translated to extremely fast and accurate focus lock and tracking even at fast apertures in low light.
"I was shooting at f/1.4 and moving and the camera was locking focus every time," Matter noted. "With the previous model, I would have to be stationary and I'd have to shoot twice as many shots to get enough in focus. With the D5, it was rarely out of focus. It's a significant improvement."
When we took the D5 to a dark park along the Hudson River and photographed dancers in extreme low-light, backlit conditions, the Nikon D5's AF system locked focus 60 percent of the time with no lens "hunting" on the subject, which was also an improvement. "The autofocus was pretty incredible," he said. "When photographing jumps or evening photos, I could trust the focus when using any of the focal points."
While we didn't always need the full burst speed of 12 fps (14 fps with mirror locked) that the D5 offered, we're glad we had it. With a heavy police presence in Times Square, we knew we'd have only one chance to do a full nude dancer jump and the fast burst rate ensured that we got our shot.
Nikon has extended the D5's buffer to up to 200 frames of 14-bit lossless Raw/NEF file + JPEG (FINE). (Notably this is best achieved when using the faster XQD cards with the D5.) Again, we didn't need that much buffer but sports and action shooters will love it.
Nikon's also tweaked the shutter and mirror sequencing mechanism, so there's virtually no blackout time or mirror slap so you won't lose track of your subject during high-speed bursts. Battery life was excellent, with the D5 offering 3,780 shots per charge vs. 3,020 for the D4S.
Image & Video Quality
The Nikon D5 is another marked improvement in low-light/high ISO shooting. While Matter tends not to push the D4S over ISO 3200, he had no qualms about photographing dancers in the dark with the D5 at ISO 6400 or even 12,800. At ISO 21,500 images showed some noise and distortion but could easily be cleaned up in postproduction. At ISO 52,000, our photos showed substantial noise, heavy distortion, and significant pixel smearing but photos would be acceptable for small prints or web use. Go any higher than that, though, and image usage is far more limited. And ISO 3,280,000, as expected, is not for the faint of heart.
According to our lab report from BetterNet, the Nikon D5 was an excellent performer in color tests. The mean saturation is only slightly high (104.9 percent) and all colors had a very natural look. Skin tones reproduced very naturally with smooth gradients. Color differentiation was very good.
The D5 also performed extremely well in our dynamic range tests. The camera achieved a maximum of 11.6 f/stops in our dynamic range tests. Our lab was also quite impressed by the high dynamic range results at higher ISO speed settings. Up to ISO 6400 the camera reproduced the Stouffer 4110 chart with 10 to nearly 11 f/stops. At higher ISO speed settings this result drops significantly to 6.5 f/stops.
The D5 was also an excellent video performer. The results of the lab's resolution tests were very good. In Full HD mode the camera reproduced the ISO 12.233 chart with 1,036 of 1,080 lines per picture height, which is an excellent result. In 4K mode the result isn't as good as in Full HD mode, but is still very high: The camera reproduced the chart with 1,768 of 2,160 lines per picture height. Real-life scenes looked very good and crisp in both video modes. Our live test shots show no moiré effects and very clear reproduction of fine structures.
The color reproduction in video was similar to the color reproduction in photo mode. The D5 showed only a minor shift of gray nuances into the orange/yellow area of the color space, so the white balance system works very well.
Colors looked natural and the color error level is low. Only some yellow nuances show noteworthy aberrations due to slight undersaturation. The D5 was a very good video performer in the dynamic range tests: A maximum of 10.2 f/stops in video mode is excellent. The noise results are on the same level as in photo mode. Up to ISO 12,800, videos are very clean and smooth. At ISO 25,600 and higher some noise artifacts get visible.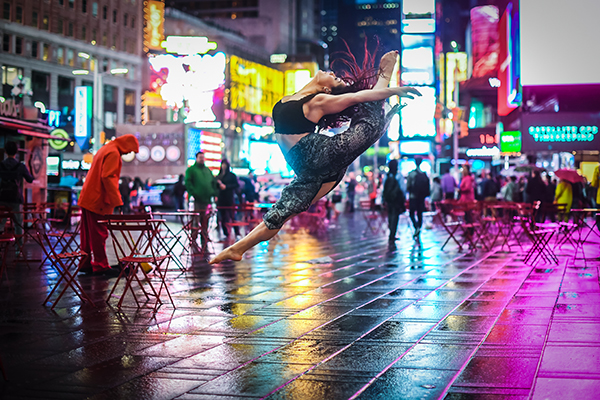 Conclusion
So is Matter ready to give up his Nikon D4S and buy a D5? Not quite. "If I was just getting into the Nikon D system and didn't have the D4S, there's no question. I would buy it in a second," he said. "But the D4S made many significant improvements over the D4 in terms of ISO, so I'm still pretty happy with it." We both agreed, however, that the D5 is one of the most exciting pro DSLRs to come along in a while and that its significant improvements in focusing speed, particularly in low light; its improved high ISO shooting; the addition of an impressive 4K video mode; and a host of helpful smaller changes, including an iPhone-like touchscreen, improved battery life, and more customization, make this a surprisingly easy-to-use and satisfying full-frame pro DSLR body that should even appeal to photo enthusiasts. The price, unfortunately, is going to keep it out of reach for many.
The Nikon D5 has a list price of $6,499 (body only). For more information, visit nikonusa.com.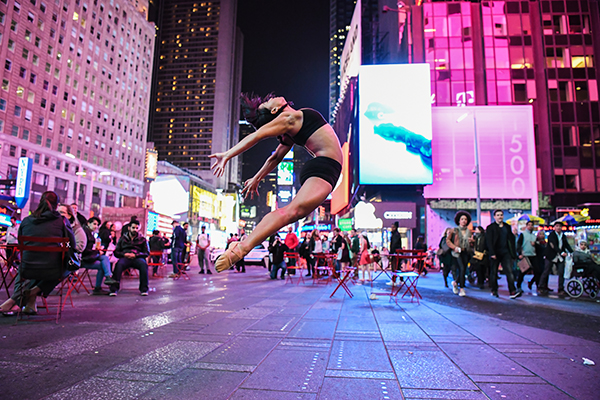 FEATURED VIDEO