Nikon's D80; In Camera Editing In A 10+ MP D-SLR
Is it possible that one day we might be able to bypass basic, global in computer editing for our digital images, and rely instead on the powerful on-board microprocessors in future digital SLRs? That's the implication of some of the new features in Nikon's latest enthusiast-aimed camera, the D80. Priced at $999 (body only) list, with a kit including an 18-135mm f/3.5-5.6 DX lens for $1299, the D80 sports a 10.2-megapixel CCD sensor and an on-board image-processing engine used in their higher-end digital SLRs, such as the D2Xs. While not touted as an action camera per se, the D80 can still deliver 3 frames per second (fps) for up to 100 shots in Normal JPEG mode, the kind you might use for snapshot prints and e-mail. It is also right up-to-date with Nikon's wireless flash and remote operation features.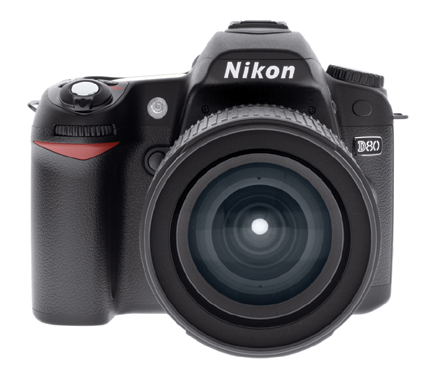 The first thing you notice about the D80 is the autofocusing system and viewfinder when it's at work. The new 11-area AF acquisition area snags focus quicker than we've seen in this class of camera. You can use all 11 targets, or switch the center target to wide frame operation, an excellent way to broaden coverage. The blinking AF targets let you know where the camera is focusing (and confirms focus) and, if desired, where the principal light measurement is being made. Using a Custom Function, you can detach AF from AE, which we always do, and assign the AE/AF block button to just handle Exposure Lock. This is essential, in our mind, for making the highlight bias readings essential for successful digital exposures.

You'll also notice the incredible lasting power of a freshly charged battery, which we used for a full weekend of shots with power to spare. Nikon boasts of 2700 exposures with one charge, with some caveats as to chimping time, etc. Rather than stay within their check list of how to attain this lofty number of exposures we just shot away and hardly had to worry about power.
Matrix Metering
After years of working with Nikon cameras I've come to trust their Matrix metering system for 85 percent of my shots. The 3D Color Matrix Metering II setup in the D80 is so right on that I often don't even chimp until much later after a shoot. This amazing motorcycle design was photographed with the 18-135mm lens with an exposure of f/13 at 1/250 sec at ISO 200, a sweet spot for lens, ISO, and handheld shutter speed. No post-processing was applied.
All Photos © 2006, George Schaub, All Rights Reserved
Image Optimization
The camera has a host of Image Optimization options, as Nikon calls them, including monochrome, or black and white. There are three Color modes, sRGB (normal, for skin tone repro); Adobe RGB; and what Nikon calls Mode IIIa, or Landscape Enhancement mode. You can play with rendition options using Nikon's Normal, Softer, Vivid, More Vivid, Portrait, and Black and White modes. These are Nikon's opinions about these renditions, of course, and you can work with them or use the Custom setup for making your own selections of sharpening, saturation, etc. There are also Nikon's Scene modes, which they dub Digital Vari-Program modes. These match image attributes with your selected mode, and are an interesting twist on the old Scene mode setups. Not only do you get variations on aperture and shutter speed, but also image color renditions as well. For example, the old Portrait mode was just a shallow depth of field (wide aperture, fast shutter speed) setup; now it's that plus skin tone color enhancement algorithms in the processor.
Long Lens
Any doubt about Nikon lens compatibility is quickly dismissed when using an older optic on this new camera. For this shot across a valley I used a classic manual focus Zoom-Nikkor 80-200mm f/4 lens and applied a very slight amount of sharpening to the NEF file. Although exposure was manual, with no read-outs in the finder, image review and some rough guessing got me close on the first shot, followed by a refined exposure. Lens compatibility, price, and features should make the D80 very appealing to those with a good collection of even manual focus Nikkor lenses.
There is also a new Image Retouch menu, which is the feature we referred to at the top, some of which is borrowed from their Coolpix line of digicams. There's "D-Lighting," to enhance shadow detail, in camera redeye correction, cropping (which Nikon dubs "Trimming"), Image Overlay (two raw to one image and then a copy), Monochrome, and Filter Effects (slight warming and cooling). Also new is the Pictmotion slide show feature that can be used for in camera or TV sharing of images, again borrowed from their Coolpix cameras.

Upgraded from the D70 and D70s is the 2.5" viewing LCD, a dedicated zoom button for magnifying images (up to 25x on playback), and a new RGB histogram display for reviewing exposure data. The menu has been upgraded as well, and we particularly appreciated the "My Menu" option that allows you to pick a set of your most commonly used menu items for quicker display, thus access. While the screen is bright and menus are easier to read than we've ever seen in this class of camera--even in bright sunlight--the image review is still a tough read in bright light. But at least you can now play with image options without having to duck under cover.
Image Overlay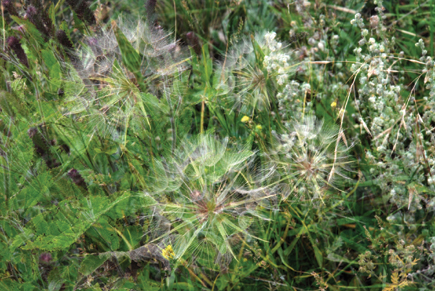 Nikon has had Image Overlay in their last few cameras and now in the D80, so it must be a popular item. It's fun and easy, even offering Auto Gain for melding images. This is two shots of a field of green and dandelions, one shot at a longer zoom ratio than the other using the supplied Nikkor 18-135mm f/3.5-5.6 DX lens, then automatically merged in camera.
Our Tests
When we test cameras we make all the usual checks on exposure, focus, operation, etc. and report if anything is amiss, plus inform the manufacturer if it's really a dog. The D80 required none of these notifications. The only complaint we had about field operation was that you could not change the aperture setting in AV mode when the depth of field preview button was engaged. Overall, this was a camera we would not hesitate to bring along on a once-in-a-lifetime trip.


FEATURED VIDEO