Nikon's D60 D-SLR; Next Step In Amateur Line-Up Has Some Inside Tricks Page 2
Tricks Of The Trade
For a camera aimed at the amateur market the D60 is near-obsessed with color controls. There are the usual "Optimize Image" controls for overall effects for portraits and landscapes, such as Vivid, Portrait, Black and White, etc., and white balance settings, but there's also Tone Compensation (the "old" contrast setting) which certainly affects color; three Color modes (two sRGBs and one Adobe RGB); saturation, hue adjustment; five settings for different types of fluorescent light; one for mercury and one for sodium-vapor lamps; white balance fine-tuning; and the ability to copy and paste, if you will, one white balance setting to another photo. Not that there's anything wrong with all that--I guess Nikon has the programming to handle it, so why not flaunt it?

Nor is there anything wrong with the entire concept of Retouch, which Nikon has expanded in the D60. Retouch means that you can change the character or fix an image prior to downloading, right in the camera. This might appeal to those who go directly to printer or kiosk from the camera's JPEG image files, although critical judgments on the camera's bright, but small LCD are suspect. Included in the menu are D-Lighting, for balancing out highlight/shadow contrast (which with "Active" D-Lighting you can do prior to exposure), redeye fix, cropping, change to monochrome, and small picture copy (for e-mail or web copies). There's a Quick Retouch option that does a nice job of optimizing the look of an image with a before/after screen view and high, medium, and low options. You can also do image overlays from raw files, which means two images can be combined, with gain plus and minus applied to create a good foreground/background relationship. Note that any Retouch is on a copy, and that the copy is always a JPEG, even if you originally shot it on raw (NEF) format.
New are a starburst filter effect, where you can actually change the number of points (Christmas cards anyone?), various color intensification effects, and the ability to combine a series of shots, as many as you desire, into a motion image file (AVI) that is not quite a movie, but more what Nikon dubs a "stop action movie." It is really more for animation than video, but because it is somewhat quirky I think it will be big for web home movie site fans. You can also do a NEF to JPEG copy right in the camera, which means you can record with NEF (raw) and then immediately make a copy larger than the Basic+NEF option offered in the camera. To me it might have been simpler to just have more NEF+JPEG options in the setup menu, although the logic here is that you will first retouch the NEF, then make the JPEG copy from it.
ISO And VR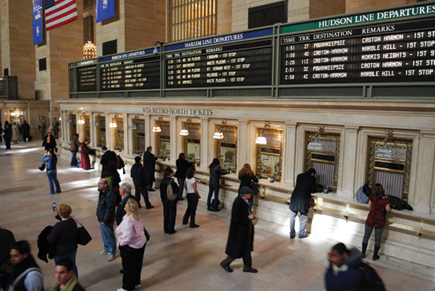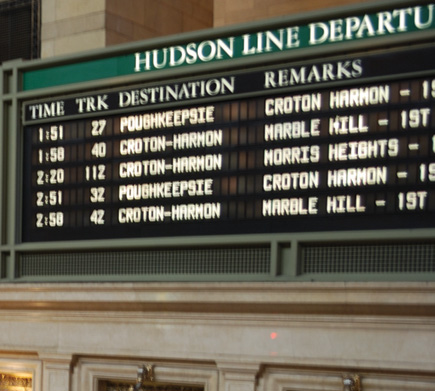 While you can venture high up in ISO I found that sticking at or below ISO 800 yielded very good results in terms of noise and image quality, a testament to the advances the EXPEED processor offers. I ventured inside the terminal to make these shots from a staircase using normal camera-holding technique (not braced on a banister) to check out the VR and ISO balance. The overall shot looks OK in all variations (1), but when you enlarge and crop the differences become apparent. At ISO 100 the exposure was f/3.5 at 1/3 sec and at ISO 800 it was f/3.5 at 1/25 sec. The detail from the ISO 100 shot with VR off shows obvious camera shake (2), which is actually handled quite nicely at ISO 100 with VR on (3). I saw no appreciable difference between the ISO 800 shot with VR on and off (4) so didn't reproduce here. That might be due to a steady hand when shooting, but it also showed that while you might get a bit more contrast and some noise at ISO 800, using that ISO setting with VR is a pretty powerful combo for available light photography. (Though frankly a 50mm f/1.4 might come in handy if you do lots of available light work.)
In The Field
First off, this is an incredibly lightweight camera. Carrying it around via the strap with the kit 18-55mm VR lens over a heavy winter coat, I often had to check that I actually had the camera still with me (and shooting on the streets of New York one has to be mindful of such matters). I appreciated the simplified controls and quickly picked up that many of the most commonly used functions, such as ISO, Quality, Release mode, metering pattern, etc. were best accessed via the Quick Settings Display button on the lower left-hand side of the camera. From there all you need do is toggle the options and hit the OK button. To me this design could point the way to creating a larger screen camera with even simpler access buttons, or even a one-button affair that would make everyone's life a bit simpler.
Nikon is such a believer in their D-Lighting that they have included a button just for it, right next to and behind the shutter release button. While it does work nicely I am curious why it is called out in this fashion and not just incorporated as part of the regular image processing that you could turn off, if desired, like noise reduction. D-Lighting can be used prior to exposure (called "Active") or as a processing option within the camera afterward. Noise reduction, while we're on the subject, can be turned off, but not if you shoot at ISO 800 and above. It can also be turned on for shooting at ISO 400 and above. There is always some of this going on in processing at any ISO setting, as there is sharpening, but you will not notice any ill effects if you shoot in the ISO 800 and below range with this camera.

LATEST VIDEO

SPONSORED VIDEO
Testing Tamron's SP 150-60mm G2 lens while capturing birds and alligators in Apalachicola, Florida.