Nikon D40 DSLR Review; "Mini" D-SLR At An Affordable Price
Aimed squarely at the first-time D-SLR user, and especially at those family and social photographers who have been frustrated by their digicam's bothersome shutter lag, the Nikon D40 is a compact camera that still holds enough features to satisfy budding photographers. At a mere 1 lb, 1 oz and 5x2.5x3.7" in size, the camera will feel small to those who have worked with previous Nikon D-SLRs. This design makes the camera eminently portable, no doubt, and perhaps makes it more comfortable for those previously intimidated by a full-fledged D-SLR. It includes many nice features such as a reworked graphic display and incorporation of Nikon battery technology, which is perhaps one of the longest lasting per charge setups available.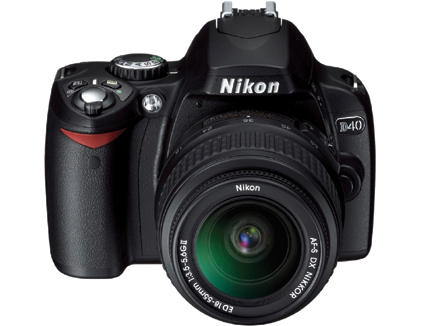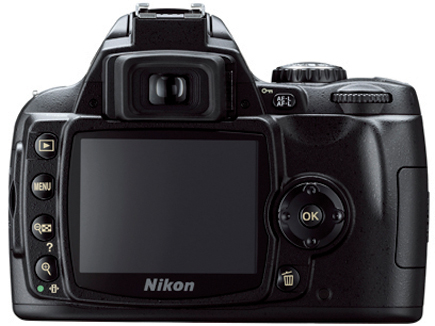 However, there is some price to pay, with loss of what we consider an essential creative control--depth of field preview--and, because there is no focusing motor incorporated, no autofocus except with AF-S and AF-I lenses. This means numerous third-party lenses without focusing motors built-in, and other Type G and D AF Nikkor lenses will only work in Manual focus mode. Non-CPU lenses can be used, but only in Manual exposure mode, and the metering will not function. And it has a 6-megapixel sensor, which seems fine for those to whom the camera is aimed, but fairly low when put up against competitive "amateur" models, albeit more expensive ones. But you can't argue with the price--$599, including the kit lens, a 3x 18-55mm f/3.5-5.6 AF-S DX Nikkor.

The small size is helped by use of SD (Secure Digital) cards, a format Nikon seems to have committed to in all but their advanced models. It is also SDHC compatible, which means you can use cards beyond 2GB. The diminutive size also comes from complete elimination of any left-handed top controls, or grip. The 2.5" monitor, therefore, seems large on the back of the camera, and new graphics for menus (and wallpaper, if desired) make it a highly useable display.

Once you get to the back and top right of the camera you are in more familiar Nikon territory, with the multi-selector and rear command dial allowing for navigation through all the imaging options. It comes with the standard Exposure modes and Scene modes (which Nikon dubs Digital Vari-Program) accessible from the Exposure mode dial. And there's no skimping on shutter speed range (30 seconds to 1/4000 sec) or even ISO sensitivity (up to 1600 with a 1 EV "push" for the brave at heart).
Picture Potential
The images a camera delivers can be thought of as twofold--plain, out of the camera shots, and those that you take the time to develop and manipulate to bring out their full potential. In both cases the D40 can yield very satisfactory results. This photo of Spanish moss hanging from a tree was made near Venice, Florida, with the D40 set at ISO 400 and an exposure of f/13 at 1/125 sec. Final file size was 17.2MB. The NEF file was processed in Adobe's Photoshop CS3 beta raw converter and shows all the sharpness and color richness the camera delivers.
© 2007, Grace Schaub, All Rights Reserved
The D40 lets you shoot in raw (NEF) and/or JPEG file formats, with raw only and raw+ (Basic) JPEG options. Framing rates top out at 2.5 per second, fast enough for most child and action photography, and there are three selectable AF Areas with three Area modes, including Dynamic Area AF with Closest-Subject Priority, the most useful, we think, for family photography. There are also three metering patterns, including 3D Color Matrix II, Center-Weighted, and Spot. You can also use exposure and focus lock, which happily can be disengaged from one another via a Custom Function. And there are many user-selectable white balance sets as well, including Custom. In short, many of the features one associates with a D-SLR are available and easily accessible with the camera.

There are also some nice touches for those who want to stretch their creative muscle. For showing and sharing there's a slide show function from selected folders. There is Nikon's Image Optimization, including Monochrome and even a Color Space option, being Adobe RGB and sRGB. A Noise Reduction filter is another good option, though there's no Level 1 and Level 2 choice. And for those who want to perform some corrective and creative touches in the camera there's the Retouch menu, already discussed and featured in our Nikon D80 review (available on our website, www.shutterbug.com, by typing Nikon D80 in the Search box), including D-Lighting and Image Overlay.

In short, the D40 is not a fully stripped-down version of its more advanced siblings, but has incorporated many of the advanced features in a decidedly smaller package.
Kids In Action

This camera is aimed squarely at family photography and those stepping up from digicams (integral lens digital cameras). To allay any fears about shutter lag I photographed the kids in action whizzing by on a scooter and coming at me on a bike. In each case the camera was set on Continuous shooting mode. The D40 quickly confirmed focus by lighting up a target in the finder and reacted immediately to pressure down on the shutter release. Say goodbye to shutter lag in an affordable digital camera! Exposure of Emma on the scooter and Kallie on her bike was f/5.6 at 1/100 sec with an ISO of 400, using 3D Color Matrix II pattern (follow focus).
© 2007, George Schaub, All Rights Reserved
In The Field
The D40 is not a camera whose functions you can change easily as you work, although most people using this camera will probably set it up once at the start of a session and keep it there. It's not that the control for changes of ISO, single and continuous release, and other functions is difficult--it's that, unlike many Nikon D-SLRs we've tested, they are all done here in the LCD menu and not via on-body buttons or switches. But the menu does, as mentioned, have very nice and bright graphics that are easily seen even in fairly bright sunlight. And they are neither complicated nor obscure, with even a Help function that's always available as you learn the controls. Some who have shot with "externalized" control D-SLRs will find this somewhat awkward and even a step backward into digicam land, while others will not be too bothered by it due to the ease and speed with which you can make changes.


FEATURED VIDEO