Nikon's D3s; A Speedy, Full-Frame D-SLR
If you want to test the mettle of a camera intended to satisfy a craven need for speed, take that camera to a hockey game, one of the world's fastest sports. That's one of the tests to which I put the Nikon D3S, a brute of a camera that seems to adapt to any shooting or lighting conditions with ease. The D3S is the latest in Nikon's pro line of D-SLRs, priced for pros (list: $5199.95, body only) and those who want both an uncompromising facility for capturing the decisive moment and the ability to customize their camera to the nth degree.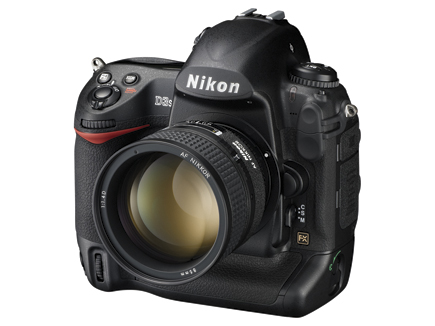 First, some specs. The camera sports a CMOS FX (so-called "full frame") 12.1-megapixel sensor with 8.45 micron-sized photosites, which help to yield the incredible low-light capability of the camera, up to ISO 12,800, with a 3x gain available up to ISO 102,400! You might be hard-pressed to think of situations in which to use as high an ISO as that, but it's there for the brave hearts among you.

The camera also includes HD video up to 1280x720 res at 24 frames per second (fps), with a built-in, high-quality mic and capability to take on an external stereo mic as well. You can shoot video using the entire ISO range. The built-in mic is startlingly clear and captures at a good distance—singing at about 15 ft—though you have to watch your levels (distance from the camera) if you are talking with someone or interviewing your subject, as it can sound like you are shouting and they are talking low. You can record voice memos as you shoot (stills, too), which may inspire the poet, or narrator, within you.
Top Shot
There are more buttons on the camera top that give quick access to changes you might want to make in the field. The BKT button is of particular interest, as it gives access to bracketing controls that let you bracket up to nine frames—HDR fans take note!
LCD
The back of the D3S shows a host of buttons and toggles, plus the extended Menu for the various and numerous options the camera affords. While at first intimidating for those who have not shot with Nikon cameras (and Nikon pro cameras) before, you soon learn that all these options can be used to customize the camera to each shooting situation and all personal preferences, which makes this one of the most versatile cameras I have yet to use. Note the "menu banks" option. This is how you set up and store various options in the field.
The build is rugged and a large-capacity battery holder at the base is standard and not removable, which gives the camera its rather bulky aspect, but pays off in extended shooting times. The included charger is dual slot, which means you can charge two of the large EN-EL4a lithium-ion batteries at once for a full day of very intense shooting. Nikon claims up to 4200 shots on a fully charged battery (!), but that comes with a big asterisk about camera settings, temperature, etc., but is very impressive nonetheless. I found that I could cover a full sporting event with plenty of video, high-speed shots, and tons of chimping during intermission and still have plenty of power left at the end of the night.

The camera measures 6.3x6.2x3.4" and weighs in at about 2 lbs, 12 oz; add 6 oz when the battery is included, and don't forget the lens. Only the hardy will make it a stock shooting traveling companion. There's a built-in sensor cleaning setup and dual CompactFlash (CF) card slots, which can be used to sort file types (movies and stills, JPEG and Raw) or act as a "spillover" should one card fill in the midst of a shooting sequence.
AF Lens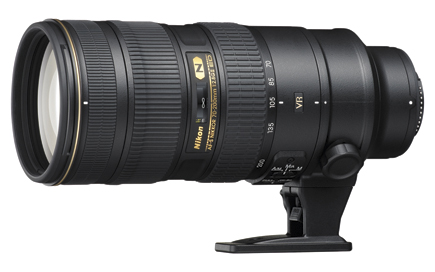 For this test Nikon supplied their new AF-S Nikkor 70-200mm f/2.8G II ED VR lens, a perfect companion for the hockey shots and other action work and a great match for the high ISO capabilities of the D3S.
D3s Card Slots
The CF card slots mean you will rarely run out of memory card space even in the most demanding shoots. You can set the dual slots up for "spillover," for sorting file formats, and even for hosting movies on one and stills on the other.
Slicing time in increasingly thinner segments has been the aim of many a pro camera, and the D3S does so with 9 fps for Raw (Nikon's NEF) and TIFF or JPEG full-frame shots, or 11 fps in DX Crop mode. The latter is included in Nikon's FX cameras so that those who may be moving up, and who purchased DX lenses, do not feel left out in the cold, and here is used to both enhance the reach of telephoto lenses and provide a faster framing rate with a concomitant decrease in resultant file size. There's also a 1.2x crop into the sensor for a more modest focal length multiplication effect that delivers 9 fps and an 8.4-megapixel file size. The buffer and processing speed has been enhanced to handle all that data, given that you use high-speed UDMA CF cards to catch all the information coming off the 16-bit processing pipeline.
9 fps, High-Speed And Dynamic AF
Even at full frame you get 9 frames per second Raw, which to me is plenty fast for most any shooting situation. Here (top) Kallie rode her bike past me and I just follow focused her as she went. It was an overcast day, so Auto ISO chose ISO 800 at my Aperture-Priority setting of f/10; the shutter speed minimum was set at 1⁄250 sec, and that's what the camera used. In another shot (above) I photographed Kallie as she jumped off the swing and ran toward me. I first focused on her and let Dynamic Area AF and High-Speed Continuous take it from there. The fast framing rate caught numerous expressions and I was able to pick the best expression from the 20 shots made.
All Photos © 2010, George Schaub, All Rights Reserved
Cameras like the D3S can change the way you operate and some of your assumptions about the benefits, or lack of same, of automation. In some cases the changes are the result of feedback from pro users; in other cases the technology is tossed out so that photographers can scrum about trying to figure out how to make the most of it in their work. Take Auto ISO, which to some might seem to be an amateur feature designed to aid those clueless about sensor sensitivity and light levels and which ISO is best for the subject at hand. We saw Auto ISO in the Nikon D2XS way back in 2006, but the limits of ISO in that feature were at ISO 800. My, how times have changed—now Auto ISO can be set to ISO 12,800, which gives you a sense of what this full-frame camera can deliver.
Hockey Action
Prior to going to the arena I set up the D3S for a "hispeed" setup preset in the memory bank. I was working with an AF-S Nikkor 70-200mm f/2.8G II ED VR lens, so being in the mezzanine presented no problem as far as camera-to-action distance. To get even closer I switched the camera to DX Crop mode, which made the long end 350mm. Knowing I would be shooting at ice, I set a +1 EV exposure compensation, High-Speed Continuous Shooting mode (which in DX mode can deliver 11 fps), and Shutter-Priority Exposure mode at 1⁄500 sec and Auto ISO, where that minimum speed would be maintained and ISO would boost when needed. I hadn't been to that arena before so I set Auto White Balance, and that worked great. I set the AF to Continuous Servo AF and Dynamic Area AF. In the Custom Function menu I set the Dynamic AF area to 21 points, surrounding the selected center point to maintain focus on this fast-moving game. The camera allows you to select up to 51 points (all available) as well. Complicated? Sure, but the results are the best I have ever gotten at a hockey game and I didn't have to mess with settings during the action.

FEATURED VIDEO