Nikon's D300s; The Move To SLR Video Keeps Going
When Nikon launched the all-new entry-level D3000, they took the time to freshen the D300 with—what else—video capability, adding the "s" suffix, as is their naming habit. The camera appears parked between Canon's EOS 5D and 50D models and, with the addition of video capture, places it head-to-head with the new EOS 7D. As I write this, some dealers are offering "special" lower prices on the D300, so bargain hunters who don't want or need video capture…
The major highlights of the D300S include a 12.3-megapixel DX-format CMOS image sensor that, from what I could tell, is the same as the D300's, along with D-Movie HD Video capture, an external stereo microphone jack, and improved continuous shooting as fast as 7 fps (frame per second) that's useful not only for sports but also for firing a quick burst of exposures when shooting bracketed sequences for handheld HDR capture.

As you can tell, the Nikon D300S is really more D300 than not and that's a good thing. To compare the major differences along with the many similarities, check out the chart entitled "D300 Vs. D300S: What's The Difference?" in the Instant Links section of the Shutterbug homepage (upper left Navigation bar). If you want to learn more about the D300, read George Schaub's insightful review in the March 2008 issue of Shutterbug that's also available online at: www.shutterbug.com.
This HDR image of the Platte Valley Medical Center was made from a five-shot bracket with a nominal exposure of 1⁄500 sec at f/11 and ISO 320 using the Sigma 10-20mm lens set at 18mm. Three .NEF files were combined using Adobe Photoshop's Merge to HDR function to produce the final image.
All Photos © 2009, Joe Farace, All Rights Reserved
Captain Video
Much to the delight of YouTubers everywhere, the D300S can record HD video clips and has high fidelity audio capabilities when an external mic is connected to the stereo microphone input. It can record HD video clips at 720p resolution with a smooth cinematic 24 fps rate and you can trim video length on the fly as well as apply Nikon's fab Picture Controls to video clips, modifying their tone and color. You can also autofocus while recording video and do so while composing on the camera's bright 3" LCD. Capturing video with the D300S is easy, even easier than the way cool D90, and, unlike the D90, you have access to phase-detection autofocus instead of having to manually focus the lens. All you have to do is slip the camera into Live View mode, "push the button, Frank," and you're making video.

I'm guessing that wedding photographers will find the D300S's video feature useful, though none of my personal SLRs capture video, but one of these days I'll probably end up with one that does but not just because of that feature. Some photographers have made impressive video clips using SLRs but call me a Luddite (hey, I have an iPod!); to me it feels more like a "check box" feature. I'm sure memory card makers will love this trend because they can hear the sound of cash registers ringing up those 128GB CompactFlash (CF) cards. (Don't laugh; you know they're coming.) The main thing you need to know about video capture on the D300S or any video-capable SLR is that this feature won't make you a videographer any faster than a newbie who just bought a D3X has a chance of winning the Pulitzer Prize.
What's It Like
Unlike the D300, the D300S has dual card slots that let you record stills and video onto a CF or Secure Digital (SD) card and Nikon has also changed the design of the door to access them. The new "sliding door" feature doesn't bother me but D300 shooters I spoke with didn't seem convinced and were concerned about weather sealing. More importantly, you can choose one card as a "rollover" and it's a darn good reason to keep a second card loaded when you need to get just a few extra shots. You can also make one card a backup or, my favorite, assign one card to Raw files and another to JPEGs, which is awesome when shooting monochrome shots so you can see (and save) the black-and-white shot on the 3" LCD and at the same time save a color 12- or 14-bit Raw file onto the second memory card. This is how every dual-slot SLR should work.
(Left): Nikon's engineers do not seem biased against the inclusion of built-in flash (the D700 has one, too) in pro-level cameras and so the D300S has a pop-up flash that works wonderfully for fill-flash applications. I used it here for Mary while she was standing next to a Dodge Challenger she was hoping to win in a raffle. (No such luck.) Exposure was 1⁄250 sec at f/8 and ISO 400 and was made with the Nikkor 18-200mm lens at 72mm. (Right): Blasting through a five-shot bracket and capturing Raw+JPEG files was used to create this image of an old farm in my town that will soon become a living history museum. I only used three of the .NEF files to create this HDR image. The baldheaded sky was produced by several California wildfires, hence the use of HDR. Lens was the Nikkor 18-200mm and the nominal exposure was 1⁄500 sec at f/11 and ISO 400.
Because size and speed are important for video and Burst mode continuous shooting, I tested the D300S with SanDisk's (www.sandisk.com) 32GB Extreme Pro CF card that has (90MB/sec) write speed, twice as fast (45MB/sec) as their already speedy Extreme IV CF cards. When firing a five-shot bracket, capturing both Raw and JPEG at the same time in High-Speed Continuous mode, the Extreme Pro just gobbled the image files as fast as the D300S could throw them, and that's pretty fast! There's more about Extreme Pro cards in my Digital Innovations column this month.

The camera has one-button Live View selection, a new Quiet Shutter Release mode that's accessed by selecting "Q" on the release mode dial and that substantially reduces the sound of the mirror while shooting. The D300S offers Nikon's proprietary Active D-Lighting that when used together with 3D Matrix Metering helps determine proper exposure while compensating for lost shadows and highlights. Other good stuff carried over from the D300 are its 51 high-density focus points that Nikon claims perform faster and more accurately on the D300S, which offers multiple Focus modes, including Single-Point AF mode and Dynamic-Area AF mode, where you can select from nine, 21, or 51 AF points. The Face Detection System lets you zoom in on a human (pity our simian friends) face in Playback mode on the LCD screen to check critical focus.
Although the DX-sized 12.3-megapixel DX format eschews the full frame of its more expensive siblings, the image quality that the D300S pumps out has me rethinking the whole idea of "I gotta have a full frame." Sure there's that whole 1.5x lens multiplication factor, but I found that the D300S delivered extraordinary image quality with low noise throughout its ISO range of 200-3200. And before I get e-mails claiming that the D300S has a low ISO of 100 (it does when using the camera's Lo-1 option) and a high of 6400 (and it does in Hi-1 mode), let me tell you what a Nikon engineer told me about using these modes.

The fact is that the camera's ISO standard range is 200-3200. If you choose the Lo-1 option, that low number changes to 100, just as when using the Hi-1 setting increases it to 6400. A Nikon engineer told me, "Our engineers carefully study and design sensors and associated circuitry to minimize the effects of noise that is introduced with each increase in ISO setting. The expanded settings are just that, expanded beyond the range that is considered optimal or acceptable by our camera designers and engineers. These settings are labeled differently to indicate that these are for emergency purposes (italics mine) and clearly identify where noise and color distortion will affect picture quality." He goes on to say that "application of in camera (and postproduction) noise reduction can mitigate some of this noise but some will inevitably still remain at the very highest 'expanded' settings."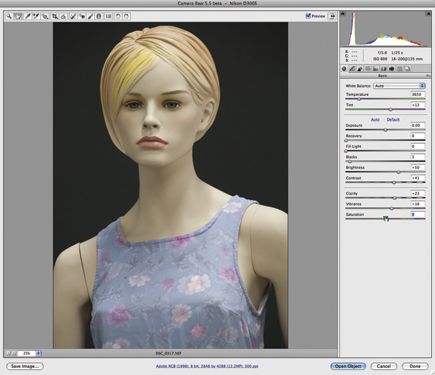 Not surprising, all of the Raw files from the D300S are readable by the latest version of Adobe Camera Raw. Like most Nikons these days, you can process .NEF files in camera using the D300S's in camera processing capabilities or you can always use the awesome and optional Capture NX2 software.
You can fine-tune images using Nikon's Picture Controls to adjust sharpening, brightness, and contrast and color hue, and there are four presets, including Standard, Neutral, Vivid, or Monochrome. Landscape and Portrait settings can be downloaded from Nikon's website (www.nikonimglib.com/opc). While the D300S offers a versatile built-in flash with wider coverage for a 16mm lens, the camera is compatible with Nikon's Creative Lighting System and capable of controlling up to two groups of remote units as a master/commander for wireless lighting. The D300S's Integrated Dust Reduction System worked great and I never once had to do any spotting in Photoshop even when shooting at really small apertures, which make even the smallest speck assume boulder-size proportions.

I didn't get to test the D300S with the optional ($259.95) MB-D10 battery pack that offers a vertical release, supports three types of batteries, and has a sequential power supply that automatically switches to the battery inside the camera body. It also enables high-speed continuous shooting at a rate of 8 fps for up to 100 consecutive shots. Although the magnesium alloy MB-D10 adds another 1.2 lbs to the D300S's already hefty 1.88-pound body weight, it would be the first accessory I would add if this were my camera because of the increased frame rate and battery backup.
This looks like but is not a black-and-white photograph captured in the D300S's Monochrome Picture Control mode. Nope, it was captured using the camera's Vivid mode and if you look closely you'll see some red reflections from the car parked next to this gray one and blue from my Tommy Bahama T-shirt. What this image does, however, is point to the extreme neutrality of the color of the D300S's image files when captured in its awesome AWB mode. Exposure was 1⁄400 sec at f/10 and ISO 320 and was made with the Nikkor 18-200mm lens at 170mm to minimize depth of field.
Out Here In The Real World
The reinforced magnesium alloy body is ruggedly constructed and sealed and gasketed against the elements at key points and the shutter has been proven to 150,000 cycles, making it useful for semipro and even professional use. The overall shape and ergonomics of the D300S are quite good, although regular readers of my Nikon reviews know that I find the human factor design of the controls to be less than optimal. I found that I was constantly and accidentally changing the focus setting (on the front) and metering pattern (on the back) and never figured out why. OK, I admit to being a klutz.

FEATURED VIDEO