Canon EOS-1D X Mark II Professional DSLR Review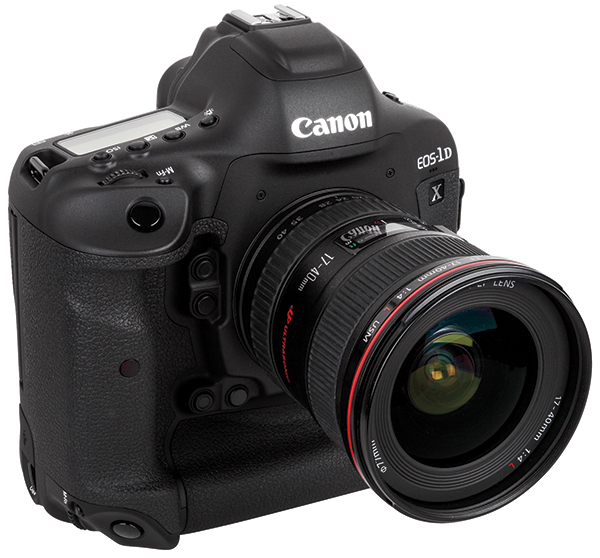 (Editor's Note: Lab Review lab tests and comments are supplied by BetterNet, Shutterbug's TIPA-affiliated testing lab and edited by George Schaub. Shutterbug is the sole US representative within TIPA, a worldwide association of photo and imaging magazines. You can check out our field test review of the Canon 1D X Mark II with full resolution sample images here. And at the bottom of this review, check out our street test video of the Canon 1D X Mark II in exotic Bali, Indonesia by photographer David Dupuy.)
The new Canon EOS-1D X Mark II professional DSLR is the long-awaited follow-up to the EOS-1D X, which was launched in 2012 and quickly became one of the most popular cameras for action and sports photographers. In that respect, the 1D X Mark II has some very big shoes to fill. The new camera does add a lot of new features, including a new sensor, a new AF system, new video capabilities, and much more. The resolution of the 1D X Mark II's new full-frame sensor has increased by 2MP to bring it to a respectable 20MP. The new DSLR features Canon's most modern image processor system, the Dual Digic 6+, which is one of the main reasons for the extremely high AF and continuous speeds of the new DSLR.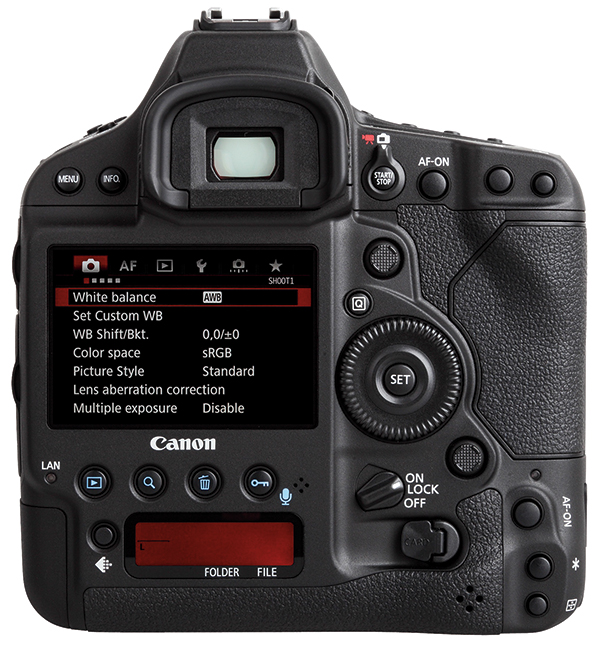 Features, Build & Handling
The Canon EOS-1D X Mark II's new autofocus (AF) system offers 61 AF sensors, including 21 cross-type sensors. This system is extremely fast and highly configurable. The camera offers different "Case" settings, which are also configurable. Case 2, for example, is used to continually track subjects, ignoring possible obstacles, while Case 4 is used for subjects that accelerate or decelerate quickly and is marked with an icon of a soccer player in the menu. The image sensors are very sensitive and allow for use of low-speed tele lenses or combinations of tele lenses with teleconverters. Overall, the AF system focuses rapidly and precisely.
The 1D X Mark II offers high-speed continuous modes, with AF and automatic exposure systems delivering up to 14 frames per second (fps). When using Live View mode, including fixed focus and exposure settings, it will reach up to 16 fps. The "chatter" of the 14 fps burst setting is impressive but the sound is at a surprisingly low level, which is important for nature and wildlife photographers who don't want to alert their subjects.
To handle these high-speed and 4K video modes, the camera offers the most modern storage systems. It has a slot for UDMA 7 CompactFlash cards as well as a second slot for CFast 2.0 cards, which are normally used in high-end camcorders.
The 1D X Mark II has a lot of functional elements for easy and professional handling. These include a large dial on the back; a second dial near the shutter release button; a joystick that can be reached by the thumb of the right hand; a second joystick used when the camera is in portrait mode; and a second shutter release button for portrait shots. Two status displays on the top and on the back allow the user to check and to change basic settings very easily.
The camera has a large (0.76x) and brilliant optical SLR viewfinder (100 percent field of view) and allows for use of the LCD screen on the back as an electronic viewfinder. This large display (3.2 inches) offers a very high resolution of 1,620,000 RGB dots and is touch sensitive. To toggle between the optical viewfinder and LCD there is a button right beside the viewfinder ocular—this is also used as a start/stop button for video recording.
The body of the Canon 1D X Mark II is very large and is aimed at pro nature and sports photographers and others who want a robust and very dexterous camera. The large grip on the right-hand side allows for perfect handling and stable operation in all situations. The interfaces on the left-hand side of the camera are covered by massive rubber caps, so dust or humidity can't harm the HDMI, USB 3.0, and Ethernet ports. The two card slots on the back are also covered by an interlocked and massive cap.
Comments on Image Quality
Color: When reproducing the color test chart, the Canon EOS-1D X Mark II showed a tendency toward cooler color areas for the darker gray test pattern and a slight shift of the bright white into the yellow direction. Nevertheless, the color errors are on a really low level and any aberrations of color results to their given values are very small. Overall, the camera creates images with a very natural look. In addition, the test chart for saturation is 99 percent: nearly perfect. Skin tones are reproduced very precisely, nearly exact on their given values.
Sharpness: The Canon EOS-1D X Mark II offers very sharp and detail-rich images. The ISO 12.233 chart was reproduced with 3,454 of 3,648 lines per picture height. The camera showed an average level of sharpness filtering with exaggerated contrast lines, but overall offers a very natural look and very clean reproduction of small details. The reproduction is excellent and doesn't show any moiré effects.
Noise: The camera performed in excellent fashion in our noise and dynamic range tests. The luminance noise factor stays below the 1.0 percent line up to images taken with ISO 25,600. Color noise becomes visible in images taken with ISO 6400 but still stays on a discreet level. Only at ISO 51,200 do the red, blue, and green dots get annoying. The additional ISO modes up to ISO 409,600 can be used for documentary shots when no additional light/flash system can be used. At these very high speeds the combination of noise and anti-noise filtering decreases detail reproduction significantly.
The dynamic range results are excellent. The camera achieves a maximum of 11.7 f/stops and keeps the high level of about 11 f/stops up to ISO 1600 mode. At higher ISO speeds the dynamic range is nearly 10 f/stops, which is very good.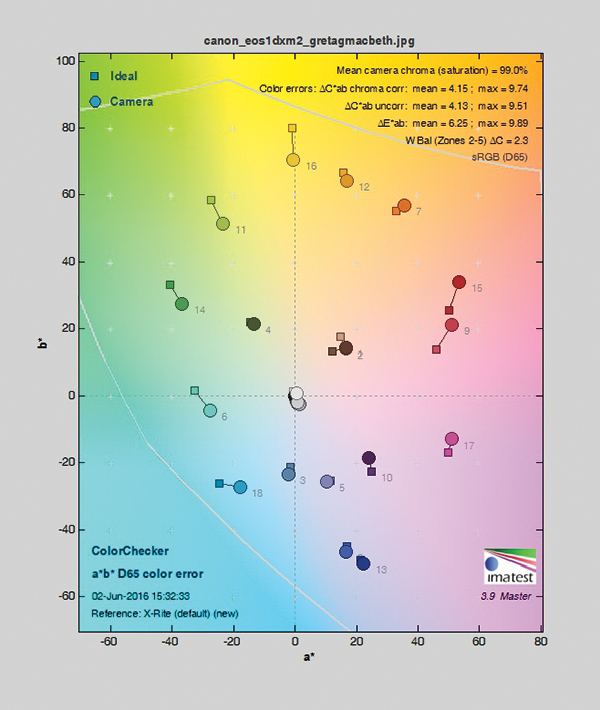 Comments on Video Functions
This new Canon DSLR offers a wide range of video capabilities. As the follow-up to the first EOS-1D X, which was the base for Canon's moviemaker SLR, the EOS-1D C ("C" for "Cinema"), it offers Full HD and 4K capabilities. The new camera records "real" 4K videos with a resolution of 4096x2160 pixels, which is compatible with cinema 4K systems and a little larger than the PC/TV 4K resolution of 3840x2160, which is 4x Full HD and is officially named "UHD TV."
The Canon EOS-1D X Mark II records in MP4 mode with H.264 compression when recording Full HD movies. For 4K movies it uses MOV files and a Motion JPEG compression, so the 4K movies are saved as single images in a video container and create extremely large files. We shot a 14-second scene as a test and it produced a nearly 1GB clip. That's the reason why the 1D X Mark II uses two card slots, including a slot for very fast (and quite expensive) CFast 2.0 cards. These fast cards are used by professional video systems and allow for shooting with very high bit rates.
Another professional feature of the Canon 4K videos is the 4:2:2 color sampling, which is normally only used by professional camcorders (H.264 recording of the new Canon offers 4:2:0 recording, which is standard for MP4/H.264).
To start video recording the user has to switch the Live View switch into its movie position and start recording by pressing the button in the center of this switch. The Canon offers all manual features for video recording. It can be used in P, S, A, and M mode and allows for manual setup of ISO speed settings. For sound recording, the 1D X Mark II offers a microphone jack and an earphone jack (for direct sound control). Sound level can be adjusted manually (with the help of sound level bars on the LCD screen).
The Canon 1D X Mark II offers "clean HDMI output" for recording movies with external video recorders.
Comments on Video Quality
The new Canon EOS-1D X Mark II performed excellently in our video tests. The result for Full HD recording is the best result we ever got: 1,053 of 1,080 lines per picture height, which creates a very crisp and clear image. The resolution in 4K mode is very good. The camera reproduced the ISO 12.233 chart with 1,869 of 2,160 lines. The test clips taken in 4K mode show that fine details are reproduced in a very clean way. The scenes don't show any moiré effects.
The color reproduction in video mode is comparable to color results in photo mode. The white balance system showed a slight shift into the cooler colors, but creates very natural and realistic-looking colors. The noise results are very good and the dynamic range result of 10.6 f/stops is on an extremely high level for a video camera. In video mode ISO speed settings are restricted to ISO 25,600.
Scorecard
Pros
› Very fast full-frame sensor DSLR
› Professional handling
› Robust, weatherproof body
› Very fast AF system
› High-speed, full-resolution burst modes, including while shooting in Raw
› Integrated GPS system
› High-resolution touchscreen LCD
› High-end video capabilities (including real 4K resolution and high bandwidth)
Cons
› LCD screen does not swivel
› Big, bulky, heavy camera build
› Very expensive
The Canon EOS-1D X Mark II has a list price of $5,999 (body only). For more information, visit usa.canon.com.
(Lab Review is where we publish web-exclusive lab reports on cameras. To read more Lab Reviews, click on the Reviews tab on the top navigation bar of this page. New photo gear reports are published frequently, so check Reviews for more equipment evaluations from Shutterbug writers.)

FEATURED VIDEO