Canon EOS-1D X DSLR Review (First Test)
Editor's Note: This test was done with a pre-production sample. Test results and comments are from our TIPA affiliated testing lab, Betternet.
The Canon EOS-1D X is a professional camera system that could be considered ideal for sports photography and photojournalism. It offers extremely high speed and is fully customizable to fit the needs of every photographer. It has a massive and robust body, with many functional elements available in a type of "dual version control" that allows for comfortable shooting in landscape or portrait orientation. Small joysticks and a lot of setup dials will help users navigate through the very comprehensive menus and to set up all parameters in a fast and intuitive manner.
The EOS-1D X has a very large LCD screen on the back with a resolution of 1,040,000 pixels, which creates a brilliant and extremely detailed image and allows the user an excellent image evaluation tool.
The camera offers extreme high-speed shooting modes with up to 14 images per second in full 18MP resolution. In standard settings it is able to record up to 12 images per second in full resolution with an activated AF system. The higher burst rate uses a special image mode that has to activated in the custom settings, which then makes it available in the "DRIVE" mode settings. In this special mode the camera will lock the SLR mirror into its upright position and also lock the AF setting of the first shot. During our tests the camera achieved this high image rate in both modes and recorded up to 99 frames (JPEG) in one image series (capacity depends on the CF card).
The camera can record Full HD videos with various image compression techniques. It can use standard H.264 compression plus a special H.264 mode that allows it to save all single frames instead of using GOPs (groups of pictures.)
Image Quality
Color: The camera showed nearly perfect reproduction of the color test chart. The automatic white balance system causes a little shift into cooler colors, which also causes the higher saturation of blue nuances (slight shift into the magenta direction). The higher saturation of the blue colors also causes the over-saturation (average of 107 percent), while all other colors are nearly perfectly located on their given values.
Skin tones are very exactly reproduced, yielding a very natural and realistic reproducton. Portrait photographers might prefer using the camera's picture style settings to create a slightly more flattering skin tone on some subjects.
Using manual white balance correction allows a very exact rendering of all colors with the EOS-1D X, even when shooting JPEGs (instead of using raw mode). This is perfect for image reproduction (paintings, for example) or for product catalog shots.
Sharpness: The sharpness is excellent. The camera reproduced the ISO test chart with 3358 of 3456 lines per picture height, converting the nominal resolution of the sensor into real image details. The test image was taken with the EF 17-40 mm 1:4L USM.
High sharpness is also a result of the sharpening settings (filtering) in "STANDARD" image mode, which was used in our tests. In this setting the camera causes a slight overshot effect. The level of sharpening is on the same level as an average sharpness setting in a raw converter program. The high sharpness is visible in our test shots. The spool of threads in the upper right of the standard test box are reproduced with rich details and even the red spool shows a high differentiation of the red nuances.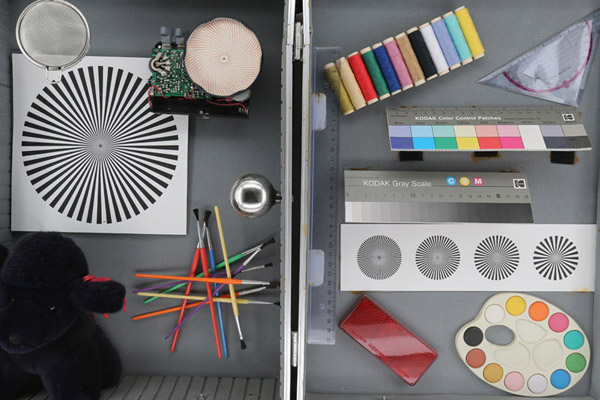 Noise: The noise results of the Canon EOS-1D X are slightly better than the excellent results of the Canon EOS 5D Mark III (see July, 2012 Shutterbug for the 5D Mark III test), but the differences are very small and only noticeable in the noise test charts at lower ISO speed settings. Images look very clean up to ISO 3200. In images taken with ISO 6400 and higher you will notice color clouds/color smear in homogenous color areas. The maximum of ISO 51.200 will show clearly noticeable anti-noise filtering effects, but these images are still usable for editorial photography/photojournalism.
The dynamic range results are also excellent. The camera gained a maximum of 11,8 f-stops in our tests and keeps the high level of 11 f-stops up to ISO 3200. In images taken with higher ISO speeds the dynamic range declined rapidly under 10 f-stops.
Scorecard
* Pro
* Very high results in resolution test
* Precise color reproduction
* Extremely massive and sealed body
* Professional handling, a lot of individual settings to customize the camera
* Full-HD video including Intra-Frame-Based
Con:
* High price
Specs: www.canonusa.com