Canon Digital Rebel XTi
The Canon Digital Rebel line accomplished a number of things. It broke the $1000 DSLR price barrier, with room to spare, and as a result brought DSLR photography into the mainstream. What followed is history, with other makers bringing forth their "bargain" DSLR offerings, with the Rebel setting the bar. As is their wont, Canon followed up on the Rebel with other generations of this successful product, each one a modification that incorporated technology gotten from more current cameras and lessons learned from past Rebel products. The latest of these is the Canon Rebel XTi, a 10+ megapixel DSLR with a dust reduction system and simplified operating system.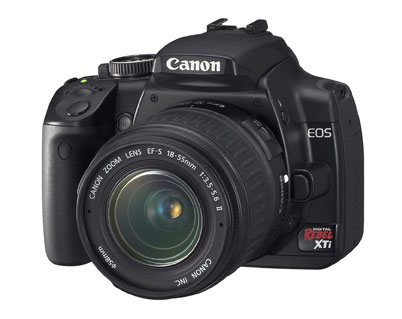 The draw of this camera for many will be the high megapixel count at an affordable price, the Canon DIGIC software and the years of Canon digital experience built into the unit. Having recently tested some of the newer entrants into the field this experience should not be underestimated. But what might the attraction be for those who see the Rebel as a more of an amateur DSLR and not up to snuff for their photography? For many it can be a second (and third) body used as backup, as the camera is extremely light in weight and portable enough to be put into a camera bag with no great invasion of space. And while it might be red-shirted by those with more advanced DSLRs it stands up in its own right as a very good picture taking machine, one that can be used as a first DSLR or as a backup on lengthy trips where finding a fix-it shop for the prime Canon DSLR would be impossible. Indeed, I know one shooter who brought two with her in that role on a lengthy assignment in the Andes.
First Timers
The XTi can be seen as an attractive first-timer DSLR, although it must be said that 10 megapixels plus is kind of overkill. Like everyone else Canon has been caught up in the megapixel race, and I think that this should be the limit...for a while, anyway. When we begin to see 14MP sensors as standard on advanced amateur DSLRs and 20 on pro models then we might get a rest.
The camera produces crisp, large files good enough for the largest desktop printers (13" wide) available and should satisfy just about every end use for those who will be attracted to this build and feature set. However, I do have one criticism on the file combos offered. For some reason the Raw+ combo only allows you to do a Raw+JPEG Large. It would seem to me that you would also want to have a Raw+JPEG small or medium. In fact, I think Raw+Large is somewhat nonsensical for most folks who will use this camera. And for a backup for those who know and use Raw file format, why burden the memory card like that and instead offer just a print (Raw) and email/web combo, or at least have that as an option?
Some of the first-timers coming to this camera will be the demographic known as soccer moms, folks who are engaged in family life and want to record their kids' growing and activities. Why wouldn't they just work with a digicam (our terminology for an integral lens digital camera) with a number of auto modes to make a complicated life easier? I have two words for the reason why not--shutter lag. I know many folks who miss out on recording their kids' activities because their digital camera simply cannot keep up with the speed and motion of it all. By the time they snap the shutter the kid is out of the frame or has changed expression entirely.
I have some advice for folks who have experienced that--get a DSLR, where there is no shutter lag to speak of, there's a focusing system that will actually follow the motion throughout the frame and a framing rate that will allow you to capture a fleeting expression--in the Rebel it's 3 frames per second. To test this out I photographed a series of kid soccer matches in which Brynn and Emma Polgrean played and set the Rebel XTi on sports (action) mode. This sets the camera to shoot JPEGs in continuous shooting mode and at continous AF. I set focus on the player and just followed the action. In a few cases, when I did not set focus on the sequence properly to start, the AF system snagged the background instead of the player, but I learned how to "tell" the camera my main subject and after that I had no trouble with focus jumping back and forth from player to background.
More Experienced Shooters
Will the Rebel do double duty as both a beginner and backup camera for more advanced shooters? Having shot with it for a few weeks at the aforementioned weekend soccer fest, in the autumn hills of New England and the red rock country of New Mexico I can attest to its ease of use, responsiveness and image quality, and especially to its light weight presence in my camera bag. Of course, like many DSLRs, it's what up front that counts, and the lens mounted on the camera affected image results. I shot with a variety of lenses, but tested mainly the kit lens, the 18-55mm 3.5-5.6, a fine standard lens but one I would replace with a faster zoom when I could. I also shot with the new Sigma Macro 70mm f/2.8, a nice, fast tack sharp lens I used for both portraits and of course macro and landscape shots.
I have tested numerous Canon DSLRs in the past year and am pretty familiar with their layout. Advanced Canon shooters will miss the back Command Dial, and have to put up with toggles and the front knurled dial for menu changes and image playback. But what is most evident is that Canon has slimmed down some of the options to those most important, and has not economized on creative options and features in the bargain.
You can shoot with many of the Picture Styles found in the 30D and other Canon DSLRs, work in monochrome (Raw shooting is advised for this as they can be reverted back to color is desired), fine tune white balance to the nth degree, work with exposure bracketing, lock exposure, zoom in on playback, etc. And the Camera Raw update was on the Adobe web site immediately, albeit in Beta, but one that allowed me to work the files as soon as I got the camera in hand. There's up to ISO 1600 available, a top 1/4000 shutter speed, evaluative, partial and CWA metering, as well as a host of color controls, as well as sRGB and Adobe RGB color spaces. In short, it feels like the folks at Canon threw in a good deal of the package found in their higher-end DSLRs, allowing for ease of use (with Scene modes) as well as the ability to grow with the camera.
One of the main differences in this camera with its more advanced brethren is in the build and feel of the unit. The body has a solid feel yet it dings like plastic, it being a conglomerate of materials chosen for light weight and interior part protection. The fit and finish, however, is anything but cheap, and I felt like the compartments would not lose hinges or springs, unlike some bargain DSLRs out there. It does have a nice 2.5 in LCD screen that like allows for pretty good reading in sunlight, but like most DSLRs out there is not a good guide in any kind of bright light.
Where the camera does have it over other Canon DSLRs is its sensor cleaning features, something I think we will be seeing in future Canon DSLRs, amateur and pro. When you power up and down the Auto Sensor Clean goes into action, removing those bothersome flicks and flakes. If that does not do it you can also go though an "Append Dust Delete Data" routine, which will be part of the image processing of all the Raw and JPEG images you shoot after the routine is performed. You can also update that information as you work. If it gets really funky then clean it the old fashioned way or better yet get it to a Canon repair center. This dust thing is a pain, and I'm glad Canon has addressed it with this model.
In all, the Canon Rebel XTi is a generational update that brings much of Canon's experience and technology into play. At $899 for the kit with the lens and $799 for the body only, it's a good bet for first-timers and as a backup for those already with a Canon DSLR.
To see images shot with the Canon Rebel XTi sign onto our Galleries at www.shutterbug.com and go to the Rebel XTi album.

To add your own images made with the camera upload to that site as well. You can also add comments to your images, ask questions about the camera or share your experiences and knowledge along with your pictures, or simply ask questions of those who have posted images on that site. You can also do the same at our Canon User Group in our Forums. A full review of the camera by Peter Burian appears in the February, 2007 issue of Shutterbug Magazine.

FEATURED VIDEO