Canon's EOS Rebel XS; Lightest Canon D-SLR To Date
Dubbed an "entry-level" D-SLR, the new Canon EOS Rebel XS is bound to be found under a number of Christmas trees this year, what with its $699 retail price and included EF-S 18-55mm f/3.5-5.6 lens. This kit lens is Optical Image Stabilized and adds to the allure of a camera with Live View, dust cleaning with Canon's "Integrated Cleaning System," and a (effective) 10.1-megapixel CMOS sensor. The camera takes SD and SDHC memory cards and works with the latest DIGIC III image processor. It can be used in both sRGB and Adobe RGB color spaces, and weighs in at less than a pound, making it, according to Canon, their lightest EOS D-SLR to date.
D-SLRs have gone off in two distinct directions—one where the controls are quite complicated, offering more features than one could possibly use, and the other a greatly simplified approach, where getting very good images is not quite in point-and-shoot territory, but close to it. While working with the camera on a recent road trip it struck me that Canon has designed this new camera to near perfection for the intended audience, making it one of the easiest cameras to navigate and operate. In fact, part of my tests included relying on Scene modes, something I rarely, if ever, do, just to see how the typical user might approach picture taking.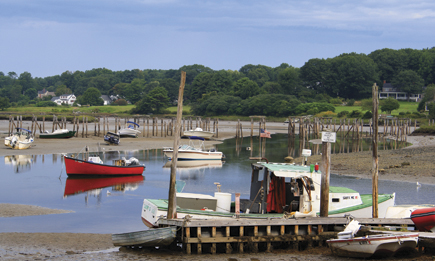 Shot in Landscape Scene mode, the XS provides a bit more snap to colors and maximizes the depth of field in the shot. Should you switch to Aperture-Priority to ensure just the depth of field you want in such shots? Sure, but the camera's Landscape mode will most often do the job.
All Photos © 2008, George Schaub, All Rights Reserved
The layout of controls includes the usual dials and buttons, with two general Shooting modes—basic and "advanced." Basic is where Scene modes are to be found, as well as "full auto." The latter includes closest subject-priority when the subject is covered by one of the seven "wide area" AF points (plus focus lock if desired via slight pressure on the shutter release) along with AI Servo AF if the subject moves, as long as you keep slight pressure on the release. There's also Auto ISO, a sort of programmed mode that makes sure the shutter speed yields a steady shot by raising the ISO ante in increasingly lower lighting conditions. Scene modes are mercifully limited to portrait, night portrait (slow sync), landscape, close-up, and sports, as well as a Flash Defeat mode which can be used when required. Some cameras throw many more Scene modes at you, which often end up confusing rather than simplifying matters.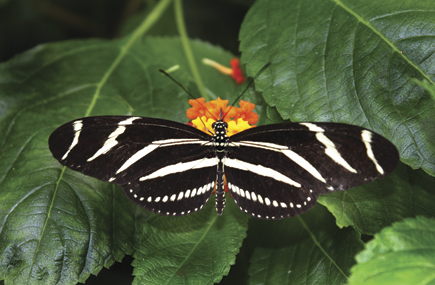 Inside the Bronx Zoo's butterfly house I used Close-up Scene mode to get up close and personal to this fascinating creature.
In fact, these Scene modes work quite well, with the added kick that Scene modes carry these days that include contrast, color bias, and even exposure settings with each mode chosen. To test this out I worked in both Landscape and Close-up modes, then switched to straight Aperture-Priority mode with exposure compensation to compare results, and the system matched what you might get with a more personal approach to aperture, shutter speed, and Picture Style play. The XS has something called an "Auto Lighting Optimizer" (ALO) built in when Scene or Full Auto modes are chosen, on which the DIGIC III processor does a very good job. There's one level of ALO, as opposed to two on the new EOS 50D. Yes, it's the system's opinion as to how the shot should look, but it's a fair way to get very good results with little or no effort. Again, perfect for the target audience.
The supplied Digital Photo Professional software allows you to process raw images to get just the color, contrast, and tone you desire. Though certainly not as advanced as Lightroom, "full" Photoshop, or Aperture, it allows those who do not want to shell out the bucks for other software to get into the raw game.

FEATURED VIDEO