Canon's EOS 5D Mark II; HD Videos And 21MP "Full-Frame" Stills
Like cameras in cell phones (and vice versa) and MP3 players in everything, the new Canon EOS 5D Mark II can be thought of as another item in the multimedia trend that's sweeping the consumer electronics market these days. Touted as the answer for wedding shops that don't want to send both videographer and still crew to a job, or for the press room where the reporter has to write the story and record stills and file live 'casts all by his or her lonesome, this could be thought of as the ultimate image-maker's multitasking device. Likewise, those who have to carry along a small digicam that records both mediocre videos and decent stills of their travels will immediately relate to the idea, and be quite happy with the much higher quality videos and excellent stills the 5D Mark II delivers. Myself, I enjoy taking the quick video once in a while, but don't look for much expertise on that end here. But as I worked with the 5D Mark II, I must admit to having had fun with the option.
As a still camera the 5D Mark II delivers a full-frame-size sensor like the original 5D, albeit with a 21+ megapixel chip and Live View. At about $2700 (body) it certainly sits well within pro territory and delivers startling 60+MB (8-bit; over 120MB 16-bit) files, more than enough for stock, portrait, wedding, fashion, and other pro endeavors. Yet it also contains some of the features found in the advanced-amateur Canon EOS 50D, and brings in some enticement to well-heeled beginners as well with options such as Face Detection and Creative Auto mode. The latter was first shown in the 50D; it's a full Auto mode with guides for making backgrounds softer rather than having the photographer struggle with the complexities of aperture settings for manipulation of depth of field. Of course you can ignore these amateur-oriented features, but it's kind of like discovering that your otherwise quite professional husband-to-be still enjoys the occasional game of Chutes and Ladders—endearing, harmless but curious nonetheless. Yet, and this is a bit of a contradiction to what I just stated, there's no built-in flash, more the mark of pro-oriented cameras. At least there are no Scene modes.
Crisp And Clear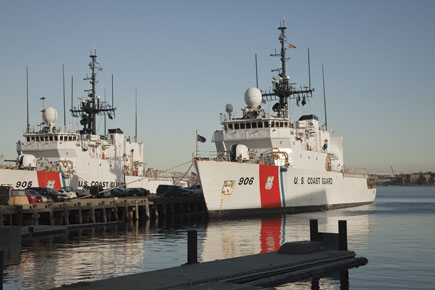 These Coast Guard cutters sat at berth in Boston Harbor on a clear, crisp winter morning and setting the camera at ISO 100 and Evaluative metering exposure was f/8 at 1/500 sec through an EF 24-105mm f/4L IS USM lens. When opened, the raw file at 16 bits is 120MB; at 8 bits, 60MB. File size combined with the full-frame sensor delivers startlingly clear and sharp images that even when viewed at 100 percent don't lose an edge.
All Photos © 2009, George Schaub, All Rights Reserved
The 5D Mark II does have many features desired in this range of camera, including a very bright and high-res 3" LCD, 98 percent optical finder coverage, and ISO ratings for very clean images up to ISO 6400, with expanded ISOs up to ISO 25,600. It sports a DIGIC 4 image processor that allows for continuous shooting of full-res JPEGs to memory card capacity (with UDMA cards) at 3.9 frames per second (fps) along with in camera image processing for Peripheral Illumination Correction (anti-vignetting matched to the lens); a High ISO noise reduction filter that balances noise and speed in impressive fashion; and a very wide range of color and color balance controls.

That DIGIC 4 processor is quick (said to be +1⁄3 faster than the previous generation), plus handles and delivers 14-bit A/D conversion of the raw data and plays very nicely with those fast UDMA cards. Speaking of raw, there are three versions now, including two so-called sRAW modes, 10 megapixels and a smaller 5.2 megapixels. This brings the total file format options up to 27 (including various raw modalities with JPEG and many, many sRAW+ and raw+JPEG choices). I am perplexed by this many file format choices but I guess it's nice to know you have them if you want them.
ISO 1000 Now The Street Norm
The large sensor, DIGIC 4 processor, and in camera adjustable NR algorithms make, in my opinion, ISO 1000 the new ISO 400 in the 5D Mark II. This is ideal for street photography where shadows may predominate and you certainly won't be carrying around a tripod. This devotional wall and crèche was photographed in Boston's North End at ISO 1000 at f/7.1 at 1/250 sec (top). When cropped tight into a section of the image noise is virtually nonexistent, although lack of large areas of continuous tone often hide any apparent noise problems (above).
Frankly, I have yet to discover the benefits or joys of sRAW file format. (Tech note: In late December, when we got the production model of the camera for testing, Canon released a service notice regarding sRAW1 format. It said that sRAW1 could produce possible vertical banding "depending on the camera settings, subject and background," a condition and result I was not able to recreate, though I of course take them at their word. Firmware updates are anticipated, though not announced at press time.) (Tech note #2: In addition, the service notice stated that there might be a "black dot phenomenon" when shooting at night where the right side of a light source included in the scene might appear black. Again, despite many shots I was also not able to recreate this phenomenon, though I have seen evidence of it in my research on the web. Was my test camera immune from this or did I not properly recreate the "conditions" that would specifically produce them? In any case, as to the dreaded black dot, Canon suggests disabling Highlight Tone Priority to make it better.)
ISO 2000 And ALO

High ISO and contrastier results go hand in hand, but you can restrain the ill effects by using in camera image processing such as Canon's Auto Lighting Optimizer (ALO). This image inside Boston's North End Church ("One if by land…") was shot at ISO 2000 at f/8 at 1/160 sec. I made the shot with ALO on with the "Strong" option (top, left) and off (top, right). While you can use Shadow/Highlight tools later to help balance the contrast doing so in camera creates a foundation image with more potential for easy processing. Just for fun I cropped into the window area to show how little noise seems to be generated at this previously taboo setting.

FEATURED VIDEO