Watch 4 High-End DSLR & Mirrorless Cameras Get Waterboarded & See Which One Talks First (VIDEO)
When reviewing new cameras, especially those designed for pros and advanced amateurs, we always take a close look at build quality and how well the camera is sealed against water. That's because, for most outdoor photographers, this is a key consideration.
In the interesting video below, our friends at Imaging Resource put four high-end cameras to a water torture test by simulating a heavy rain shower as well as misty shooting conditions. Obviously, if a camera holds up well to a deluge, there's no need to worry about sustained shooting in wet or dusty environments.
The four cameras tested include Canon's EOS 5D Mark IV full-frame DSLR, the Nikon D850 full-frame DSLR, Sony's A7R III full-frame mirrorless camera, and the Olympus OM-D E-M1 Mark II Micro Four Thirds-based sensor mirrorless camera. And while all four cameras promise a good degree of weather sealing, some performed better than others during a 15-minute "rainstorm" and 15 minutes of heavy mist.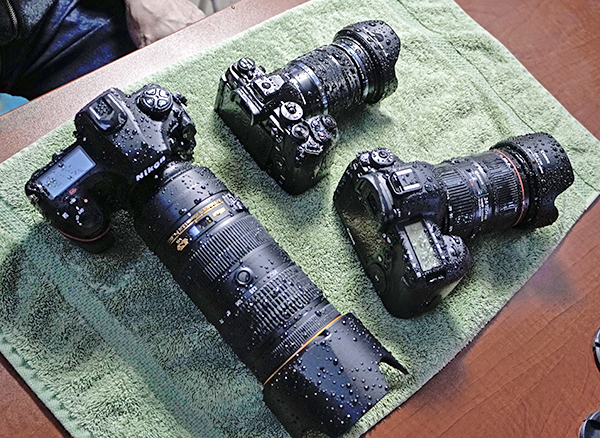 As you'll see in the video, "weather resistance" is a relative term, and only three of the cameras survived the torture test relatively unscathed. The Sony A7R III was another matter, as it took on a significant amount of water inside the battery compartment.
To be fair, we think the Sony A7R III is otherwise an awesome photographic tool, and we just named it one of our favorite cameras and lenses of 2017. That said, we wish it were a bit more rugged, especially for the price.
Be sure to read our reviews of the Nikon D850 full-frame 45.7MP DSLR, Sony A7R III 42.4MP mirrorless camera, Canon EOS 5D Mark IV full-frame 30.4MP full-frame DSLR, and Olympus OM-D E-M1 Mark II 20MP MFT camera.

FEATURED VIDEO