Olympus OM-D E-M1 Mark II Review: Field Testing Olympus' Flagship Mirrorless Camera in Alaska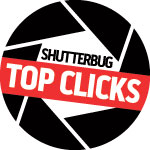 (Editor's Note: You can see the full-resolution test images we shot with the Olympus OM-D E-M1 Mark II in Iceland at this URL: http://bit.ly/2l4BLjB.)
I recently had the chance to take the new Olympus OM-D E-M1 Mark II along with my regular full-frame Nikon system to Alaska and the Yukon on an outdoor shoot. Rather than test charts and pixel peeping, I focused on the real-world usability of Olympus' new flagship mirrorless camera and its ability to get the job done as compared with a large and heavy DSLR system.
For two weeks I photographed bald eagles and landscapes with both camera systems in subfreezing wet and snowy conditions. It was a great chance to see how the Olympus E-M1 Mark II held up to the rigors of shooting fast-moving subjects in a challenging environment.
As a lifelong Nikon shooter, Olympus hooked me with their Micro Four Thirds sensor format cameras due to their smaller sizes and thus increased portability. While Micro Four Thirds cameras do represent a compromise vs. my trusty yet heavy Nikon D800/D5 DSLR combo, the original version of the E-M1 has become a staple for me on climbing and backcountry trips where weight reduction is the primary goal.
Yes, the image quality out of my full-frame Nikon DSLRs is slightly better than the original Olympus E-M1 with its smaller sensor, but when shooting in hard-to-reach locations, reduced camera weight is far more important than the slight quality difference.
Initial Impressions
More of an incremental improvement than a game changer in terms of image quality over its predecessor, the new Olympus E-M1 Mark II continues to push the envelope of what is possible from a small camera. With improvements in both resolution as well as low-light performance, it makes for a very attractive alternative to a heavy DSLR for nearly all uses.
While working on this review, I made a couple of 16x20-inch prints at ISO 200 from the Olympus E-M1 II and M.Zuiko ED 7-14mm f/2.8 PRO lens and was blown away by the amount of detail in my shots. Unless I started shooting at higher ISOs, or printed larger, I could hang these 16x20 landscape prints next to those from my Nikon D800 and hardly tell the difference.
This test made me realize that my days of carrying a heavy DSLR in the backcountry are mostly over.
Build & Handling
The E-M1 Mark II continues Olympus' trend of creating a highly competent camera in a tiny package. The E-M1 II offers an even better electronic viewfinder than the previous model (though the original E-M1 was no slouch); even faster frame rates; increased resolution; and a bigger battery that seems to work better in the cold. All of this for slightly more weight than a high-end point-and-shoot camera. Pair the E-M1 II with a few of Olympus' amazingly sharp and well-built lenses and, for many uses, it can truly replace a heavy DSLR.
After two weeks of extensive shooting in Alaska and the Yukon, I found the weatherproof/dustproof/splashproof/freezeproof E-M1 II and lenses to be built as tough as my Nikons and I had no worries about the camera surviving the days of snow and mud I subjected it to. Obviously I didn't try to break it, but I also didn't feel like I needed to baby it.
I found the Olympus M.Zuiko ED 300mm f/4 IS PRO lens to be equally well built and up to the realities of shooting in snowstorms and temperatures down to zero. My only critique of the 300mm lens is that the AF/MF focus ring switch was too easy to accidently switch while I was bashing through brush to get the shot.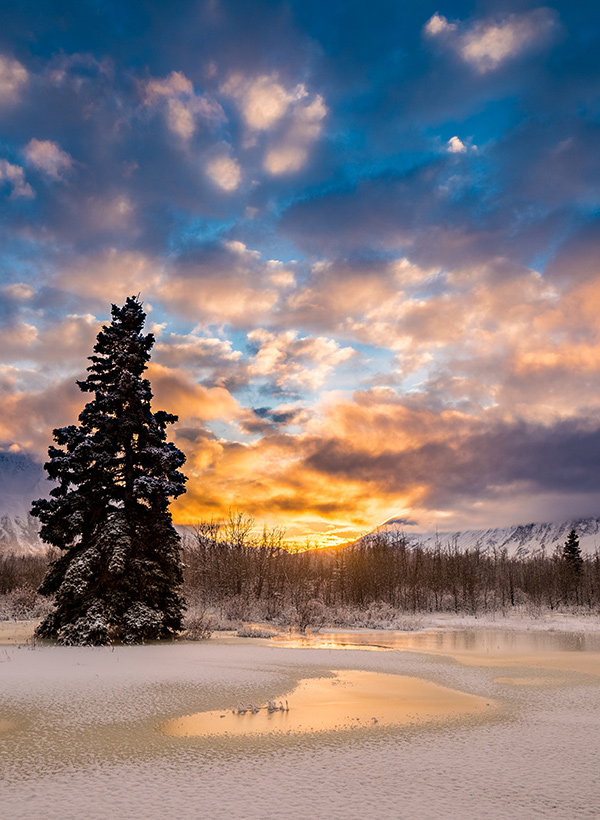 Performance & Image Quality
While I liked the build and the lenses, the only real drawback I found with the Olympus E-M1 Mark II was its autofocus system with difficult moving subjects. Though the autofocus is clearly improved over the previous E-M1 camera and is likely one of the best autofocus systems in any mirrorless camera to date, it struggled acquiring and maintaining focus on birds in flight against complicated backgrounds.
That being said, having also tried high-end point-and-shoots in my attempt to save weight over my DSLR kit, the Olympus E-M1 II gives users far more autofocus accuracy and a more DSLR-like manual focus experience than any premium compact camera could offer.
Once an eagle perched, it was a different story; the Olympus E-M1 II could lock focus even through blowing snow. This combined with the small size of the 300mm f/4 lens (equivalent to a 600mm f/4 on my Nikon because of the 2x magnification factor of Micro Four Thirds sensors) made it possible to hand-hold shots that I would have missed with my Nikon because I would have still been setting up the tripod for my long lens.
Another issue I found was using the buttons on the camera while wearing gloves. This may not be a problem for some photographers and it should be expected when using a smaller camera, but it did slow me down during critical shooting moments. More practice with the camera would surely reduce this issue, but a big DSLR is still just easier to control while wearing gloves.
As I mentioned, I mainly shoot with a Nikon D800 or D5 DSLR so my standards are very high (perhaps higher than necessary for many users). While I like the lightweight advantages of the Olympus E-M1 II, I mainly found myself reaching for my D5 when shooting eagles in flight and in low light. Every time I used the E-M1 II, I found myself getting frustrated that it couldn't maintain focus on flying eagles with nearly the same success rate as my D5. The scales turned a bit when I started shooting static landscapes where autofocus isn't an issue.
However, after working with my heavy Nikons, I found it refreshing to hand-hold the small and nimble Olympus mirrorless camera when shooting landscapes. I spent an entire afternoon shooting at the top of Haines Pass and hardly used my Nikons because the lighter Olympus was so pleasant to work with.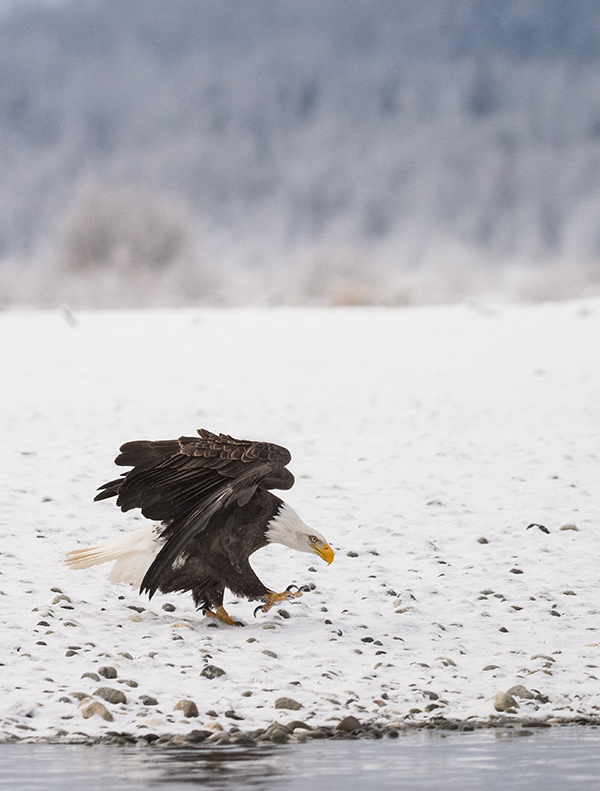 Having real-time histograms in the viewfinder allowed me to more accurately deal with difficult snowy scenes in changing light, and focus peaking made me far more confident in my choice of focus point and depth of field. For the landscape photographer, focus peaking could be the best thing since the development of graduated neutral density filters. Never have I been so confident in my choice of aperture and focus point.
Conclusion
So am I getting rid of my Nikon system after shooting with the Olympus OM-D E-M1 Mark II? Not yet, but for adventures where weight is a major issue and I don't plan to be shooting lots of fast-moving action, the new Olympus is an amazing camera and for many users could entirely replace their DSLR. Yes, it is a slight compromise in terms of image quality, but if I were taking a cultural tour to a foreign country, or carrying all my gear on a long trip in the mountains, I wouldn't hesitate to leave the heavy Nikons at home and fully commit to the wonderfully built Olympus E-M1 Mark II.

FEATURED VIDEO