Power Lighting On Location!; Studio-Quality Lighting With Minimum Gear: Four Masters Reveal Their Secrets Page 2
Joe Farace: An Unconventional Eye For Beauty
Joe Farace of Denver, Colorado, has been shooting professionally for over 30 years, but he resists being pigeonholed or classified. "You can't call me a photojournalist because I often combine images to produce something that looks realistic, but isn't. I certainly shoot lots of automobiles--everything from classics to racing cars--but I also specialize in creating distinctive fashion and glamour images of beautiful women. I guess the short answer is that I photograph beautiful things and beautiful people.
Film noir portrait: "Believe it or not I took this shot of model Ashley Rae in my dining room, placing my Sunpak digitFLASH 1000 to the left of the subject, squeezing in next to my dining room table. There's a wall to the right, but by tilting the digitFLASH up and down I was able to set it to catch the eyes just right while getting a dramatic shadow effect on the wall behind her. I think this shot proves it's possible to achieve studio lighting in a cramped space using just one light. My camera was a Canon EOS-1D Mark II with 28-105mm Canon lens set at 105mm, the ISO setting was 800, and the exposure was f/4.5 at 1/125 sec.
© 2005, Joe Farace, All Rights Reserved
"I do a lot of shoots with new and somewhat inexperienced models, and that's one reason I rely on portable location lighting equipment," Farace says. "A complex light bank attached to electronic flash units distracts from the mood I'm trying to create with a new model. So when I go on this kind of assignment, I'll pack a Sunpak digitLITE 600, which uses cool fluorescent tubes that do a good job at emulating daylight. With more experienced subjects, who are used to makeup and photo shoots, I like to kick things up a notch, adding a fantasy touch to create something avant-garde. In this application I use a Sunpak digitFLASH 1000 as a main light, or as a beauty light placed below the model's face, the way I formerly used a reflector back in the old days. This way I can create a `film noir' look with the least amount of gear possible. These Sunpak units are solidly built, easy to move around if your light stand has casters, and they put out the kind of soft, even light I can easily control. You might say they suit my `shoot-and-scoot' style to a tee."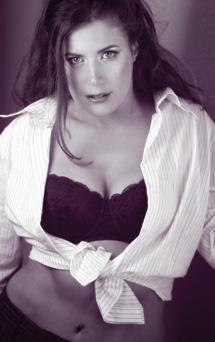 Retro glamour: "I shot this glamour portrait of up-and-coming model Kellie Alexander indoors, near the back of my house, where there's a windowed door with mini-blinds. I placed my Sunpak digitLITE 600 on the left, using its continuously variable output control to balance the diffuse daylight coming through the window, and set my Canon EOS 20D to ISO 800 to open up the background, which would otherwise have been too dark. I also set the camera for in camera black and white with purple toning to get a retro look. My lens was an 85mm f/1.8 Canon set to f/3.5 to give a shallow depth of field that makes the subject stand out.
© 2005, Joe Farace, All Rights Reserved
Joe McNally: Master Of Light, From Photojournalism To Fashion
A renowned and much-honored photojournalist, Joe McNally is a versatile master of lighting with an uncanny ability to create images that combine strong graphic elements with powerful emotional impact. Whether he's covering hard news, editorial and ad shoots, or fashion, his incisive eye and distinctive style are clearly evident in his memorable images. McNally's accomplishments have been widely praised, and the honors bestowed upon him include the coveted Alfred Eisenstaedt Award for outstanding magazine photography, and induction into the Kodak Legends Online archive.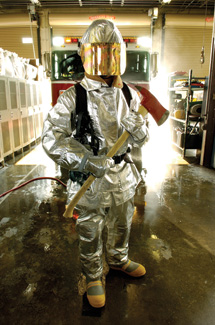 Firefighter, Charleston Air Force Base. "I lit this with six Nikon SB-800 Speedlights, three on each side of the firefighter to rim light my subject. All were fired remotely in TTL mode with the camera set on A mode."
© 2005, Joe McNally, All Rights Reserved
McNally is on the road a large percentage of the time, which is why he places a high value on dependable, high quality, portable lighting equipment. His Pelican case typically contains 10 Nikon SB-800 strobes, five Nikon SB-80 strobes, a group of four SU-4 hot shoe slave units, SC17 and SC29 cords for off-camera, TTL operation, and 10 Justin clamps for setting up numbers of Speedlights in a variety of useful configurations, even in "difficult" locations. "In addition to Nikon Speedlights, I use Profoto lighting equipment," McNally says. "I have two Profoto 7bs with 1200 ws power packs that work on AC or with batteries, and I use the Profoto head as a bare bulb, or with an umbrella or softbox to create hard or soft light when I need it. To get soft, controllable light, I also employ a Profoto Beauty Dish, which is an oversized reflector with a honeycomb diffuser inside. The Profoto equipment gives me very precise control of any lighting situation." He also packs the usual assortment of useful stuff, including Scotch tape, gaffer tape, a small fill card that doubles as a gray card, a Wave utility tool, a pair of PocketWizard Pro Max transceivers, and various Lumiquest light-softening attachments.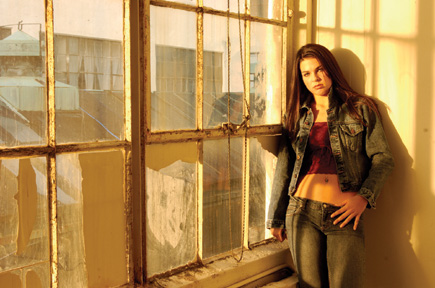 Golden girl: "The simple light for this shot was one light outside the window, fitted with a warm filter and triggered by a PocketWizard MultiMAX. No umbrella or softbox was used."
© 2005, Joe McNally, All Rights Reserved
McNally says, "To create lighting you would swear was done with large studio strobes, I usually group my Nikon Speedlights, using, say three units as my main light, five as my fill lights, and the remainder--up to 10 more--as background illumination. I can fire the entire battery of units simultaneously by triggering the master flash, check the resulting image on my LCD, and toggle the power output of each group up or down from camera position--it's awesome. Sometimes I also use Bogen light panels from their small portable system to enhance the lighting quality from my portable setup, and when I'm doing portraiture, I'll travel heavy, carrying two cases of the aforementioned Profoto gear, including spot grids, C-stands, and bank lights."

McNally has been a Nikon shooter for many years, graduating from film-based Nikon Fs to the current digital line. His present cameras include Nikon D1Xs, D2Hs, and D70s. "When I have to travel as light as possible, I'll take my Nikon D2H and D70, 12-24mm, 17-55mm, and 70-200mm Nikkor lenses, plus three SB-800 Speedlights and an assortment of Lumiquest diffusers," McNally says. "It's amazing what you can accomplish with this compact, lightweight outfit by bouncing the light off any flat surfaces or borrowing a bed sheet." If you take a close look at his images, it is evident that McNally is not only a resourceful master of illumination who can consistently create studio-quality lighting on location, but is also a first-class photographer who adds the artist's touch to anything he does, from his widely acclaimed book, Faces Of Ground Zero, to the height of advertising fashion.