Our Five Photo Gadgets & Gizmos: Bend, Shape & Bounce Light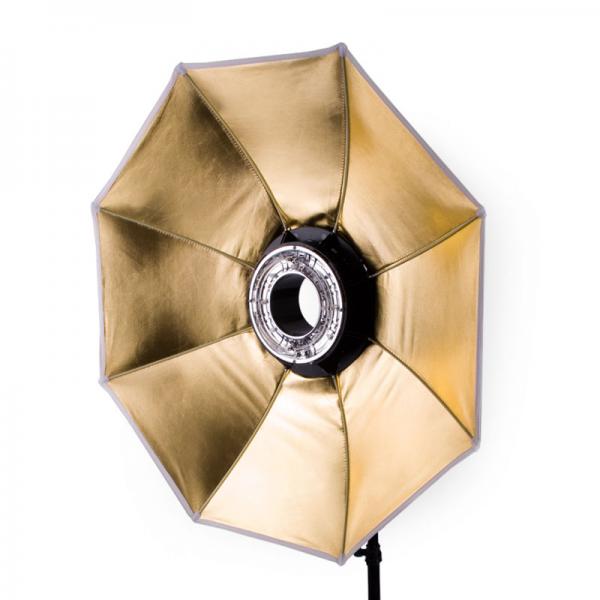 30-Inch Moon Unit by Paul C. Buff: The 30-inch Moon Unit is a unique softbox-like device that attaches to the AlienBees (ABR800) ringflash unit with a quick-release rotating speedring. The camera's lens can see through the center of the Moon Unit to achieve a unique large-source light on the camera axis. Using the ringflash with the Moon Unit produces subtle, controlled, almost indiscernible shadows and large appealing catch lights at modest camera-to-subject distances. Its minuscule depth and weight allow handholding right along with your camera, or you can use it as a conventional off-camera compact softbox. The Moon Unit is lightweight, compact and easy to assemble. It consists of a reversible gold/silver reflector surface in an octagonal shape, a removable front nylon diffuser (with a center hole), a removable black fabric mask to convert the octagonal shape to a circle, a rotating speedring, assembly rods and a special reflector that bounces the flash energy into the Moon Unit (instead of forward). The suggested retail price is $59.95.
More info on the Moon Unit here.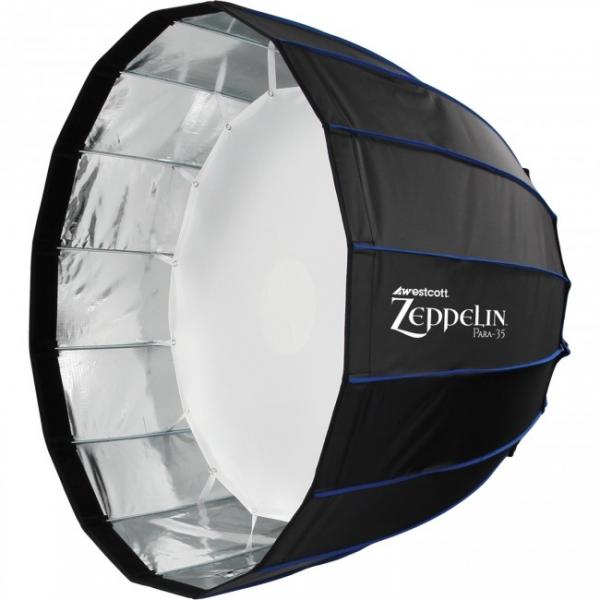 Zeppelin 35-Inch Parabolic Softbox: The ideal modifier for commercial, fashion, and portrait photographers. The Zeppelin Deep Parabolic softbox creates an even, wrap-around light output. Each Zeppelin Para Softbox features high-quality construction and needlework, 16 durable lightweight/heat-resistant rods, a 1-stop inner diffusion panel with a 2-stop center dot to eliminate hot spots, a 1-stop outer diffusion panel, and a travel case. The Zeppelin is also equipped with a zippered entry point, serving as a second light head mounting option. The 35" Zeppelin is the smallest modifier in the Zeppelin series.
Features:
35 inch deep parabolic softbox
High-quality construction
16 durable heat-resistant rods
1-stop inner diffusion with 2-stop center
1-stop outer diffusion panel included
Zippered-entry point for second mounting option
Travel case
More info on the Zeppelin here.
Raya 5-in-1 Collapsible Reflector Disc 42-Inch: Raya's 42 inch 5-in-1 Collapsible Reflector Disc is a versatile light modification tool for use the studio or on location. It provides white, silver, gold, and black surfaces as well as a 1-stop translucent diffusion panel. The 42 inch size was created for 3/4 length portraits and medium-sized still life set-ups. The disc can fold down to 1/3 its size for easy storage inside the (included) carrying bag. White provides a neutral/soft reflection for fill light, silver offers a neutral color balance with a higher contrast and increasing specular highlights, gold reflects a warmer light and black will block unwanted reflections and eliminate spill. The translucent diffuser lessens light power by 1 stop and creates a broader, softer light source that will wrap around your subject. The suggested retail price is $23.95.
More info on the Raya 5-in-1 Collapsible Reflector Disc here.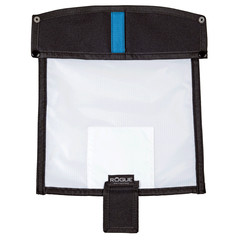 Rogue Diffusion Panel: This large Diffusion Panel easily transforms the large FlashBender Reflector (sold separately) into a lightweight, low profile soft box for use with speedlights. The Diffusion Panel quickly attaches to the FlashBender Large Reflector with the aid of hook-and-loop fasteners sewn along the edges of each panel. This device packs flat for easy storage so its ideal for traveling photographers. It measures 9x8 inches and weighs just 2 ounces. The suggested retail price is $19.95.
More info on the Rogue Diffusion Panel here.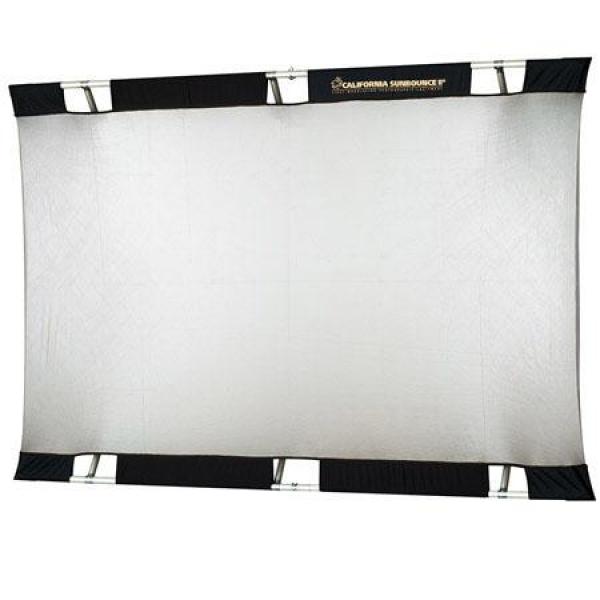 Sunbounce Pro Textile: Measuring 4x6 feet, the Sunbounce Pro Textile reflector is silver (provides more light to eliminate unwanted shadows) with a white backing (provides less intense light). This device is lightweight, durable and uses a rigid frame system. The frame system ensures that the screen remains taut and tensioned like the skin of a drum. To vary the intensity of the light simply move the reflector closer to or farther away from the subject or switch from silver to white. The Sunbounce Pro Textile is crafted in Germany from high quality fabrics. The suggested retail price is $206.63.
More info on the Sunbounce Pro Textile here.

FEATURED VIDEO