Power Lighting On Location!; Studio-Quality Lighting With Minimum Gear: Four Masters Reveal Their Secrets
If there's one thing that makes pictures shot by leading professional photographers stand out from the pack, it's lighting. But while it's relatively easy to get precisely controlled lighting effects in a well-equipped studio, these pros have to deliver consistent studio-quality results in the field--whether they're shooting on location in a dark alley, a high-contrast movie set, or a dimly lit church.
Achieving pro-caliber results with lightweight, portable equipment can be challenging, but today's best compact lighting equipment is more powerful and flexible, and better than ever. Take a close look at the pictures on these pages, and the detailed descriptions of equipment and lighting setups that accompany them. You'll get a clear idea of how the four resourceful pros we interviewed for this article use simple location lighting to maximum advantage. Indeed, we hope the wealth of information presented here will inspire you to assemble a portable lighting outfit of your own.
Jerry Avenaim: Photographer To The Stars
Jerry Avenaim, a well-known, L.A.-based pro, has created signature images of such household names as Halle Berry, James Caan, and Dr. Phil. His work has graced the covers of Vogue, Newsweek, and People, and the pages of Glamour, GQ, InStyle, Vanity Fair, and Elle. Innovative, intense, and detail-oriented, he has a remarkable ability to get into the heads of high-powered celebrities, and convey the true essence of their personalities.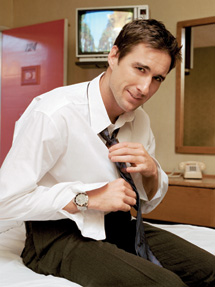 The morning after? Jerry Avenaim's slyly suggestive image of noted actor Luke Wilson in a seedy motel room was shot with an RZ67, using a 140mm f/4.5 lens, at 1/15 sec and between f/11 and f/16, on Kodak Portra 160NC film. "I lit it with a Profoto 7b power pack with bare-head zoom reflector and bounced the light into a corner of the ceiling behind me," Avenaim says. "I metered the exposure accordingly with a Sekonic L-358, and shot Polaroids to judge the correct lighting ratio." His tip for great location portraits: "Expose the subject with the aperture and balance the background with shutter. In other words, set the aperture for the flash-lit component of the overall exposure, and the shutter speed based on the available-light component to achieve balanced, natural-looking lighting."
Photos © 2005, Jerry Avenaim, All Rights Reserved
Avenaim most often shoots on location, relying on Profoto lighting equipment, which he's cleverly assembled into a comprehensive kit that fits in a single Pelican airline case. He takes his motto from the Boy Scouts: Be Prepared. The kit (shown here) includes a Profoto Pro-7b power pack plus extra battery, and chargers for the battery and pack, so he can charge both simultaneously. In addition, there are speed rings for softboxes, a complete set of slide-off plugs for almost any socket type in the world (they're in the small black bag), an extra sync cord (yellow), a bracket for attaching the ring flash, and, atop the three small compartments, two Profoto Pro-7b heads. The sealed Pelican 1650 case has built-in wheels and even includes a pressure-release valve so it can be easily opened on landing.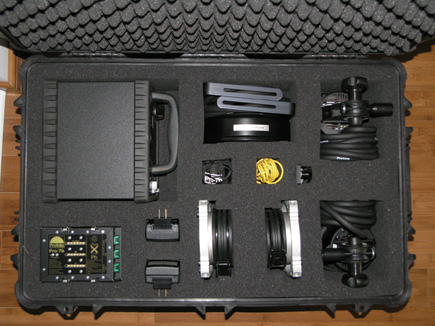 Jerry Avenaim has all the necessary gear assembled in his Pelican case, ready for on location shooting.
Avenaim continues to experiment with digital, but still shoots most of his celebrity images on film. He uses Mamiya RZ67s with a full complement of lenses from 65-250mm, and a Mamiya 645 AFD with Leaf 22-megapixel digital back. His films of choice are Kodak Portra 160VC and 160NC.
The Girl's Club: Shooting in Beverly Hills for The Fox Gallery, Jerry Avenaim parked the classic convertible under a palm tree to shade his subjects, and lit the scene with four Profoto heads fitted with Beauty Dish soft reflectors and powered by Profoto Pro-7b power packs. He shot through a 20x20 silk to create a softly surreal effect, while balancing the ambient and flash components of the exposure. (Mamiya RZ67 with 150mm lens, 1/400 sec at f/11-16, Kodak Portra 160VC film.) "I always carry a PocketWizard transmitter and receiver when shooting on location," Avanaim says. "I don't like to be tied down if I don't have to--untethered is better, and being mobile gives you greater shooting flexibility." In fact, Avenaim has now upgraded to the new Profoto Pro-7b2. "It has a shorter flash duration, even faster recycle time, and best of all, the PocketWizard is built-in!"
© 2005, Jerry Avenaim, All Rights Reserved
Rich Schaub: Fashion Statements On The Fly
Rich Schaub, a pro for nearly 20 years, has taken his company, Superior Images, Inc. of Freehold, New Jersey, in an exciting and profitable new direction, and now specializes in fashion photography. His clients include such designers and retailers as Bang Bang, Wet Seal, and Rebecca Caputo Carreras. "We shoot on location nearly 90 percent of the time, so our lighting system must be space efficient and super functional. In the old days, we'd stuff two big vehicles to the gills with heavy lighting gear, but we've pared it down to two Lightware Rolling Cargo 1032 cases plus two laptop carryon bags. Because we shoot with battery packs, this gives us the ability to carry everything we need, which includes a 1200 ws Hensel Porty with one EHT head and one ring flash head, two 800 ws Lumedyne power packs and heads, two 8-foot stands, and one 24" stand we've nicknamed R2-D2. We're also able to squeeze in an extra large softbox, a medium-sized softbox, and dish reflectors packed inside the speed rings to save space, plus those inevitable necessities of the fashion trade, assorted chargers, PocketWizards, and lots of spare AA batteries. That is what we carry in Case #1, which weighs about 56 lbs.
Fashionable tough guy: "This image was taken on the fly in a tight space without a minute to spare," Rich Schaub notes. "I lit it with a Hensel Porty 1200J powering two EHT 1200 heads. The main light has a 9" reflector with a Westcott 42x42" scrim on it and is placed about 2 ft from the subject's face. The second light, at lower right, the other EHT 1200 head, fitted with a 7" dish, is aimed at the corner of the satin background. I used my gear bag as a gobo to prevent any light spill onto the subject. This image was shot with a Nikon D1X with 28-70mm f/2.8 Nikkor zoom. The exposure was f/4 at 1/640 sec with the ISO set to 250. If it wasn't for the fact that all my lighting and camera gear fits into Lightware 1032 cases, I'd never have been able to set up so quickly in such a small space."
© 2005, Rich Schaub, All Rights Reserved
"Lightware Case #2 holds our complete digital SLR camera outfit, including two Nikon D1Xs, a Nikon D2H, and five Nikkor lenses, a 10.5mm f/2.8 fisheye, 17-35mm f/2.8, 28-70mm f/2.8, 80-200mm f/2.8, and the 70-200mm f/2.8 VR zoom. We know the focal lengths overlap, but this gives us backup in case something breaks. We also carry two back-up Nikon SB-800 `candid' flash units, a couple of Westcott scrims, and a thin white sheet. If necessary, we also have room to transfer the 6-lbs-worth of power pack batteries from Case #1 to Case #2 to save the cost of an overweight bag. As an added bonus, we have the flexibility to consolidate everything we need into one case when we're covering less demanding subjects, like headshots and
editorial shoots."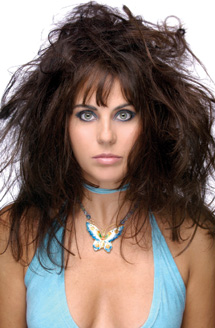 The eyes have it! "There's a funny story behind this shot," Rich Schaub says with a smile. "I was down in Orlando shooting fashion models. Everything seemed OK the night before--we checked our lights and were good to go. The next morning we found out that the Marriott World Center decided to begin their construction project a couple of days early. Imagine 10 typical construction workers ogling over my shoulder directly in the model's line of sight! Is that wall coming down now or do I have 15 minutes? Without great portable lighting equipment giving me the ability to adjust on the fly, this shot would have been impossible. For the main light I used the Hensel Porty 1200J with a Westcott scrim--the one with a silver reflector to make her eyes pop. To light the background, I set up two Lumedyne 800 ws units, and they kicked out great light all day--for 1500 shots. I shot this image with the Nikon D1X with the
80-200mm f/2.8 Nikkor zoom set at 80mm. The exposure was f/7.1 and 1/400 sec at ISO 200. The model hung in there for what turned out to be a long, grueling shoot without a whimper--what a pro!"
© 2005, Rich Schaub, All Rights Reserved