Picture This!
Trees Page 2
Picture This! -- Our Next Assignment

Bokeh: Painterly Backgrounds Using Shallow Depth Of Field
Bokeh comes from the Japanese word for "fuzzy" and has come to mean the look of the area in an image at the least point of sharpness. You might call it a big, fat, and happy circle of confusion. Whatever it is the effect creates a painterly look to backgrounds that really can make some images sing. Some even claim that certain lenses yield more "pleasing" bokeh effects than others (usually those with more blades in the diaphragm). So send us your best bokeh shots and keep in mind that it's all about shallow depth of field, and what sits in those fuzzy planes of focus.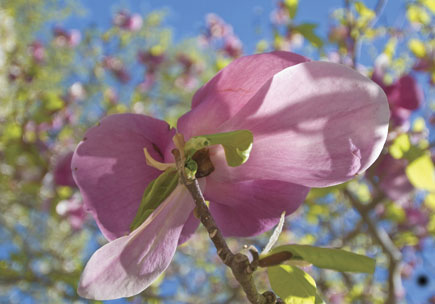 This photo was made with a Nikon D40X and a Nikkor 12-24mm f/4 lens; exposure was f/4 at 1/400 sec at ISO 100.
© 2008, George Schaub, All Rights Reserved
Please Read This
It is important that you read and follow these guidelines. We need to follow this procedure because of the large volume of images we receive. If you have any questions, please e-mail us at: editorial@shutterbug.com.

1) Images sent to us cannot be returned. You retain complete copyright over the images, but do grant us permission to print your image(s) in the magazine and on our website, www.shutterbug.com.

2) Because images are not returned please send a quality print or duplicate transparency. We will not accept or view images on CD, ZIP, or any other electronic media.

3) Images will be selected on the basis of content and technical quality. Please mark your outer envelope with the topic of the month (for example, "Wide View").

4) Enclose a short caption with the image stating camera, lens, film and exposure, plus location. If you are submitting an image with a recognizable person we must have a model release or signed permission from that person to reproduce their image in the magazine and on the website.

5) Please submit no more than three photos for consideration (4x6 up to 81/2x11).
Send your image and information to: Picture This! Shutterbug Magazine,
1419 Chaffee Dr., Suite #1
Titusville, FL 32780
Deadline for submission: April 15, 2009.
Images will appear in our July 2009 issue.
Our next topic: Macro World
Deadline: May 15, 2009
Publication Date: August, 2009
Please note: We receive hundreds of submissions for Picture This! each month and want to be sure we properly identify each image we publish. Please be sure to attach your name and image information to the back of each submission.
Want to see images selected for past Picture This! assignments? Go to www.shutterbug.com and click on Picture This! in the "More Articles..." box on the homepage.

LATEST VIDEO

SPONSORED VIDEO
Testing Tamron's SP 150-60mm G2 lens while capturing birds and alligators in Apalachicola, Florida.