Picture This!
High Contrast
Our Picture This! assignment this month was High Contrast, in camera or in the darkroom (including digital). We received an overwhelming response from readers who used special effects on a wide range of subject matter. We were excited to see that this venerable form of expression has gotten new life thanks to digital techniques, and while quite a few of the images were first photographed on film, the digital darkroom created access to creating classics in the high-contrast genre.
At The Zoo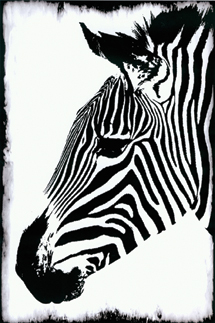 Curt A. Christianssen sent us a series of images made at the Los Angeles Zoo. He worked with a Nikon D2X with a Nikkor 70-200mm lens attached to a TC-20E II tele-converter. He worked with the Threshold adjustment in Photoshop CS2 to get the desired contrast, then added "acid" frames with onOne's PhotoFrame Pro 3 software, and printed using black only with a Canon S9000.
© 2007, Curt A. Christianssen, All Rights Reserved
Classic Bridge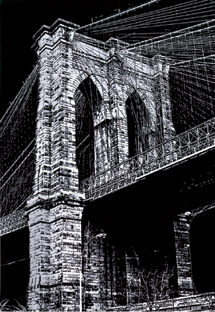 The Brooklyn Bridge got the treatment from Joe Constantino by first being photographed on Tri-X Pan with a Nikon FE and a Nikkor 50mm f/1.4 lens. He scanned the negative using a Nikon Coolscan V and then solarized the image in Photoshop CS, where he gave it a further high-contrast touch.
© 2007, Joe Constantino, All Rights Reserved
The Nonconformist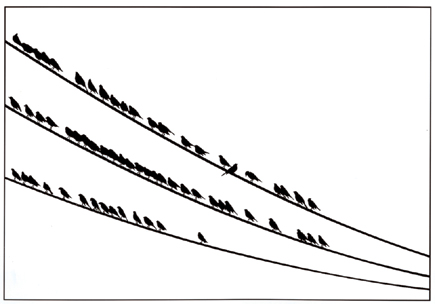 Edmond L. Bridant made this photo with a Honeywell Pentax 35mm camera and a Vivitar 135mm f/2.8 lens on Ilford's HP5 film. The negative was scanned on an Epson 2450 and manipulated in Photoshop CS2 with Levels and the Brightness/Contrast control. The result was printed using an Epson 2400.
© 2007, Edmond L. Bridant, All Rights Reserved
Cemetery In Winter
Among the color entrants was this graphic image from Lester O. Prince. He photographed the scene with a Canon PowerShot G2 and then used Photoshop's Emboss and Glowing Edge filters to create this stark effect.
© 2007, Lester O. Prince, All Rights Reserved
Mission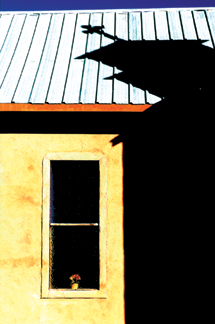 Color and high contrast work well, too, as evidenced by this stark image from Jim Mitchell. Made in San Antonio, New Mexico, Mitchell photographed with a Nikon D2X and a Nikkor 28-70mm zoom lens. In Photoshop CS2 he adjusted Curves and the Brightness/Contrast layers.
© 2007, Jim Mitchell, All Rights Reserved
Peace & Quiet
This image by Stanley A. Singer combines a high-contrast rendition and subtler tones. Singer worked with a Nikon D200 and an 18-200mm Nikkor lens; exposure at ISO 160 was f/14 at 1/45 sec.
© 2007, Stanley A. Singer, All Rights Reserved
Chicago Public Library
This ethereal image was made by JG Boyer with a Yashica Mat 120 camera on Ilford's Delta 100 film. Boyer then scanned the image and inverted it, then printed it out on an Epson Stylus Photo RX500.
© 2007, JG Boyer, All Rights Reserved
The Storm
This pen and ink rendition was created by Alan Scharf using a Pentax 35mm camera and a 55mm lens on Tri-X. The negative was then copied to litho film and "sandpapered" prior to printing.
© 2007, Alan Scharf, All Rights Reserved
Bas Relief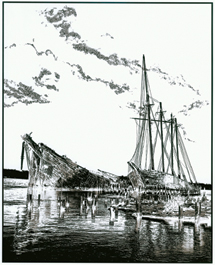 Using a classic darkroom technique, Raymond L. Emery made the original negative on Kodak's Plus-X with a Praktisix camera and a Jena Biometar 120mm f/2.8 lens. He then created a
high-contrast film negative and positive, which he sandwiched slightly off register and enlarged. He also added a grainy, high-contrast negative of clouds. He scanned the result on an Epson 4990 and made an 8x10 on a Canon S9000 printer.
© 2007, Raymond L. Emery, All Rights Reserved
Fireworks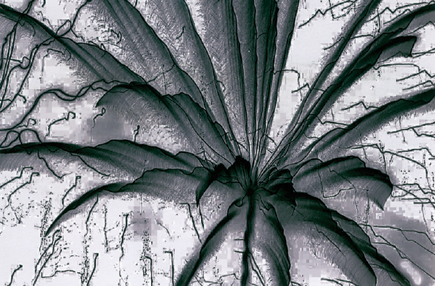 Proving that amazing potential rests within each image, Mike Casso created this image from a long-time exposure of fireworks made with a Nikon D2X camera. He then desaturated the image for this abstract effect.
© 2007, Mike Casso, All Rights Reserved
Cable Car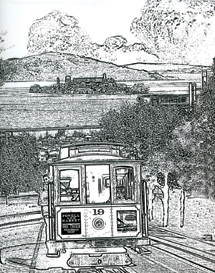 While no technical information was supplied, we were very taken by this etch-like image sent to us by Harry O'Connor.
© 2007, Harry O'Connor, All Rights Reserved

LATEST VIDEO

SPONSORED VIDEO
Testing Tamron's SP 150-60mm G2 lens while capturing birds and alligators in Apalachicola, Florida.