Picture This!
Neon City
Our Picture This! assignment for this month was Neon City, a nighttime endeavor where we asked you to send us images of perhaps the most artistic form of lighting. Neon is an art form that comes and goes, one that has undergone a revival in recent years. But readers sent us samples of neon from likely sources, such as Las Vegas and New York, as well as vintage neon from the past. In all, it was a test of night shooting skills that was passed with flying colors.
Times Square Cyclist: Photographer Mark Loete made this handheld shot with a Canon AE-1 and Canon 35-105mm lens on Fujichrome Provia 100 film. This impressionistic shot was exposed at f/3.5 at 1/4 sec.
© 2004, Mark Loete, All Rights Reserved

Greyhound Bus Station: Art deco neon decorates the Greyhound Bus Station depot in downtown Dallas, Texas. Jim Mitchell made this shot with a Nikon N90s and Nikon 70-300mm zoom on Kodak Gold 200 film. His tripod-mounted exposure was f/11 in AV autoexposure mode.
© 2004, Jim Mitchell, All Rights Reserved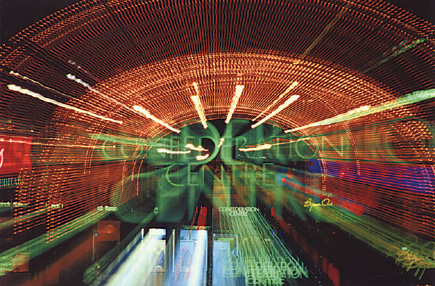 Neon Zoom: Kerry M. Kartchner used his Sigma 70-300mm zoom on a Nikon N6006 camera to good effect for this photograph of the Confederation Centre in Geneva, Switzerland.
© 2004, Kerry M. Kartchner, All Rights Reserved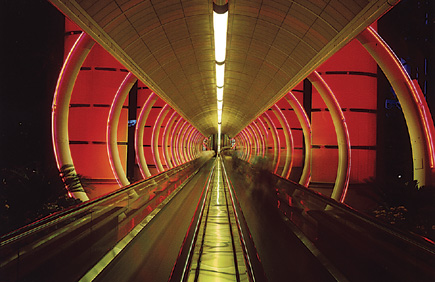 On The Strip: Gary Hintz sent us a portfolio of great shots made in that neon mecca, the Las Vegas Strip. He made his images with a Nikon N90s with a Nikon 28-85mm lens mounted on a Bogen tripod. He exposed on Ektachrome E100 GX film.
© 2004, Gary Hintz, All Rights Reserved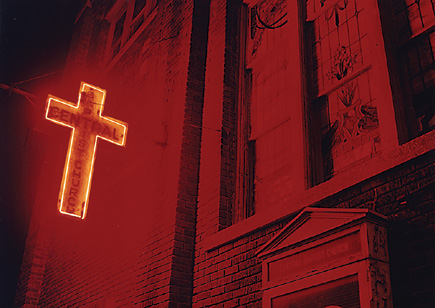 Central Baptist Church: The light from this sign imbued the scene with a red glow. Scott A. Bowman made the photo on a Pentax LX camera with a 28mm Pentax lens. He exposed at f/11 at 10 seconds on Fujicolor 400 print film.
© 2004, Scott A Bowman, All Rights Reserved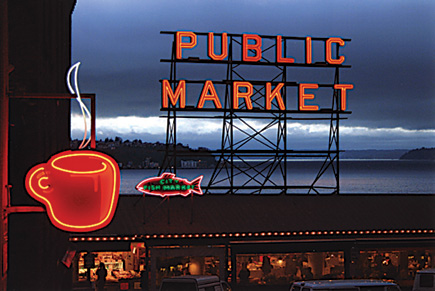 Pike Place Market: This great combination of neon and ambient light of Seattle's Pike Place Market was made by Thomas Bajema, who wrote: "I was strolling through downtown Seattle with my family and therefore was not fully equipped with my tripod. My Canon EOS Digital Rebel saved the day (night). I was able to increase the ISO to 800, which allowed me to hand hold at 55mm." Final exposure was f/5.6 at 1/50 sec.
© 2004, Thomas Bajema, All Rights Reserved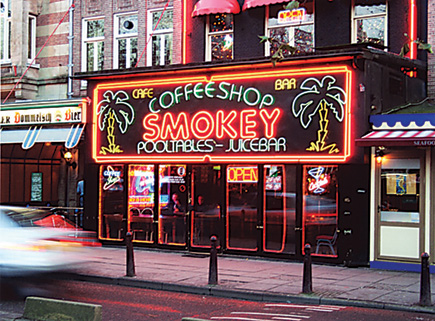 Smokey Coffee Shop: George Duffy used his Casio QV3000EX to record this classic scene in Amsterdam using autoexposure mode. Duffy wrote, "This is right out of the camera. I love my Casio."
© 2004, George Duffy, All Rights Reserved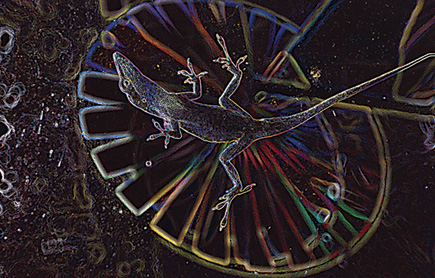 Cosmic Chameleon: Tony White wrote, "This live chameleon was climbing up the outside of a storefront window with a neon pinwheel sign and streetlights directly behind him in the distance." He made this fascinating image with a Nikon D100 and 24-50mm
AF-Nikkor lens using manual exposure mode and spot metering pattern and exposed at f/5.6 at 1/125 sec.
© 2004, Tony White, All Rights Reserved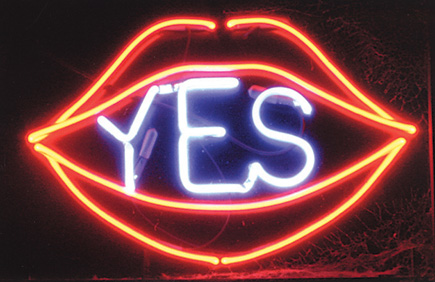 Yes: Photographer Vicki Hunt didn't tell us where this sign is located, but we're always into "Yes." She worked with a Canon EOS Digital Rebel set at ISO 1600 with a 1/4 sec exposure.
© 2004, Vicki Hunt, All Rights Reserved
Wet Beauty: This classic night/neon shot of East Nanjing Road in Shanghai, China, was made by Yingfen Z. Johnson using a Canon PowerShot S40 exposed at f/2.8 at 1/13 sec.
© 2004, Yingfen Z. Johnson, All Rights Reserved
Terminal Neon: Mary-Ella Keith wrote, "Sometimes getting there is half the fun. While traveling I encountered this unlikely sight at Chicago's O'Hare Airport in an underground concourse connecting United Airlines terminals." She worked with a Canon EOS 10D at ISO 400 and used a chair back for a tripod for her 1/30 sec exposure.
© 2004, Mary-Ella Keith All Rights Reserved

LATEST VIDEO

SPONSORED VIDEO
Testing Tamron's SP 150-60mm G2 lens while capturing birds and alligators in Apalachicola, Florida.